技术
Get flash to fully experience Pearltrees
Split out the nuitka.nodes.Nodes module into many topic nodes, so that there are now nuitka.nodes.BoolNodes or nuitka.nodes.LoopNodes to host nodes of similar kinds, so that it is now cleaner. Split del statements into their own node kind, and use much simpler node structures for them. The following blocks are absolutely the same: del a , b . c , d
Split out the nuitka.nodes.Nodes module into many topic nodes, so that there are now nuitka.nodes.BoolNodes or nuitka.nodes.LoopNodes to host nodes of similar kinds, so that it is now cleaner. Split del statements into their own node kind, and use much simpler node structures for them. The following blocks are absolutely the same: del a , b . c , d
kripkenstein November 21st, 2008, 10:11 PM ShedSkin compiles Python (http://blog.showmedo.com/2008/11/20/making-python-math-196-faster-with-shedskin/) making it **much** faster - one example is ~200 times faster, just 7 times slower than hand-coded C++, which is amazing. http://code.google.com/p/shedskin/ - "Shed Skin is an experimental compiler, that can translate pure, but implicitly statically typed Python programs into optimized C++. "
iPhone developers are sometimes called names or excluded from polite circles for not having Garbage Collection. Recently I gave a presentation at the London iPhone Developers Group meeting which covered this matter from a few angles - including some techniques of my own. There was enough interest that I thought I should write it up in a more widely distributed format - where I could also expand on some points I glossed over due to time constraints (it was 20 minute slot). What's that Smell?
In my last post I covered why we might want Garbage Collection on the iPhone, some reasons why we don't have it, and how the same problem is solved in C++. I then hinted that we might be able to bring the same C++ goodness to Objective-C - if we allow ourselves to use Objective-C++. In this post I'm going to introduce my own solution. Say hello to OCPtr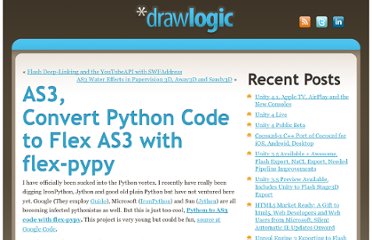 I have officially been sucked into the Python vortex. I recently have really been digging IronPython, Jython and good old plain Python but have not ventured here yet. Google (They employ Guido ), Microsoft ( IronPython ) and Sun ( Jython ) are all becoming infected pythonistas as well. But this is just too cool, Python to AS3 code with flex-pypy . This project is very young but could be fun, source at Google Code .