Définitions
Community Manager Responsibilities and Goals. One of the most visited articles on my blog is a list that I posted in July of 2008 of Responsibilities and Goals for a Community Manager.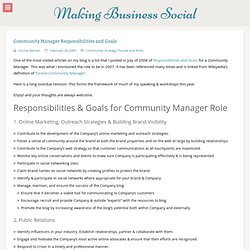 This was what I envisioned the role to be in 2007. It has been referenced many times and is linked from Wikipedia's definition of 'Online Community Manager'. Here is a long overdue revision. This forms the framework of much of my speaking & workshops this year. A Day in the Life of an Online Community Manager | Community Man. Recently, I've been practising my French and involving myself in French discussions on Twitter about the definition of a Community Manager.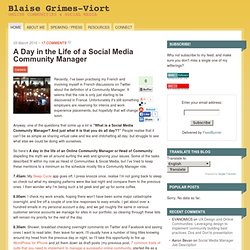 It seems that the role is only just starting to be discovered in France. Unfortunately it's still something employers are reserving for interns and work experience placements, but hopefully that will change soon. Anyway, one of the questions that come up a lot is "What is a Social Media Community Manager? And just what it is that you do all day??"
People realise that it can't be as simple as sharing virtual cake and tea and chitchatting all day, but struggle to see what else we could be doing with ourselves. Communautés 2.0: quels avantages pour quels risques? Copyright © 1999-2012 GoDaddy.com, LLC.
All rights reserved. *One FREE .COM, .CO, .NET or .ORG with purchase of a new 12-, 24- or 36-month website builder plan. Plus ICANN fee of $0.18 per domain name per year. You must add the domain name into your cart before purchase, and you must select a domain term length equal to or less than the term length of your website builder plan to qualify for the free domain offer. Réseaux sociaux, effets de mode ou outil indispensable ? Community Strategist Role. The online community manager position has become mainstream.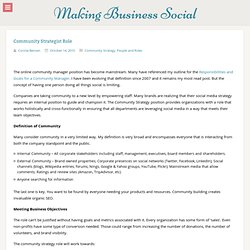 Many have referenced my outline for the Responsibilities and Goals for a Community Manager. I have been evolving that definition since 2007 and it remains my most read post. But the concept of having one person doing all things social is limiting.
---