Designers
Get flash to fully experience Pearltrees
Silent Fish Silent Fish Grey mullet, cod, tub gurnard, black seabream Newspaper, glass, acrylic
actualités Présentation du PIBAL, vélo-patinette [...] Ouverture du restaurant concept Miss Ko [...] Philippe Starck signe le nouveau [...] Mama Shelter ouvre ses portes à [...] Le nouveau disque dur Lacie Blade [...]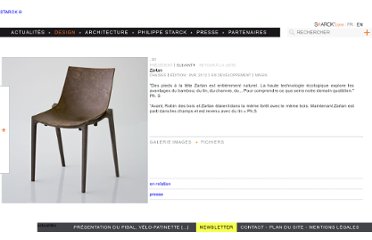 Tipu is the Maori word for sprout, grow, increase, develop. Here we are expressing our spreading awareness of, and connection to, Nature. This 2 metre convex light is built with an organic, irregular pattern which reflects Nature's growth. It was designed by David Trubridge and signals an exciting new direction in his design development.
It is always rewarding to work with companies who hold similar values to our own. New Zealand-based textile company Hemptech has translated David's sketches into two interior furnishing fabric collections. Celebrating the subtlety of landscape and form, "Sea Drift" and "Traces" are screen printed on 100% environmentally-ethical linen and are available in a wide range of colourways. View fabric information and stockists on the Hemptech website View imagery for each collection by clicking on the images below.
Year : 2011 Account : supported by BASF Team : Studio Aisslinger At the exhibition "Poetry Happens" in Ventura Lambrate, Werner Aisslinger presented the world's first concept for a monobloc chair made of natural fibers – a project supported by the German chemical company BASF.