Podcasts & Audio books
Children Podcast « Cool Podcasts. The Activated Stories Posted by coolpodcasts on March 27, 2009 Listening to this podcast is not only a good bonding activity with the entire family but also a great way to instill creativity and the joy of traveling with the children.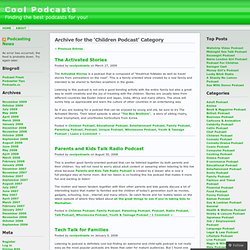 Stories are usually tales from different countries like Easter Island and Japan, India, Africa and many others. The show will surely help us appreaciate and learn the culture of other countries in an entertaining way. So if you are looking for a podcast that can be enjoyed by young and old, be sure to try The Activated Stories. Free Educational Podcasts. Education from your ipod!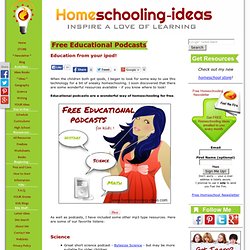 0Google + When the children both got ipods, I began to look for some way to use this technology for a bit of sneaky homeschooling. 10 Podcasts for Teachers and Kids. What!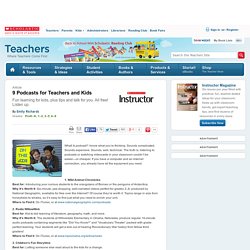 A podcast? I know what you're thinking. Sounds complicated. Meet the Author | Videos & Podcasts. Family Friendly Podcast - Latest Listings. Kids LearnOutLoud.com Free Audio & Video - Free Audio Books, Lectures, & Speeches on MP3 Download and Streaming Video.
---