Patterns
This is a pattern I had made to teach my student how to make her first cabled hat, so I made sure it was not intimidating. Very quick to knit, so great for gifts. I have used a bulky alpaca yarn so it had a fair drape and a pom-pom was too heavy, but it may work better if you use wool. ++++++++++++++++++++++++++++++++++++++++++++++++++ *Note* I have originally posted and recommended size #10 needles for the body, but it seems like many people have been getting a less slouchy result. If you want to get a slouchy hat for sure, it might be better to use size #11 for the body. I don't have a specific gauge, but the fabric for the main body should be somewhat loose and have a bit of a drape.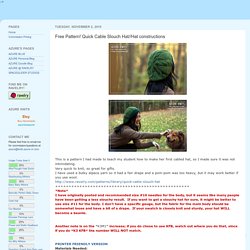 Section 1 (Set-up Rows) CO 2 sts. Row 1 : P1, pfb. Row 2 : Sl1, k1, pm, yo, kfb. Row 3 and all odd-numbered rows: Sl1, p to last st, pfb. Row 4: Sl1, k1, k tbl, k1, k tbl, kfb. NOTE: From this point forward through the whole pattern, on even-numbered rows, you will always be knitting the st before the marker through the back loop, knitting the stitch after the marker through the front as normal, then the next st through the back loop.
knitty.com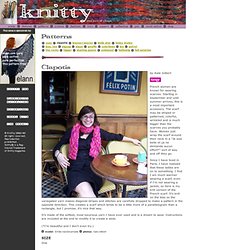 This is the sweater we will be unraveling. Turn your sweater inside-out, grab a pair of sharp scissors and let's get started! There are good seams and bad seams.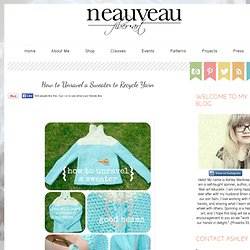 sheep in the city: My So Called Scarf
My So Called Scarf I was wearing this scarf over the weekend while I was at the Knit Out in Boulder, and I got a number of comments and requests for the pattern. Here's the story behind the scarf. A couple years ago I was in SanFransisco and happened on the yarn shop, Imagiknit .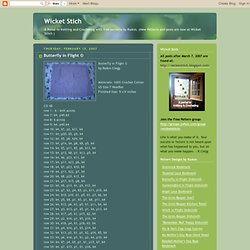 Butterfly in Flight © by RaAnn Clegg Materials: 100% Crochet Cotton US Size 7 Needles Finished Size: 9 x 9 inches
Butterfly in Flight ©
Stitch Catalog M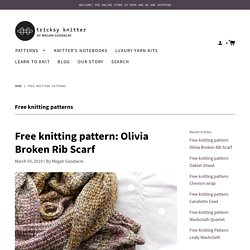 An easy leaf-shaped washcloth that makes a great quick gift. A good project for the beginner knitter who's ready to move beyond the square. Make them in leafy colors, or get zany with rainbow cotton. The finished size depends on what weight of yarn you choose.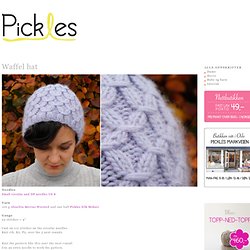 Needles Small circular and DP needles US 8 Yarn 100 g Abuelita Merino Worsted and one ball Pickles Silk Mohair Gauge 22 stitches = 4"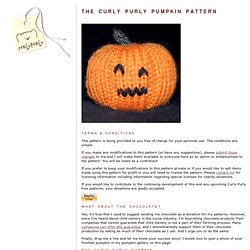 c u r l y p u r l y
This pattern is being provided to you free of charge for your personal use. The conditions are simple. If you make any modifications to this pattern (or have any suggestions), please submit those changes to me and I will make them available to everyone here as an option or enhancement to the pattern. You will be listed as a contributor. If you prefer to keep your modifications to this pattern private or if you would like to sell items made using this pattern for profit or you will need to license the pattern.