Webapps
Don't Forget to participate in a contest where you can win an amazing e-Commerce template from TemplateMonster. The year 2009 is almost ended. We have explored and reviewed so many useful tools and resources for you all the year. Today, we are going to take a look on few of the web apps we have featured that we think you would like bookmark for 2010. I hope designers, developers and programmers will like this list, but you can also use them and will love them whether you are an office worker, a manager, a supervisor, a student, a home user, etc.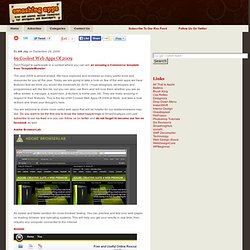 TweetTabs Brings Client-Like Twitter Search to the Web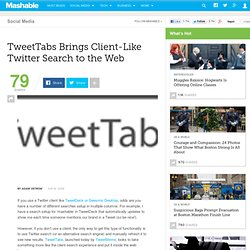 If you use a Twitter client like TweetDeck or Seesmic Desktop, odds are you have a number of different searches setup in multiple columns. For example, I have a search setup for 'mashable' in TweetDeck that automatically updates to show me each time someone mentions our brand in a Tweet (so be nice!). However, if you don't use a client, the only way to get this type of functionality is to use Twitter search (or an alternative search engine) and manually refresh it to see new results. TweetTabs, launched today by TweetMeme, looks to take something more like the client search experience and put it inside the web browser.The site itself offers Twitter's current trending topics as tabs, and the option to add custom tabs by conducting a search. Once you have these tabs open, they can be re-ordered through drag and drop. For example, here I've opened up tabs for two of today's hottest topics - #iranelection and father's day – as well as a search for Mashable.
100 Powerful Web Tools to Organize Your Thoughts and Ideas By Alisa Miller Whether you are a busy executive, a single parent, a freelancer working from home, a student, or a combination of these, you have probably found yourself needing help when it comes to organizing all your thoughts and ideas that occur throughout your busy day. Now you can turn to these tools found on the Internet that will help you with tasks such as note-taking, bookmarking websites, highlighting important text during online research, creating mind maps, tracking time, keeping up with appointments, collaborating with others, managing projects, and much more. Note-Taking and Documents These tools will help you take notes no matter where you find yourself needing to jot something down.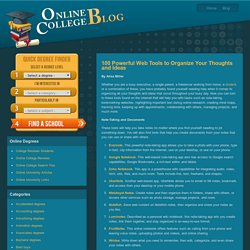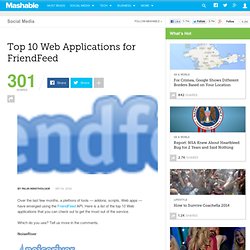 Over the last few months, a plethora of tools — addons, scripts, Web apps — have emerged using the FriendFeed API. Here is a list of the top 10 Web applications that you can check out to get the most out of the service. Which do you use?
Top 10 Web Applications for FriendFeed
13 Free Web Apps To Simplify Designer's Work Life - Opensource,
Don't Forget to participate in a contest where you can win an amazing e-Commerce template from TemplateMonster. I think designers do not search design tutorials and resources only. They also would like to have those web applications that can make their life easier. And If they found those web apps simple in use so they keep them using a lot and bookmarked for future use. In past, we have listed various free web apps that are really useful for any one of you and specially for designers. Today, we have a new post that has simplest free web apps that can really simplify your work life.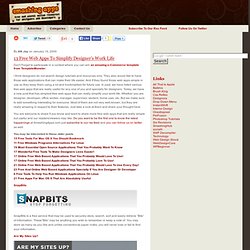 An Open Source Web Office