Twitter
A tale of two faux pas: When transparency meets bad behavior | F
Twishitter: Twitter Apps Head Towards The Gutter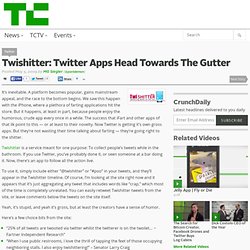 It's inevitable. A platform becomes popular, gains mainstream appeal, and the race to the bottom begins. We saw this happen with the iPhone, where a plethora of farting applications hit the store.
Scientists warn of Twitter dangers
Twitter & the Law of Reciprocity | Blog of Mr. Tweet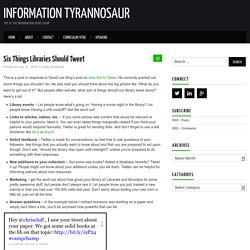 Six Things Libraries Should Tweet
Six Things Libraries Should Tweet This is a post in response to David Lee King's post on How Not to Tweet . He correctly pointed out some things you shouldn't do. He also said you should think about the big picture like "What do you want to get out of it?"
All FreePint Articles | Article Categories | SIIA Brown Bag on "Why Twitter Matters" Friday, 24th April 2009 By Nancy Davis Kho Article: SIIA members were treated to a in-person and live broadcast on April 23 of a panel discussion, moderated by Barry Graubart from Alacra, on the topic of Twitter. It's such a hot subject that the online audience was actually oversold, and there were a few fits and starts for Internet viewers as the panel kicked off because so many people were logged in (all of which were resolved quickly.)
VIP LiveWire: SIIA Brown Bag on "Why Twitter Matters"
5 Ways to Share Images on Twitter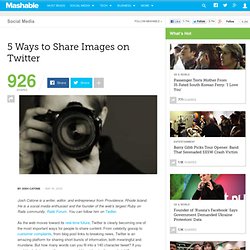 Josh Catone is a writer, editor, and entrepreneur from Providence, Rhode Island. He is a social media enthusiast and the founder of the web's largest Ruby on Rails community, Rails Forum . You can follow him on . As the web moves toward its real-time future , Twitter is clearly becoming one of the most important ways for people to share content. From celebrity gossip to customer complaints , from blog post links to breaking news, Twitter is an amazing platform for sharing short bursts of information, both meaningful and mundane. But how many words can you fit into a 140 character tweet?
Follow For A Day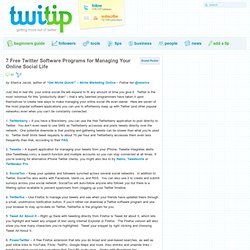 by Sherice Jacob, author of "Get Niche Quick!" – Niche Marketing Online – Follow her @sherice Just like in real life, your online social life will expand to fit any amount of time you give it. Twitter is the most notorious for this "productivity drain" – that's why talented programmers have taken it upon themselves to create new ways to make managing your online social life even easier.
7 Free Twitter Software Programs for Managing Your Online Social
  Twitter Basics for Journalists & Recovering Journos — cont
Kevin Rose: 10 Ways To Increase Your Twitter Followers
What Exactly is the Point of Twitter?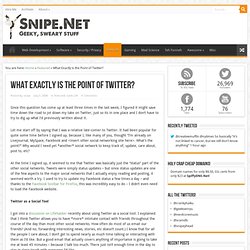 Since this question has come up at least three times in the last week, I figured it might save time down the road to jot down my take on Twitter, just so its in one place and I don't have to try to dig up what I'd previously written about it. Let me start off by saying that I was a relative late-comer to Twitter. It had been popular for quite some time before I signed up, because I, like many of you, thought "I'm already on Livejournal, MySpace, Facebook and <insert other social networking site here>. What's the point?"
We here at Ignite Social Media pride ourselves on being on top of the newest social media toys, partially because it's what we do, but partially because we can't help ourselves. I swear, Brian Chappell was born with a mouse fused to his tiny little SEO palm! Recently we started exploring Twitpic , which is a tool that allows you to upload photos that are then sent out as a tweet with an accompanying link to the photo. You can upload the photos directly on the site or you can send them from your phone to a customized email address, with your message in the subject line. Twitpic tweets the whole thing for you.
Top 15 Most Viewed Twitpics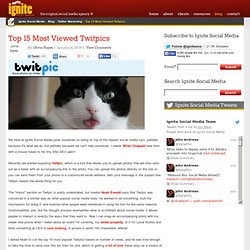 Twitter Gets Hacked, Badly