Twitter
TwitterLit is genius
Twitter is as Bad (Or as Good) as YOU Make It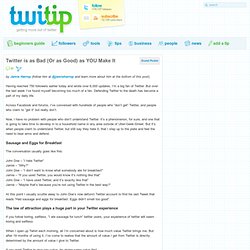 by Jamie Harrop (follow him at @jamieharrop and learn more about him at the bottom of this post). Having reached 750 followers earlier today and wrote over 6,000 updates, I'm a big fan of Twitter. But over the last week I've found myself becoming too much of a fan.
FootyTweets | Welcome to FootyTweets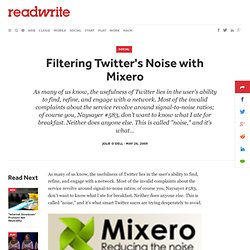 As many of us know, the usefulness of Twitter lies in the user's ability to find, refine, and engage with a network. Most of the invalid complaints about the service revolve around signal-to-noise ratios; of course you, Naysayer #583, don't want to know what I ate for breakfast. Neither does anyone else. This is called "noise," and it's what smart Twitter users are trying desperately to avoid.
Filtering Twitter's Noise with Mixero
To desire Twitter is the root of suffering - How the World Works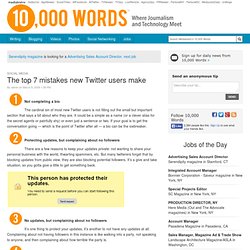 The top 7 mistakes new Twitter users make :: 10,000 Words :: mul
Not completing a bio
Over the weekend, we released advanced search for BackTweets , the service we created a couple of months ago that lets you search for links on Twitter .
Blog Archive » BackTweets Advanced Search
Chirp is a stunning Windows Twitter client, if you have tons of
http://twitterribbons.com/result.php
Imagine Fellowship » Twitter
Why Twitter? 10 Great Uses For Twitter
"What is Twitter?"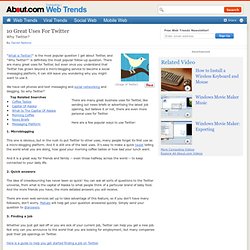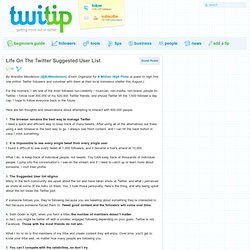 Life On The Twitter Suggested User List
By Brandon Mendelson (@BJMendelson), Event Organizer for A Million High Fives (a quest to high five one million Twitter followers and volunteer with them at their local homeless shelter this August.) For the moment, I am one of the most followed non-celebrity / musician, non-media, non-brand, people on Twitter. I follow over 300,000 of my 620,000 Twitter friends, and should Twitter lift the 1,000 follower a day cap, I hope to follow everyone back in the future.
by Michelle Rafter from WordCount: Freelancing in the Digital Age.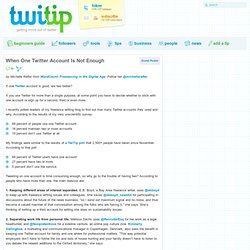 When One Twitter Account Is Not Enough
Twitterville Falls For Premium Accounts Hoax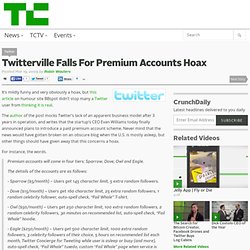 It's mildly funny and very obviously a hoax, but this article on humour site BBspot didn't stop many a Twitter user from thinking it is real. The author of the post mocks Twitter's lack of an apparent business model after 3 years in operation, and writes that the startup's CEO Evan Williams today finally announced plans to introduce a paid premium account scheme.
by Jack Humphrey blogs from The Friday Traffic Report (follow him at @bendtheweb Have you noticed all the electronic and tree-based books that have come out on Twitter?
The 90-10 Rule for Successful Twitter Networking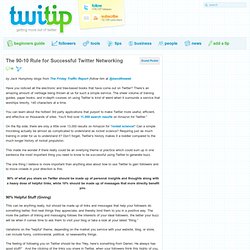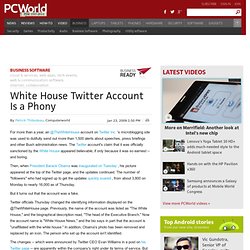 For more than a year, an @TheWhiteHouse account on Twitter Inc. 's microblogging site was used to dutifully send out more than 1,500 alerts about speeches, press briefings and other Bush administration news.
White House Twitter Account Is a Phony - PC World
Kathy Schrock's Kaffeeklatsch: Searching the Twitterverse
Social Learning Network
Can content aggregator FriendFeed turn Twitterholics into FriendFeed addicts?
Top FriendFeed Tips for Twitter Users
Mashup Awards - best mashups on the web
7 Tips to a Good Twitter Experience | Meryl.net
I'm a firm fan of Twitter which, for those not yet aware of it, is a microblogging, 140 character limited system, which asks the question 'What are you doing?' One of the key elements of the service is the ability to follow other people, and conversely have other people following you. As a result, we're immediately in difficult territory, because the more people you follow the more messages you get, the more noise you have to put up with, and the less valuable the service.
Phil Bradley's weblog: Choosing who to follow on Twitter
Twitter Off to a Rough 2009 | Ben Worthen | Voices | AllThingsD
You might be familiar with phishing attacks, those messages sent by criminals that look like they're from a bank or Nigerian prince. But what about Twishing? The term may enter the tech lexicon this week, thanks to an attack targeting the Web site Twitter, which runs a popular service that lets people share short updates about what they're doing.
Destroy Today / DestroyTwitter
Tweet Manager Twitter App For Complete Twitter Automation
Are You a Twitter Snob? « TheNextWeb.com
HOW TO: Quiet the Twitter Noise
Two new Twitter ideas that miss the mark - Download Squad
Stalk That Twitterer
HOW TO: Track Expenses Using Twitter