Twitter
TwitterLit is genius
Twitter is as Bad (Or as Good) as YOU Make It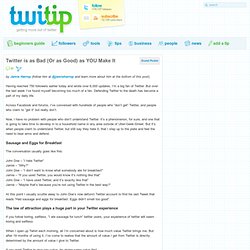 by Jamie Harrop (follow him at @jamieharrop and learn more about him at the bottom of this post). Having reached 750 followers earlier today and wrote over 6,000 updates, I'm a big fan of Twitter. But over the last week I've found myself becoming too much of a fan.
FootyTweets Welcome to FootyTweets FootyTweets will allow you to get all your footy team news and updates. So how does it work?
FootyTweets | Welcome to FootyTweets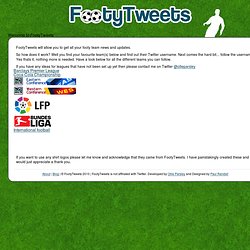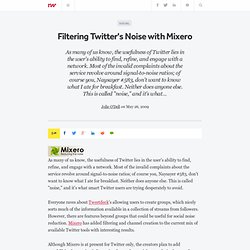 As many of us know, the usefulness of Twitter lies in the user's ability to find, refine, and engage with a network. Most of the invalid complaints about the service revolve around signal-to-noise ratios; of course you, Naysayer #583, don't want to know what I ate for breakfast. Neither does anyone else.
Filtering Twitter's Noise with Mixero
To desire Twitter is the root of suffering - How the World Works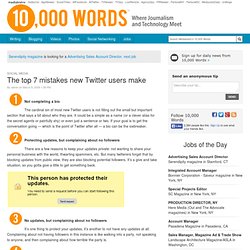 The top 7 mistakes new Twitter users make :: 10,000 Words :: mul
Not completing a bio The cardinal sin of most new Twitter users is not filling out the small but important section that says a bit about who they are. It could be a simple as a name (or a clever alias for the secret agents or painfully shy) or even just a sentence or two. If your goal is to get the conversation going — which is the point of Twitter after all — a bio can be the icebreaker. Protecting updates, but complaining about no followers
Over the weekend, we released advanced search for BackTweets , the service we created a couple of months ago that lets you search for links on Twitter . Advanced search filters have been requested many times and we'll continue to improve them as we find time. Currently, you're able to filter link searches by date, as well as the user that tweeted and the user the tweet was in response to. These parameters are also available in the BackTweets API .
Blog Archive » BackTweets Advanced Search
Chirp is a stunning Windows Twitter client, if you have tons of
Imagine Fellowship » Twitter
Why Twitter? 10 Great Uses For Twitter
"What is Twitter?" is the most popular question I get about Twitter, and "Why Twitter?" is definitely the most popular follow-up question. There are many great uses for Twitter, but even once you understand that Twitter has grown beyond a micro-blogging service to become a social messaging platform, it can still leave you wondering why you might want to use it.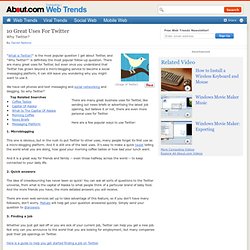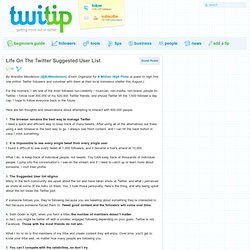 Life On The Twitter Suggested User List
By Brandon Mendelson (@BJMendelson), Event Organizer for A Million High Fives (a quest to high five one million Twitter followers and volunteer with them at their local homeless shelter this August.) For the moment, I am one of the most followed non-celebrity / musician, non-media, non-brand, people on Twitter. I follow over 300,000 of my 620,000 Twitter friends, and should Twitter lift the 1,000 follower a day cap, I hope to follow everyone back in the future.
by Michelle Rafter from WordCount: Freelancing in the Digital Age. Follow her @michellerafter. If one Twitter account is good, are two better? If you use Twitter for more than a single purpose, at some point you have to decide whether to stick with one account or sign up for a second, third or even more.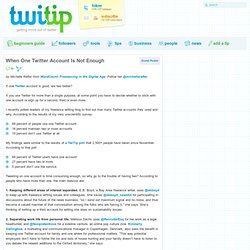 When One Twitter Account Is Not Enough
Twitterville Falls For Premium Accounts Hoax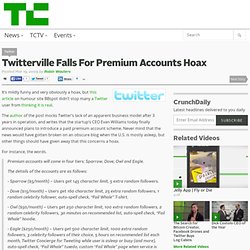 It's mildly funny and very obviously a hoax, but this article on humour site BBspot didn't stop many a Twitter user from thinking it is real. The author of the post mocks Twitter's lack of an apparent business model after 3 years in operation, and writes that the startup's CEO Evan Williams today finally announced plans to introduce a paid premium account scheme. Never mind that the news would have gotten broken on an obscure blog when the U.S. is mostly asleep, but other things should have given away that this concerns a hoax. For instance, the words.
by Jack Humphrey blogs from The Friday Traffic Report (follow him at @bendtheweb Have you noticed all the electronic and tree-based books that have come out on Twitter? There's an amazing amount of verbiage being thrown at us for such a simple service. The sheer volume of training guides, paper books, and in-depth courses on using Twitter is kind of weird when it surrounds a service that worships brevity, 140 characters at a time. You can learn about the hottest 3rd party applications that purport to make Twitter more useful, efficient, and effective on thousands of sites. You'll find over 11,000 search results on Amazon for "twitter."
The 90-10 Rule for Successful Twitter Networking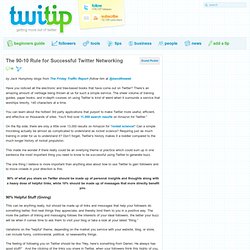 For more than a year, an @TheWhiteHouse account on Twitter Inc. 's microblogging site was used to dutifully send out more than 1,500 alerts about speeches, press briefings and other Bush administration news. The Twitter account's claim that it was officially sanctioned by the White House appeared believable, if only because it was so earnest -- and boring. Then, when President Barack Obama was inaugurated on Tuesday , his picture appeared at the top of the Twitter page, and the updates continued. The number of "followers" who had signed up to get the updates quickly soared , from about 3,800 on Monday to nearly 16,000 as of Thursday. But it turns out that the account was a fake.
White House Twitter Account Is a Phony - PC World
Social Learning Network
Can content aggregator FriendFeed turn Twitterholics into FriendFeed addicts? Certainly, much of the content being imported into FriendFeed comes from Twitter feeds, and there's a huge amount of overlap between the two user bases. And yet, if you're like a lot of my Twitter friends, you're not sold on FriendFeed just yet. That's okay, we've got some great stuff here to get you up to speed, and we think these 4 glorious Twitter-specific tips, highlighted just for you — the Twitter elite — might be reason even to convince you to test the waters. A good first step, of course, might be to follow Mashable on FriendFeed for your daily dose of social media links.
Top FriendFeed Tips for Twitter Users
Mashup Awards - best mashups on the web
Mashup Awards is a hand-picked showcase of the best web mashups. Over 500 mashups are archived in more than 40 categories, implementing a broad range of APIs for everything from data visualization to social mapping and photo manipulation. For nearly 2 years, the Mashup Awards recognized mashups on a daily and monthly basis. The site now serves as an archive of the state of web mashups from 2007 – 2009. The last Mashup of the Day was awarded on 2/27/09. Thanks to everyone who took the time to build and nominate a mashup, we are glad to have provided a venue for their display.
7 Tips to a Good Twitter Experience | Meryl.net
Phil Bradley's weblog: Choosing who to follow on Twitter
Twitter Off to a Rough 2009 | Ben Worthen | Voices | AllThingsD
Destroy Today / DestroyTwitter
Tweet Manager Twitter App For Complete Twitter Automation
Are You a Twitter Snob? « TheNextWeb.com
HOW TO: Quiet the Twitter Noise
Two new Twitter ideas that miss the mark - Download Squad
Stalk That Twitterer
HOW TO: Track Expenses Using Twitter