tweet
Get flash to fully experience Pearltrees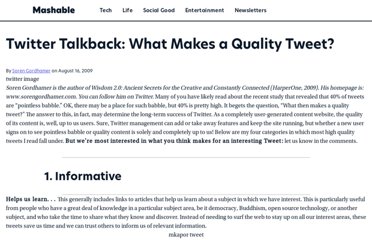 Many of you have likely read about the recent study that revealed that 40% of tweets are "pointless babble ." OK, there may be a place for such babble, but 40% is pretty high. It begets the question, "What then makes a quality tweet?"
Lindy shared her project for LIS5313 with me via email and I asked her to share her study with TTW readers. Thanks Lindy! Michael Recently, I read a post from Mashable.com about Twitter's staggering growth in 2008: Twitter grew 752 percent in 2008 for a total of 4.43 million unique visitors in December! What does this mean for libraries? As Twittermania spreads, more and more of their patrons are will use it to communicate, socialize and make connections.
2008 has been a big year for Twitter . The service once known for being unreliable has since stabilized and grown increasingly popular, branching beyond the tech community and into the mainstream . Twitter has also evolved into a medium for breaking national and international news, oftentimes before major media outlets.
I'm always on the lookout for innovative uses of social tools in libraries. This weekend I got an email from John Wohlers, Library Technology Assistant, Waubonsee Community College, detailing his experiences using Twitter at his library. John writes: A funny thing happened when I embedded the feed, other staff members felt left out, and a bunch (including myself) went and signed up for their own twitter accounts.