tricks
Get flash to fully experience Pearltrees
They will help you in getting things done quickly, save you a lot of headache and steps and overall inflate your Photoshop-fu!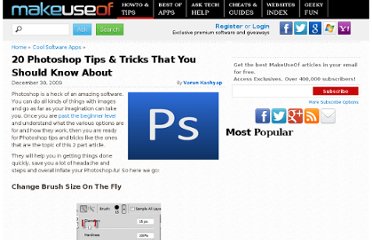 Although many of you probably use mobile or desktop clients such as Twibble or Tweetdeck to access Twitter , if you are using Twitter in your browser, and want to find out a little more about a Twitter user, there's a faster way than visiting their profile.
Google Gmail gives you more than 2.5 GB of Inbox space sufficient to store hundreds of thousands of email messages. But you can quickly run out of space even on GMail if your friends regularly email you PDF , video attachments, sound clips, large zipped files , or high-resolution photographs. When you near the GMail storage limit, the quota indicator displayed at the bottom of your account (that says - You are currently using 59 MB (2%) of your 2720 MB ) will change from green to red.
There is something about beautiful lights that can mesmerize an audience.