Tracking
Socialsearch
8 Tools to Track Your Footprints on the Web - ReadWriteWeb. Last week we looked at how easy it is to leave footprints on the Web; today we'll show you how easy it is to track them.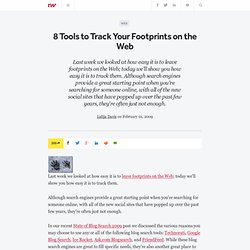 Although search engines provide a great starting point when you're searching for someone online, with all of the new social sites that have popped up over the past few years, they're often just not enough. In our recent State of Blog Search 2009 post we discussed the various reasons you may choose to use any or all of the following blog search tools: Technorati, Google Blog Search, Ice Rocket, Ask.com Blogsearch, and FriendFeed. While these blog search engines are great to fill specific needs, they're also another great place to look for your footprints on the Web. Reading Rewards - Track Time Spent. Reading Rewards is a free service that allows parents and teachers to track the amount of time their students spend reading.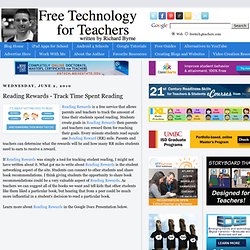 Students create goals in Reading Rewards then parents and teachers can reward them for reaching their goals. Every minute students read equals one Reading Reward (RR) mile. Twitority. 15 Fascinating Ways to Track Twitter Trends. One of the great things about TwitterTwitter reviews is that it is a great place to track emerging trends.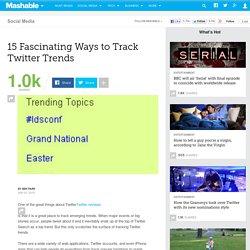 When major events or big stories occur, people tweet about it and it inevitably ends up at the top of Twitter Search as a top trend. CopyGator.com - Is your content being duplicated, copied or plag. BARRY'S BEST COMPUTER TIPS - They'll Change Your Life: This open-source app is a little gem.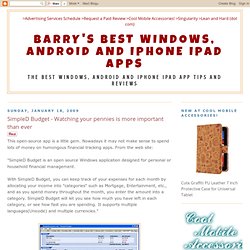 Nowadays it may not make sense to spend lots of money on humongous financial tracking apps. From the web site: "SimpleD Budget is an open source Windows application designed for personal or household financial management. Klout. Wakoopa - Discover software & games. So How Much Time Do You Waste On Twitter? Making the rounds quickly on Twitter this weekend is Tweetwasters, a site that gives you an idea of how much time you're really 'wasting' posting messages and status updates to the popular micro-sharing service.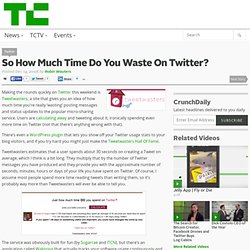 Users are calculating away and tweeting about it, ironically spending even more time on Twitter (not that there's anything wrong with that). There's even a WordPress plugin that lets you show off your Twitter usage stats to your blog visitors, and if you try hard you might just make the Tweetwasters Hall Of Fame. Tweetwasters estimates that a user spends about 30 seconds on creating a Tweet on average, which I think is a bit long. They multiply that by the number of Twitter messages you have produced and they provide you with the approximate number of seconds, minutes, hours or days of your life you have spent on Twitter. Of course, I assume most people spend more time reading tweets than writing them, so it's probably way more than Tweetwasters will ever be able to tell you.
Notifixio-us: Watch Website For Updates | MakeUseOf.com. Ever tried to susbcribe to a website but couldn't because it didn't offer any RSS feeds?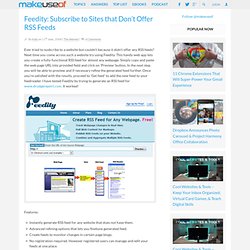 Next time you come across such a website try using Feedity. This handy web app lets you create a fully-functional RSS feed for almost any webpage. Simply copy and paste the web page URL into provided field and click on 'Preview' button. In the next step you will be able to preview and if necessary refine the generated feed further. Once you're satisfied with the results, proceed to 'Get feed' to add the new feed to your feedreader. Tweet Scan - Microblog Search.