Toolbox
Blogger Toolbox: 100+ Tools and Themes. WordPress receives a lot of love from the blogging community, but Blogger.com is still a perfectly viable blogging platform for the majority of people.
In an effort to help those devoted Blogger users, we've gathered up the best of our lists about tools, themes and shortcuts for your preferred platform. Take a look through and you are sure to find something that will help you, even if you didn't know you were looking for it! Tell us what you think of these and any we might have missed, and let us know about your Blogger blog in the comments. 25+ Sites For The Fashion Minded. We're going to take a step out of the normal tech stuff today and turn to all you fashion gurus in our audience.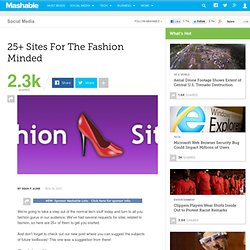 We've had several requests for sites related to fashion, so here are 25+ of them to get you started.And don't forget to check out our new post where you can suggest the subjects of future toolboxes! This one was a suggestion from there! Fashion News. DEL.ICIO.US TOOLBOX: 180+ Del.icio.us Tools and Resources. Social bookmarking was one of the earliest trends out on the social web, and del.icio.us quickly took the lead.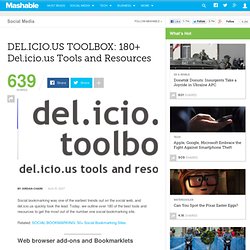 Today, we outline over 180 of the best tools and resources to get the most out of the number one social bookmarking site. Related: SOCIAL BOOKMARKING: 50+ Social Bookmarking Sites Web browser add-ons and Bookmarklets. 30+ Great Resources for Blogger Templates. Blogger is one of the most popular hosted blogging platforms out there, but many people are still surprised when they learn you can customize the look of your blog well beyond the pre-built options the site offers.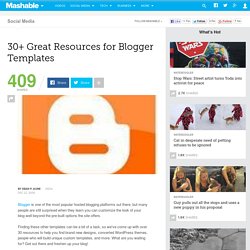 Finding these other templates can be a bit of a task, so we've come up with over 30 resources to help you find brand new designs, converted WordPress themes, people who will build unique custom templates, and more. What are you waiting for? Get out there and freshen up your blog! Free Templates 5ColumnTemplate.Blogspot.com – This site only offers one template with five variations, but it isn't every day you see a five column theme for any blogging platform, and it is actually pretty clean in presentation. BOOKS TOOLBOX: 50+ Sites for Book Lovers. Lulu, a book publishing site, is in the news this week.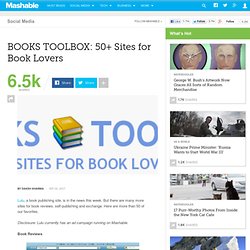 But there are many more sites for book reviews, self-publishing and exchange. Here are more than 50 of our favorites. Disclosure: Lulu currently has an ad campaign running on Mashable. Blogging Toolbox: 120+ Resources for Bloggers. An aspiring blogger can be overwhelmed with the vast amount of resources, tools, and advice for bloggers available on the net.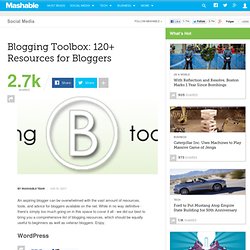 While in no way definitive - there's simply too much going on in this space to cover it all - we did our best to bring you a comprehensive list of blogging resources, which should be equally useful to beginners as well as veteran bloggers. Enjoy. WordPress WordPress Themes.
---