Stats
Stats: The Ultimate Twitter Statistics Provider! Statistics. A Collection of Social Network Stats for 2009 « Web Strategy by. If you're seeking stats from 2008, I've compiled them on this similar post of 2008 social networking stats.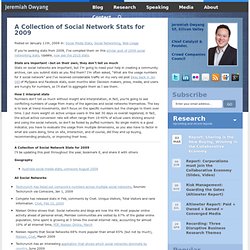 Update, now see the 2010 stats. Stats are important –but on their own, they don't tell us much Stats on social networks are important, but I'm going to need your help in creating a community archive, can you submit stats as you find them? I'm often asked, "What are the usage numbers for X social network" and I've received considerable traffic on my very old post (way back in Jan 08) of MySpace and Facebook stats, even months later. Decision makers, press, media, and users are hungry for numbers, so I'll start to aggregate them as I see them. How I interpret stats Numbers don't tell us much without insight and interpretation, in fact, you're going to see conflicting numbers of usage from many of the agencies and social networks themselves.
Google Enters the Twitter Game : Google + Twitter = Twoogling? Google is now on Twitter.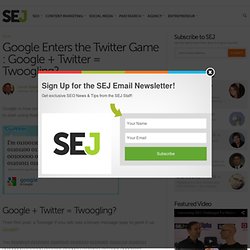 As insane as it may seem, it has taken Google years to start using their Google account, which is located at Twitter.com/Google Google + Twitter = Twoogling? More Adults Than Ever on Social Networks - ReadWriteWeb. The share of adult internet users who are involved in social networking online has more than quadrupled in the past four years in the U.S.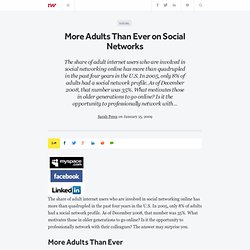 In 2005, only 8% of adults had a social network profile. As of December 2008, that number was 35%. What motivates those in older generations to go online? Is it the opportunity to professionally network with their colleagues? The answer may surprise you. 49 Amazing Social Media, Web 2.0 And Internet Stats. As our digital and physical lives blur further, the internet has become the information hub where people spend a majority of their time learning, playing and communicating with others globally.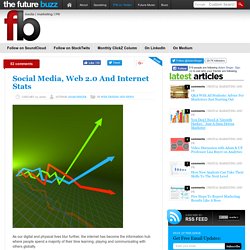 Digital marketing professionals understand this, but most outside the industry don't realize just how staggering the numbers are of people collaborating, researching, and interacting on the web. I thought it might be fun to take a step back and look at some interesting/amazing social media, Web 2.0, crowdsourcing and internet statistics. I tried to find stats that are the most up-to-date as possible at the time of publishing this post. The numbers presented below should be a close representation of today's numbers (please correct me in the comments if you find more recent numbers somewhere and I'll update). Retweetrank: Find any twitterer's retweet rank. The Facebook Blog. State of the Twittersphere - Q4 2008 Report.
Hold up. 2008?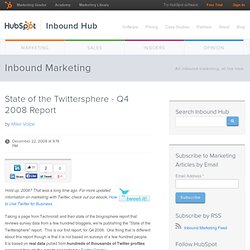 That was a long time ago. For more updated information on marketing with Twitter, check out our ebook, How to Use Twitter for Business. Taking a page from Technorati and their state of the blogosphere report that reviews survey data from a few hundred bloggers, we're publishing the "State of the Twittersphere" report. This is our first report, for Q4 2008.
---