Searchengine
Semantic. People. Yahoo. TinEye Reverse Image Search. Let me google that for you. Dulcinea Media, Inc. -- Uncluttering the Web. Phil Bradley's weblog: How to limit a search by date. There was a discussion on LIS-UKEIG recently about how to limit a search by date.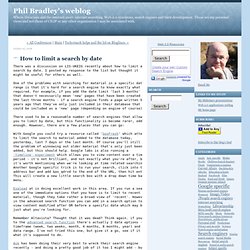 I posted my response to the list but thought it might be useful for others as well. One of the problems with searching for material in a specific daterange is that it's hard for a search engine to know exactly what is required. For example, if you add the date limit 'last 3 months' that doesn't necessarily mean 'new' pages that have been created in the last three months - if a search engine finds a page written 5 years ago that they've only just included in their database that could be included as a 'new' page (depending on engine of course). There used to be a reasonable number of search engines that allowed you to limit by date, but this functionality is become rarer, oddly enough.
TinEye Reverse Image Search. Let me google that for you. Ginipic is an image search engine for the web, desktop - Downloa. Ginipic is a desktop utility for Windows that lets you search for images from Flickr, Google Images, Yahoo!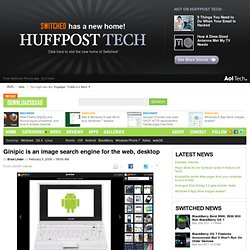 Images, SmugMug, deviantArt, Live Search, Picasa, Photobucket, Facebook, and Fotolia. You can search for pictures from a single source, a list of favorites, or all source at once.
---