Recommendations
1000 novels everyone must read. The 8 Best Book Review Sites. Books, once considered the the pinnacle of human civilization, have slowly gone into retreat.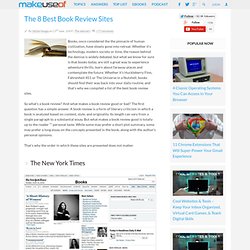 Whether it's technology, modern society or time, the reason behind the demise is widely debated, but what we know for sure is that books today, are still a great way to experience adventure thrills, learn about faraway places and contemplate the future. Whether it's Huckleberry Finn, Fahrenheit 451 or The Universe in a Nutshell, books should find their way back into your daily routine, and that's why we compiled a list of the best book review sites. So what's a book review? 100 Awesome Social Sites for Bookworms | Online College Tips - O.
By Hannah Watson That old stereotype of the quiet bookworm sitting in the corner reading a book while the world passes by is so passe these days.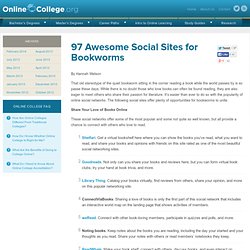 While there is no doubt those who love books can often be found reading, they are also eager to meet others who share their passion for literature. It's easier than ever to do so with the popularity of online social networks. The following social sites offer plenty of opportunities for bookworms to unite. Trazzler: Get Unique Travel Destination Recommendations. Imagine it is that time of the year again and you find yourself sitting in your travel agent's office, trying to decide which travel deal to go with.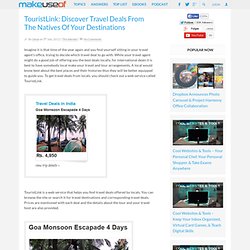 While your travel agent might do a good job of offering you the best deals locally, for international deals it is best to have somebody local make your travel and tour arrangements. A local would know best about the best places and their histories thus they will be better equipped to guide you. To get travel deals from locals, you should check out a web service called TouristLink. The Book Seer. Best Digital Camera: Experts recommend the best digital cameras. Social Music: Top 5 Music Recommendation Services. The Social Music series is supported by Blive Share Beta, hosts of the Groove Armada mini album.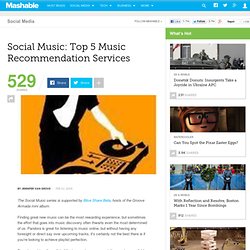 Finding great new music can be the most rewarding experience, but sometimes the effort that goes into music discovery often thwarts even the most determined of us. Pandora is great for listening to music online, but without having any foresight or direct say over upcoming tracks, it's certainly not the best there is if you're looking to achieve playlist perfection. Reading Trails | home. Kallow | Shop Simply. Whichbook. Mufin - Simply discover music!
---