Recipe
Baking. Soup. Cinnamon. Homemade Bouillon Recipe. This is a thank-you note to Pam Corbin.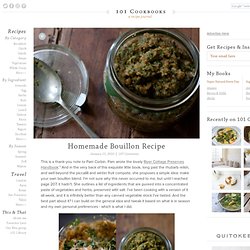 Pam wrote the lovely River Cottage Preserves Handbook.* And in the very back of this exquisite little book, long past the rhubarb relish, and well beyond the piccalilli and winter fruit compote, she proposes a simple idea: make your own bouillon blend. I'm not sure why this never occurred to me, but until I reached page 207, it hadn't. She outlines a list of ingredients that are pureed into a concentrated paste of vegetables and herbs, preserved with salt. I've been cooking with a version of it all week, and it is infinitely better than any canned vegetable stock I've tasted. And the best part about it? Cookstr. Cook the Book: Perfect French Fries. I think that french fries are underappreciated.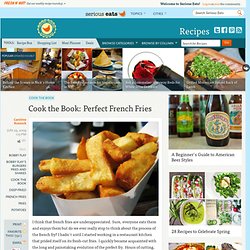 Sure, everyone eats them and enjoys them but do we ever really stop to think about the process of the french fry? I hadn't until I started working in a restaurant kitchen that prided itself on its fresh-cut fries. I quickly became acquainted with the long and painstaking evolution of the prefect fry. Hours of cutting, soaking, rinsing, re-rinsing, frying, cooling, and re-frying go into this classic burger accompaniment. French fries are not just fried potatoes. Simply Recipes Food and Cooking Blog. Kicked up Hoisin Molasses Ribs | ZestyCook. It's Friday again!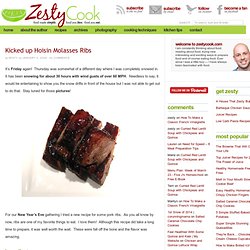 Thursday was somewhat of a different day where I was completely snowed in. It has been snowing for about 30 hours with wind gusts of over 60 MPH. Bacon Topped Macaroni and Cheese | ZestyCook. It's Tuesday everybody!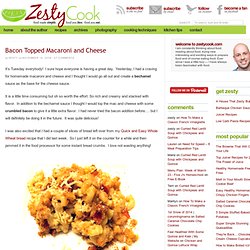 I sure hope everyone is having a great day. Yesterday, I had a craving for homemade macaroni and cheese and I thought I would go all out and create a bechamel sauce as the base for the cheese sauce. It is a little time consuming but oh so worth the effort.
---