Pattern
Doubly Divine [chrisknits.blog-city.com]
When I was a kid every guy I knew wore a hat like this. Triangular, striped and itchy. We've all softened a little in the last thirty years, so this updated version features an impossible-to-complain-about cashmere lining, which is easy once you learn how to do a provisional cast-on. This Christmas I'm giving one to all of the men in my family. I can't wait to look around at them wearing their 70's Ski Hats, reminding me of how much I loved those times.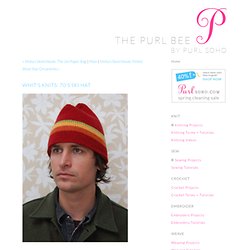 Whitney's 70's Ski Hat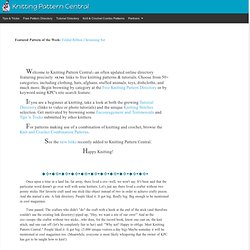 Welcome to Knitting Pattern Central--an often updated online directory featuring precisely 15,743 links to free knitting patterns & tutorials. Choose from 50+ categories, including clothing, hats, afghans, stuffed animals, toys, dishcloths, and much more. Begin browsing by category at the Free Knitting Pattern Directory or by keyword using KPC's site search feature: If you are a beginner at knitting, take a look at both the growing Tutorial Directory (links to video or photo tutorials) and the unique Knitting Stitches selection. Get motivated by browsing some Encouragement and Testimonials and Tips 'n Tricks submitted by other knitters.