Pandora
Pandora: "Royalty Crisis Is Over" for Internet Radio Companies. After years of negotiations, Internet radio providers have reached a new royalty agreement that they say will keep them afloat.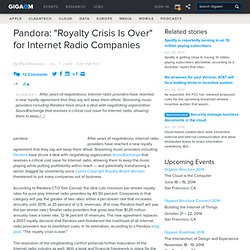 Streaming music providers including Pandora have struck a deal with negotiating organization SoundExchange that resolves a critical cost issue for Internet radio, allowing them to keep the music playing while putting profitability within reach — and potentially transforming a sector dogged by uncertainty since a prior Copyright Royalty Board decision threatened to put many companies out of business. According to Pandora CTO Tom Conrad, the deal cuts minimum per-stream royalty rates for pure-play Internet radio providers by 40-50 percent.
Companies in that category will pay the greater of two rates: either a per-stream rate that increases annually until 2015, or 25 percent of U.S. revenues. (For now, Pandora itself will pay the per-stream rate.) Smaller radio providers that gross less than $1.25 million annually have a lower rate, 12-14 percent of revenues. Dora Merges Three Hot Web Services: Pandora, Twitter and Bit.ly. Letting people know what music you are listening to has long been a staple of the web.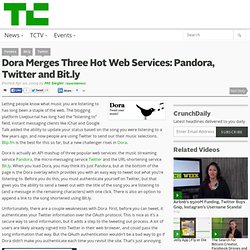 The blogging platform LiveJournal has long had the "listening to" field, instant messaging clients like iChat and Google Talk added the ability to update your status based on the song you were listening to a few years ago, and now people are using Twitter to send our their music selections. Blip.fm is the best for this so far, but a new challenger rises in Dora. Dora is actually an API mashup of three popular web services: the music streaming service Pandora, the micro-messaging service Twitter and the URL-shortening service Bit.ly.
How To Download Music From Deezer, Pandora And More | MakeUseOf. Websites such as Deezer, Pandora, imeem, Last.fm (and others) all serve free streaming music – often bundled with certain restrictions that reduce their convenience to users.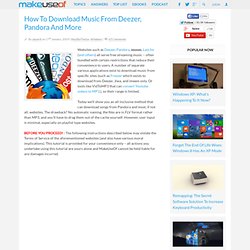 A number of separate various applications exist to download music from specific sites (such as Freezer which exists to download from Deezer, Jiwa, and imeem only. Or tools like VidToMP3 that can convert Youtube videos to MP3.), so their range is limited. Today we'll show you an all-inclusive method that can download songs from Pandora and most, if not all, websites.
---