Newsletter
Mailchimp. Logos. How To Create A PDF Newsletter The Easy Way With MS Paint. Anyone who runs an organization or indeed a successful blog or website will at some point consider distributing a newsletter.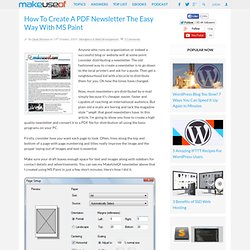 The old fashioned way to create a newsletter is to go down to the local printers and ask for a quote. Then get a neighbourhood kid with a bicycle to distribute them for you. Oh how the times have changed. * B O O K W I N K * Video Booktalks for Kids, Teachers and Libra. FreeMyPDF: Unlock Restricted PDF Files. If you ever need to unlock restricted PDF file that prevents you from copying, editing or printing the contents then FreeMyPDF can help.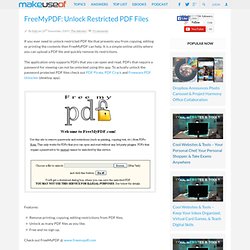 It is a simple online utility where you can upload a PDF file and quickly remove its restrictions. The application only supports PDFs that you can open and read, PDFs that require a password for viewing can not be unlocked using this app. To actually unlock the password protected PDF files check out PDF Pirate, PDF Crack and Freeware PDF Unlocker (desktop app).
Features: Tips for crafting emails that subscribers love to open - iMediaC. Having a knockout subject line is your first and best opportunity for attracting attention in an overflowing inbox.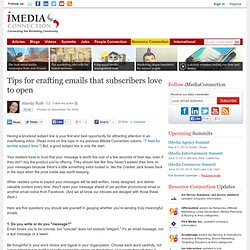 (Read more on this topic in my previous iMedia Connection column, "7 fixes for terrible subject lines. ") But, a good subject line is only the start. Your readers have to trust that your message is worth the cost of a few seconds of their day, even if they don't buy the product you're offering. Mail2Feed.org: Read emails in your favourite Feed Reader - Feedm. We offer you the possibility to setup an RSS feed that connects directly to your mailbox.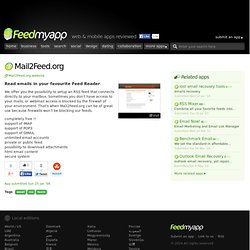 Sometimes you don't have access to your mails, or webmail access is blocked by the firewall of your environment. That's when Mail2Feed.org can be of great use because firewalls won't be blocking our feeds.
---