Mobileweb
Mobiledevices.pdf (application/pdf Object) Foursquare Changes the Game ... Literally. Earlier this week the much-anticipated Foursquare everywhere release came to fruition, making the location-based mobile game available to all regardless of their physical location.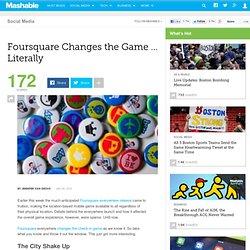 Details behind the everywhere launch and how it affected the overall game experience, however, were sparse. Until now. Foursquare everywhere changes the check-in game as we know it. So take what you know and throw it out the window. This just got more interesting. Discover the world around you. Mobile Web Design – Working Code, Tips, Best Practices « DigInit.
Taking a web site to the small screen comes with a host of considerations: device width, available bandwidth, touch versus click interfaces, browsers with limited functionality, etc.
At the same time, the simplicity of these mobile browsing environments lowers the barrier to entry for developers. Some basic HTML and CSS is all that is required to get started. In my research, I have learned a few things and decided to put the learning into action by creating a mobile web template available for anyone to download, remix, and reuse. Demo: Download: Read Me: Go Mobile: Top 5 Mobile Services for Libraries ALA2009. 70+ Free iPhone Apps for Social Media Mavens. While many people think of social media in terms of their computer, the iPhone and iPod Touch guarantee that you can interact anytime, anywhere.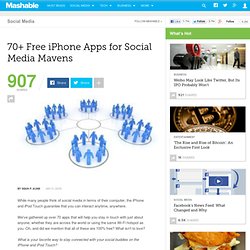 We've gathered up over 70 apps that will help you stay in touch with just about anyone, whether they are across the world or using the same Wi-Fi hotspot as you. Oh, and did we mention that all of these are 100% free?
---