Lifestream
Socialweb. How to Turn Twitter Into Your One-Stop Lifestream. A lot of your online time is probably spent divided between publishing and sharing content on a variety of websites, from Flickr to YouTube.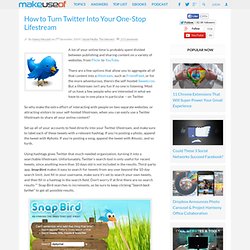 There are a few options that allow you to aggregate all of that content into a lifestream, such as FriendFeed, or for the more adventurous, there's the self-hosted Sweetcron. But a lifestream isn't any fun if no one is listening. ThisMoment - save and share the moments of your life. HOW TO: Connect With the FriendFeed Community. Collaborative help for this guide was provided by Mona Nomura, a prominent member of the FriendFeed community.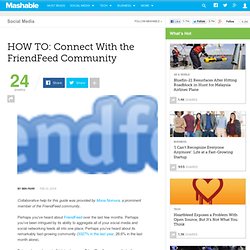 Perhaps you've heard about FriendFeed over the last few months. Perhaps you've been intrigued by its ability to aggregate all of your social media and social networking feeds all into one place. Walled Garden Be Damned: Import Facebook Activities into Friendf. Ok, it might not actually be the end of the so-called Facebook walled garden, but Friendfeed has added the social network to its list of supported services, allowing you to pull status updates, posted items, and notes into the activity aggregator.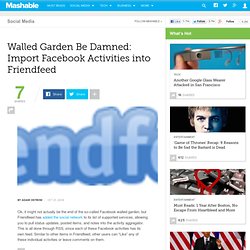 This is all done through RSS, since each of these Facebook activities has its own feed. Similar to other items in Friendfeed, other users can "Like" any of these individual activities or leave comments on them. Considering that Twitter updates make up an estimated 54% of the items on Friendfeed, the addition of Facebook - especially status updates - could open up a big new content hose on the service. Lifestream.fm: FriendFeed with Twitter's UI. Another day, another new lifestreaming service joins the fray.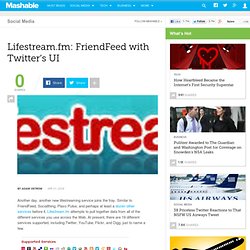 Similar to FriendFeed, Socialthing, Plaxo Pulse, and perhaps at least a dozen other services before it, Lifestream.fm attempts to pull together data from all of the different services you use across the Web. At present, there are 19 different services supported, including Twitter, YouTube, Flickr, and Digg, just to name a few. There isn't a whole lot new here feature-wise versus the current options – Lifestream blog points out support for Xbox Live and displaying cover art from Last.fm albums, which is probably not enough to get the FriendFeed faithful to switch – but the service does offer an interface that will be very familiar if you're a heavy Twitter user.
In fact, it's probably a little too familiar if you're not a fan of clones – Lifestream.fm uses the same "Following / Followers" terminology, and lets you tab back and forth between your "Recent" updates and those taking place "With Others." Perssonas. LifestreamBackup: Keeping a Copy of Your Posts, Tweets, Photos, Anyone who has ever crashed a computer without a backup knows the painful and arduous process required to restore the machine to its previous state.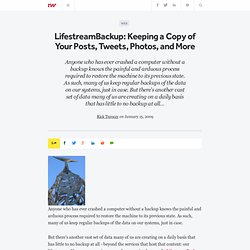 As such, many of us keep regular backups of the data on our systems, just in case. But there's another vast set of data many of us are creating on a daily basis that has little to no backup at all - beyond the services that host that content: our lifestreams. Now, a new service - named appropriately enough, LifestreamBackup - aims to provide the peace of mind that your lifestream data will always be just as accessible as the backup of your machine. Kakuteru: A Blogging and Lifestreaming Mashup (+Invites) - ReadW. What do you get when you combine blogging and lifestreaming?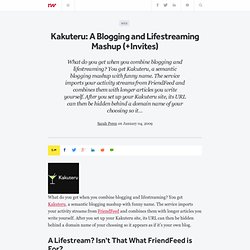 You get Kakuteru, a semantic blogging mashup with funny name. The service imports your activity streams from FriendFeed and combines them with longer articles you write yourself. Know The Benefits of Lifestreaming in Plain English. 22 May 2011 Lifestreaming means you are displaying intimate facets of your life to friends, family and even strangers who you know through online world. couch mode print story Lifestreaming, as you probably know, is all about sharing your daily activities (both in the online and offline world) with friends and family.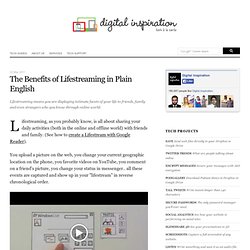 (See how to create a Lifestream with Google Reader). You upload a picture on the web, you change your current geographic location on the phone, you favorite videos on YouTube, you comment on a friend's picture, you change your status in messenger.. all these events are captured and show up in your "lifestream" in reverse chronological order.
---