Lifestream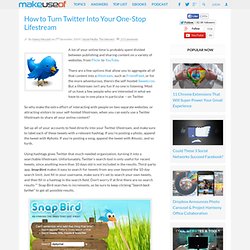 How to Turn Twitter Into Your One-Stop Lifestream
A lot of your online time is probably spent divided between publishing and sharing content on a variety of websites, from Flickr to YouTube . There are a few options that allow you to aggregate all of that content into a lifestream , such as FriendFeed , or for the more adventurous, there's the self-hosted Sweetcron . But a lifestream isn't any fun if no one is listening.
HOW TO: Connect With the FriendFeed Community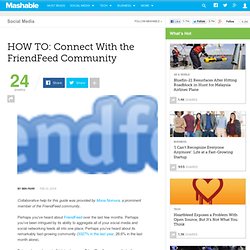 Collaborative help for this guide was provided by Mona Nomura , a prominent member of the FriendFeed community. Perhaps you've heard about FriendFeed over the last few months. Perhaps you've been intrigued by its ability to aggregate all of your social media and social networking feeds all into one place.
Ok, it might not actually be the end of the so-called Facebook walled garden, but Friendfeed has added the social network to its list of supported services, allowing you to pull status updates, posted items, and notes into the activity aggregator.
Walled Garden Be Damned: Import Facebook Activities into Friendf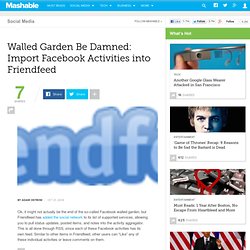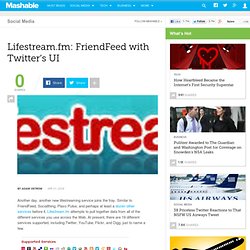 Another day, another new lifestreaming service joins the fray.
Lifestream.fm: FriendFeed with Twitter's UI
Perssonas
LifestreamBackup: Keeping a Copy of Your Posts, Tweets, Photos,
Kakuteru: A Blogging and Lifestreaming Mashup (+Invites) - ReadW
Know The Benefits of Lifestreaming in Plain English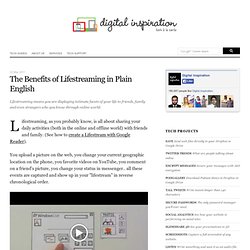 Lifestreaming means you are displaying intimate facets of your life to friends, family and even strangers who you know through online world. Lifestreaming, as you probably know, is all about sharing your daily activities (both in the online and offline world) with friends and family.