Iptv
@vlatro: I guess it depends on what's important to you. I turned off my DTV a few months ago. Mainly because I had a hard time paying almost $100 when I could get all the content for free online. Since then, it's been great! Rather than watching shows I don't really like, I now watch the shows I really want to watch (my list was cut by almost 75%) and spend the extra time on other things.
Streaming Television: Catch Your Favorite Shows and Viral Videos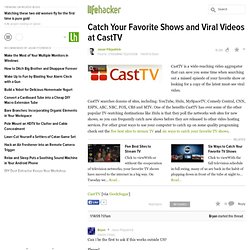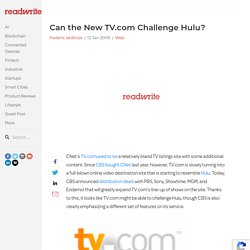 CNet's TV.com used to be a relatively bland TV listings site with some additional content. Since CBS bought CNet last year, however, TV.com is slowly turning into a full-blown online video destination site that is starting to resemble Hulu. Today, CBS announced distribution deals with PBS, Sony, Showtime, MGM, and Endemol that will greatly expand TV.com's line-up of shows on the site. Thanks to this, it looks like TV.com might be able to challenge Hulu, though CBS is also clearly emphasizing a different set of features on its service. TV.com Emphasizes Social Experience In contrast to Hulu, TV.com is putting a lot of emphasis on the social networking features on its site, starting with a chat widget right on the homepage.
Can the New TV.com Challenge Hulu? - ReadWriteWeb