Hashtags
Twapper Keeper - "We save tweets" - Archive Tweets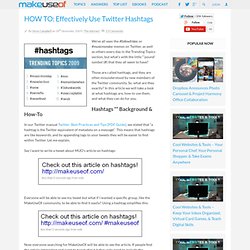 How To Effectively Use Twitter Hashtags
We've all seen the #followfriday or #musicmonday memes on Twitter, as well as others every day in the Trending Topics section, but what's with the little "˜pound' symbol (#) that they all seem to have? Those are called hashtags, and they are often misunderstood by new members of the Twitter community. So, what are they exactly?
Twapper Keeper - Archive Tweets
So you've joined Twitter and have finally started to get the hang of things. You know to put an "@" sign in front of usernames for public replies and you know how to send private messages with a "d." You filled out your profile and have mastered the art of TinyURLs. You even found some interesting people to follow and have started conversations with them. There's just one thing holding you back from complete Twittervana : those odd-looking abbreviations in people's tweets preceded by the pound sign (#).
What Does that Hashtag Mean? New Service Tells You - ReadWriteWe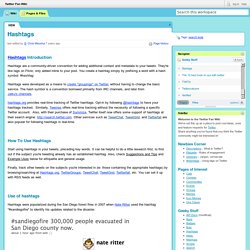 Hashtags Introduction Hashtags are a community-driven convention for adding additional context and metadata to your tweets. They're like tags on Flickr, only added inline to your post. You create a hashtag simply by prefixing a word with a hash symbol: #hashtag . Hashtags were developed as a means to create "groupings" on Twitter , without having to change the basic service.
Hashtags