Etiquette
Unfollow. To Follow or Not to Follow; that is the Question. By Neal Wiser (@nealwiser) Unless you are a Twitter user who immediately follows everyone who follows you, we have all experienced losing Followers because, for whatever reason, we did not follow them in return.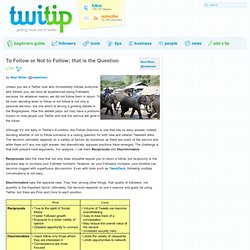 To be sure, deciding when to follow or not follow is not only a personal decision, but one which is driving a growing debate in the Blogosphere. How this debate plays out may have a profound impact on how people use Twitter and how the service will grow in the future. Although it's still early in Twitter's Evolution, the Follow Question is one that has no easy answer.
Writing My Twitter Etiquette Article: 14 Ways to Use Twitter Pol. As it turns out, you are one fascinating SOB, and people need to know what you're doing.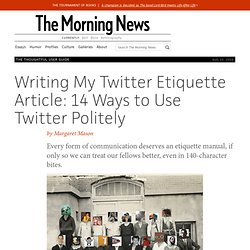 You can almost feel the yearning. What are you doing? The ache is palpable. Now, you already have a phone, an email account, a blog—but what about the moments too small to blog? (Snacking on pretzels.) The Ultimate Social Media Etiquette Handbook: The Most Egregious. Hi Bing visitors!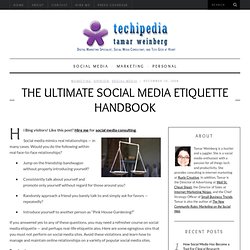 Like this post? Hire me for social media consulting. Social media mimics real relationships — in many cases. Would you do the following within real face-to-face relationships?
---