elearning
Get flash to fully experience Pearltrees
Here is my month-by-month pick of the resources I have created during the year - magazine articles, presentations, blogs, web pages, etc Reflections of a learning consultant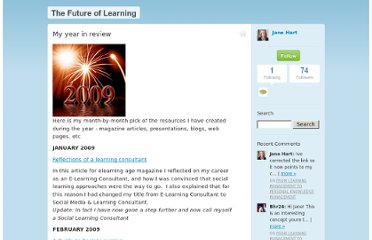 Here is the final list of the Top 100 Tools for Learning 2009, compiled from the contributions of 278 learning professionals - from education and workplace learning - worldwide. Thanks to all who contributed their Top 10 Tools for learning. Below is the presentation I have shared on Slideshare.
100 Tips, Apps, and Resources for Teachers on Twitter
Twitter , a social networking platform used for microblogging, is a free service that lets you send the briefest of messages (with a maximum of 140 characters) to everyone in your network. It marries the mass appeal of blogging with the speed and ease of text messaging. There has been a growing interest in how to use these new forms of social media for learning & development.
Unprecedented changes in the role of the worker, the nature of business, the pace of innovation, the importance of intangibles, the explosion of information, and the shift from a manufacturing to a service economy have rendered traditional corporate learning obsolete. Jay Cross exposes the inadequacies of traditional learning and discusses a new paradigm for learning in the 21st Century.
There is no one true reality – rather, individual interpretations of the world.