Data
It's Data Privacy Day: Do You Know Where Your Data Is?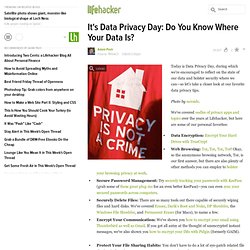 Today is Data Privacy Day, during which we're encouraged to reflect on the state of our data and bolster security where we can—so let's take a closer look at our favorite data privacy tips. Photo by sunside . We've covered oodles of privacy apps and topics over the years at Lifehacker, but here are some of our personal favorites: Data Encryption: Encrypt Your Hard Drives with TrueCrypt Web Browsing: Tor , Tor , Tor , Tor ! Okay, so the anonymous browsing network, Tor, is our first answer, but there are also plenty of other methods you can employ to bolster your browsing privacy at work .
A colleague and I were discussing the recent Facebook TOS kerfuffle and she said she was fascinated by how much privacy people are willing to give away in exchange for a desired experience. I agreed that I am equally fascinated, and that it is vitally important for librarians to be on the vanguard of monitoring these trends, and educating our customers as to the possible risks of sharing too much information. But I also think that librarians, at times, can be too knee-jerk about privacy issues, and I wonder if while looking at one end of the Facebook dustup (big corporation trampling on privacy rights) we might be missing some important lessons on the other end (big corporation letting customers control their own information in exchange for a highly engaging experience. And Facebook DOES give customers a tremendous, leading edge, amount of control. See: " 10 Privacy Settings Every Facebook User Should Know .)
What Libraries Can Learn from Facebook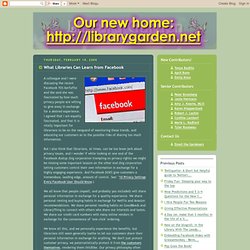 Here's to librarians, saviors of the data-weary | StarTribu
6 Incredible Twitter Powered Art Projects
Twitter has brought us many things. It lets us communicate in real-time about breaking news events , it lets us share content like photos , music , and videos , and it lets us do business in new ways. But Twitter is also being used to power some very intriguing and beautiful virtual art projects. Tweets are being visualized and mashed up with other content in ways that create stunning online art.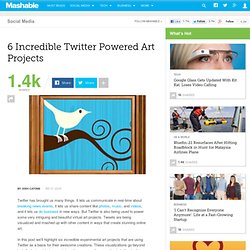 Facebook Management Has Lost Its Grip on Reality - ReadWriteWeb