Buttons
Badges. Free Twitter Buttons | Siah Design. A great way to draw more attention to your Twitter feed and to get more people following your Twitter is by posting a "Follow Me On Twitter" button right by the feed.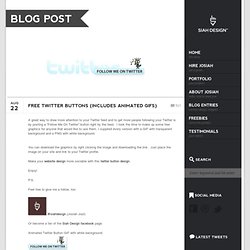 I took the time to make up some free graphics for anyone that would like to use them. I supplied every version with a GIF with transparent background and a PNG with white background. You can download the graphics by right clicking the image and downloading the link. | My Social Buttons. Twitter Buttons. Twitter Buttons - Get more followers with free hosted twitter bu. Twitter Buttons - Get Free Twitter Buttons for your Blog, Websit. RSS Buttons for Your Blog from TopRank Online Marketing Blog. A while back Thomas aka Twistermc, whipped up a handy tool for creating RSS subscription buttons to place on blogs.
This makes it easy for the reader to subscribe to the blog using their favoriate RSS reader or aggregator. (See the buttons down the left side of this blog) This particular tool has been very popular and is the source for many, many links to Online Marketing Blog and to the blog marketing tools page over at TopRank. I was checking out some of these links and noticed that some pretty interesting referrers. Social bookmark buttons bottom post.
---