Blogger
Options. Google Friend Connect Hooks Up With Blogger. Google has integrated Friend Connect with its weblog publishing service Blogger.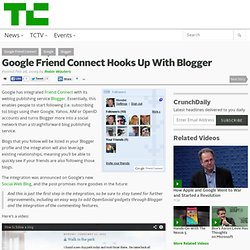 Essentially, this enables people to start following (i.e. subscribing to) blogs using their Google, Yahoo, AIM or OpenID accounts and turns Blogger more into a social network than a straightforward blog publishing service. Blogs that you follow will be listed in your Blogger profile and the integration will also leverage existing relationships, meaning you'll be able to quickly see if your friends are also following those blogs. The integration was announced on Google's new Social Web Blog, and the post promises more goodies in the future: And this is just the first step in the integration, so be sure to stay tuned for further improvements, including an easy way to add OpenSocial gadgets through Blogger and the integration of the commenting features.
Here's a video: How do I post via email? - Blogger Help. Grâce à la fonctionnalité Mail-to-Blogger, chaque compte de messagerie se transforme en véritable application permettant de publier des articles sur les blogs.
En sélectionnant Paramètres | E-mail et mobile, vous pouvez créer une adresse Mail-to-Blogger qui vous servira à envoyer des articles par e-mail vers votre blog : Pour ce faire, vous devez configurer votre adresse e-mail Mail-to-Blogger dans la section E-mail : How to add "Tweet This" links to your. Twitter has become one of the most popular ever syndication and networking tools for bloggers.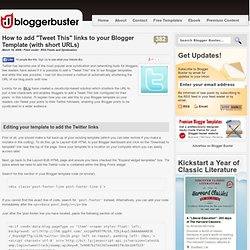 A few readers have asked if it is possible to add a "Tweet This" link to our Blogger templates, and while this was possible, I had not discovered a method of automatically shortening the URL of our blog posts until now. Luckily for us, Bit.ly have created a JavaScript-based solution which shortens the URL to just a few characters and enables bloggers to add a Tweet This link configured for their posts. In this tutorial, I'll explain how you can add this to your Blogger template so your readers can Tweet your posts to their Twitter followers, enabling your Blogger posts to be syndicated to a wider audience.
Editing your template to add the Twitter links. Fleur | Blogger Templates. Literary Life | Blogger Templates. The Hobbit | Blogger Templates. Blogger Templates Free Blogger Templates for your Blog Home Template search Blog.
My Notes | Blogger Templates. Blogger Templates Free Blogger Templates for your Blog Home.
Birdie's Good Life | Blogger Templates. Naturescharm | Blogger Templates. Duna | Blogger Templates. Clean Elegant | Blogger Templates. How to easily add interactive Google Maps to you. Adding Google Maps integration to your web projects can offer visitors a more interactive experience of your website and assist the understanding of where events or business takes place.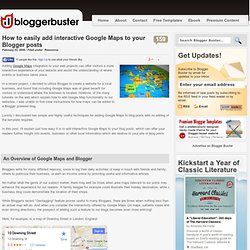 In a recent project, I decided to utilize Blogger to create a website for a local business, and found that including Google Maps was of great benefit for visitors to understand where the business is located. However, of the many tutorials on the web which explain how to add Google Map functionality to our websites, I was unable to find clear instructions for how maps can be added to a Blogger powered blog. Luckily I discovered two simple and highly useful techniques for adding Google Maps to blog posts with no editing of the template required. In this post, I'll explain just how easy it is to add interactive Google Maps to your blog posts, which can offer your readers further insight into events, business or other local information which are relative to your site or blog posts.
Blogger Template. Blogger Templates. As a blogger, I want my page to look good so i tried my best to look for templates/themes that will fit my blog.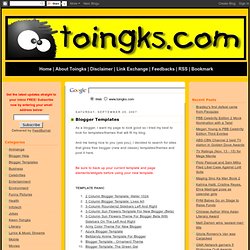 And me being nice to you (yes you), I decided to search for sites that gives free blogger (new and classic) templates/themes and post it here. Be sure to back up your current template and page elements/widgets before using your new template. If you are having a difficulty with any of these themes, you can ask for assistance to their respective template designer/editor. How to Backup a Blogger Blog. If you have a blog hosted on Blog*Spot and you've upgraded to the new version, there's an easy way to backup your blog.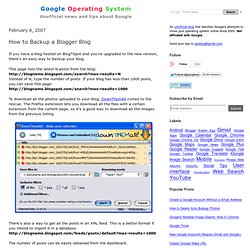 This page lists the latest N posts from the blog: of N, type the number of posts. If your blog has less than 1000 posts, you can save this page: To download all the photos uploaded to your blog, DownThemAll comes to the rescue. Backup Your Blogger Blog in a Click. Learn how to create a backup of your blogger blog with a click.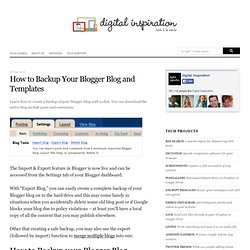 You can download the entire blog include posts and comments. The Import & Export feature in Blogger is now live and can be accessed from the Settings tab of your Blogger dashboard. With "Export Blog," you can easily create a complete backup of your Blogger blog on to the hard drive and this may come handy in situations when you accidentally delete some old blog post or if Google blocks your blog due to policy violations – at least you'll have a local copy of all the content that you may publish elsewhere.
Other that creating a safe backup, you may also use the export (followed by import) function to merge multiple blogs into one. Blogger Adds Slew of New Features. If you use Google's Blogger platform, head on to draft.blogger.com and you'll find several new interesting features for your blog.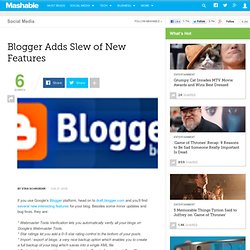 Besides some minor updates and bug fixes, they are: * Webmaster Tools Verification lets you automatically verify all your blogs on Google's Webmaster Tools. * Star ratings let you add a 0–5 star rating control to the bottom of your posts. * Import / export of blogs; a very nice backup option which enables you to create a full backup of your blog which saves into a single XML file. * Embedded comment form, with support for Google Account and OpenID authentication. * New post editor, with drag-and-drop image placement and better HTML handling. These features are still labeled as beta, so don't be surprised if something goes wrong. Based on user feedback, Google will enable them for everyone when they're bug-free.
---