Backup
Where Sticky Notes are Stored. Isabel Berney needs to know where Windows stores the Sticky Notes she creates, so she can make sure they're backed up.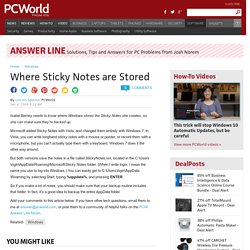 Microsoft added Sticky Notes with Vista, and changed them entirely with Windows 7. In Vista, you can write longhand sticky notes with a mouse or pointer, or record them with a microphone, but you can't actually type them with a keyboard. Windows 7 does it the other way around. The State of Blogging Sucks. Go ahead and share More Sharing ServicesShare It all started from a twitter converstation.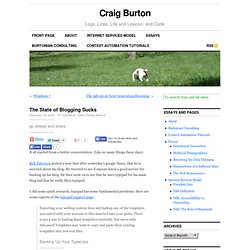 (Like so many things these days) Rob Paterson posted a note that after yesterday's google fiasco, that he is worried about his blog. He tweeted to see if anyone knew a good service for backing up his blog. Twickie - Login. Email-uploader - Project Hosting on Google Code. Tweetbook.in. BackupMyTweets Home: Backup Your Twitter Account. Twitter Backup | TweetBackup. Running out of space on Gmail? Get It Back in 5 minutes. Are you about to exhaust all the free storage space in your Google mail account?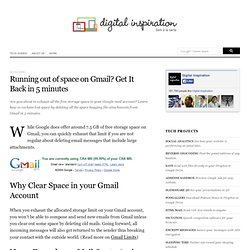 Learn how to reclaim lost space by deleting all the space hogging file attachments from Gmail in 5 minutes. While Google does offer around 7.5 GB of free storage space on Gmail, you can quickly exhaust that limit if you are not regular about deleting email messages that include large attachments. Why Clear Space in your Gmail Account When you exhaust the allocated storage limit on your Gmail account, you won't be able to compose and send new emails from Gmail unless you clear out some space by deleting old mails. Going forward, all incoming messages will also get returned to the sender thus breaking your contact with the outside world.
---