Backup
Where Sticky Notes are Stored
go ahead and share It all started from a twitter converstation.
The State of Blogging Sucks | Craig Burton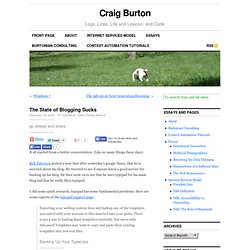 Twickie - Login
email-uploader - Project Hosting on Google Code
BackupMyTweets Home: Backup Your Twitter Account
Are you about to exhaust all the free storage space in your Google mail account? Learn how to reclaim lost space by deleting all the space hogging file attachments from Gmail in 5 minutes.
Running out of space on Gmail? Get It Back in 5 minutes