Backgrounds
60+ Floral Patterns, Backgrounds. We all know how good it is to have correct clipart in a times of tight deadlines and creative block which, sooner or later, happens to all of us.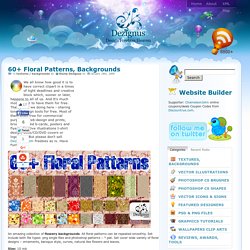 And It's much more better to have them for free. That's what we doing here - sharing tons of design tools for free. Most of them even free for commercial purposes: web-design and prints, brochures and b-cards, posters and flyers, creative illustrations t-shirt design, book/CD/DVD covers or logotypes. But please don't sell Dezignus.com freebies as is. Have Fun! Get a cool background for your Twitter profile | Webware. Twitter might be a great way to communicate, but the default options for the profile background aren't all that nice.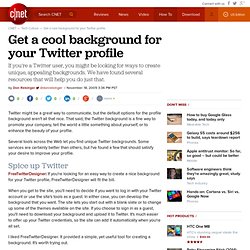 That said, the Twitter background is a fine way to promote your company, tell the world a little something about yourself, or to enhance the beauty of your profile. Several tools across the Web let you find unique Twitter backgrounds. Some services are certainly better than others, but I've found a few that should satisfy your desire to improve your profile. Spice up Twitter. Do-It-Yourself : Twitter Backgrounds Gallery. There are many ways to create the backdrop for your Twitter page.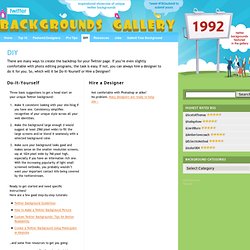 If you're even slightly comfortable with photo editing programs, the task is easy. If not, you can always hire a designer to do it for you. So, which will it be Do-It-Yourself or Hire a Designer? How to Create a Twitter Background Image « Creative Wisdom. You are on Twitter and you want a custom background.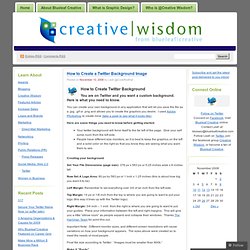 Here is what you need to know. You can create your own background in any application that will let you save the file as a .jpg, .gif or .png and allows you to create the graphics you desire. I used Adobe Photoshop to create mine (take a peek to see what it looks like). Here are some things you need to know before getting started: Your twitter background will force itself to the far left of the page. Neil.creek | Walls. Free Twitter Backgrounds - PrettyTweet.com - Online Twitter Back. Patterrific.com | Passion for Pattern. CSS gallery CSS TEA - 12 Free Online Background Pattern Generato. Saturday, 17 January 2009 08:18 Background patterns play an important role in the design process.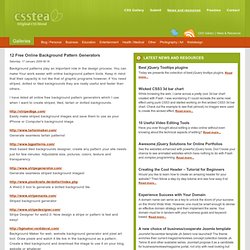 You can make Your work easier with online background pattern tools. Keep in mind that their capacity is not like that of graphic programs however, if You need striped, dotted or tiled backgrounds they are really useful and faster than others. Custom Twitter Backgrounds. A Custom Twitter Background can make a real impression and enhance your brand – but how do you make one?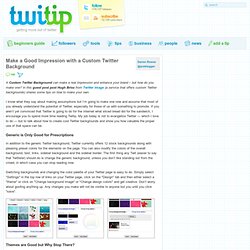 In this guest post post Hugh Briss from Twitter Image (a service that offers custom Twitter backgrounds) shares some tips on how to make your own. I know what they say about making assumptions but I'm going to make one now and assume that most of you already understand the potential of Twitter, especially for those of us with something to promote. Free Twitter Background Template. Who would've thought that the presentation app used to lull audiences to sleep could also be used to create an appealing Twitter background?
The process is fairly simple and only limited by your imagination and Twitter's 800Kb upload limit. Step 1: Download The Twitter Background Template The templates are designed around a common screen width of 1280px. • PowerPoint Template – Tested on PowerPoint 2007 and PowerPoint 2004 (for Mac) • Keynote Template – Tested on Keynote '08.
---