Tips
Book-in-a-Week. Welcome to BIW's home on the web.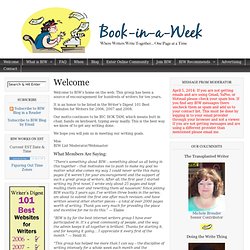 This group has been a source of encouragement for hundreds of writers for ten years. It is an honor to be listed in the Writer's Digest 101 Best Websites for Writers for 2006, 2007 and 2008. Our motto continues to be BIC HOK TAM, which means butt in chair, hands on keyboard, typing away madly. This is the best way we know of to get any writing done. We hope you will join us in meeting our writing goals. » The Top 10 Ways to Boost Your Freelance Writing Career Today. By Alexandra Romanov, Freelance Writer Getting started is often half of the battle in developing a freelance writing career.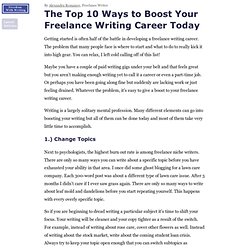 The problem that many people face is where to start and what to do to really kick it into high gear. You can relax, I left cold calling off of this list! Maybe you have a couple of paid writing gigs under your belt and that feels great but you aren't making enough writing yet to call it a career or even a part-time job. Or perhaps you have been going along fine but suddenly are lacking work or just feeling drained. What's Your Writing Personality? Your unique and inherent personality affects everything you do—including writing.
Most of us are going to spend the rest of our lives learning how we tick and how best to apply our strengths and correct our weaknesses. This is just as true of writing as it is of familial relationships or workplace effectiveness. WRITERS ON WRITING; Easy on the Adverbs, Exclamation Points and Especially Hooptedoodle - Page 2. These are rules I've picked up along the way to help me remain invisible when I'm writing a book, to help me show rather than tell what's taking place in the story.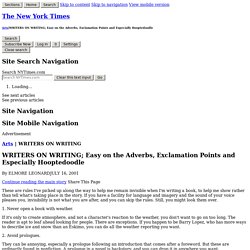 If you have a facility for language and imagery and the sound of your voice pleases you, invisibility is not what you are after, and you can skip the rules. Still, you might look them over. How to Write a Novel in 30 Days. Elmore Leonard's 10 Rules of Writing: Elmore Leonard: 9780061451461: Amazon.com. Writing. WRITING. Writing Tools. The Four Cornerstones of Strong Characters - Writingeekery. First, let's define strong.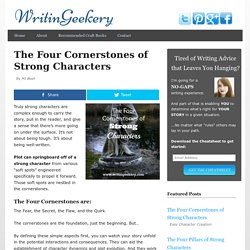 Strong characters are complex enough to carry the story, pull in the reader, and give a sense that there's more going on under the surface. It's not about being tough. It's about being well-written. Common, Yet Terrible Character Descriptors - And How To Fix Them. When asked to describe their characters, many people tend to use the same over-generalized descriptors over and over.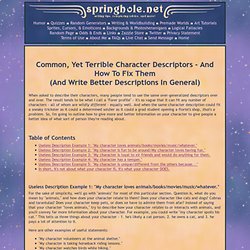 The result tends to be what I call a "Forer profile" - it's so vague that it can fit any number of characters - all of whom are wildly different - equally well. And when the same character description could fit a sneaky trickster as it could a determined soldier as it could a grad student opening a florist's shop, that's a problem. So, I'm going to outline how to give more and better information on your character to give people a better idea of what sort of person they're reading about. For the sake of simplicity, we'll go with "animals" for most of this particular section.
Question is, what do you mean by "animals," and how does your character relate to them? How Journalists Are Using Pinterest. Pinterest is quickly finding its way into the social strategies of media organizations large and small, even as the company itself is still figuring out its business model.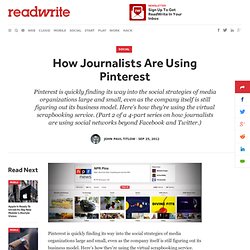 Here's how they're using the virtual scrapbooking service. (Part 2 of a 4-part series on how journalists are using social networks beyond Facebook and Twitter.) For a publisher, Pinterest's chief advantages are twofold. 80 Journal Writing Prompts - TomSlatin.com. ICFJ - International Center for Journalists | Advancing Quality Journalism Worldwide. Everything2. 10 Reading Exercises for Fiction Writers.
I always find it exciting when I discover a book that in some way echoes whatever I happen to be writing at the time.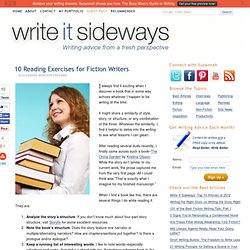 It might share a similarity of style, story, or structure, or any combination of the three. Whatever the similarity, I find it helpful to delve into the writing to see what lessons I can glean. After reading several duds recently, I finally came across such a book–The China Garden by Kristina Olsson. While the story isn't similar to my current work, the prose captured me from the very first page. All I could think was,"That is exactly what I imagine for my finished manuscript." CommuniCATE. #54 – Writing Hacks, Part 1: Starting. By Scott Berkun, Aug. 28 2006 Writing is easy, it's quality that's hard.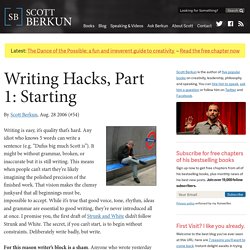 Any idiot who knows 5 words can write a sentence (e.g. 75 Books Every Writer Should Read. Whether you want to make writing your career or just want to know how to improve your writing so that you can pass your college courses, there is plenty of reading material out there to help you get inspired and hone your skills.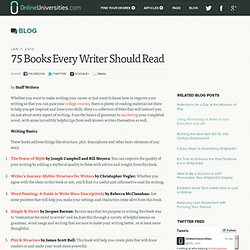 Here's a collection of titles that will instruct you on just about every aspect of writing, from the basics of grammar to marketing your completed novel, with some incredibly helpful tips from well-known writers themselves as well. Writing Basics These books address things like structure, plot, descriptions and other basic elements of any story. The Power of Myth by Joseph Campbell and Bill Moyers: You can improve the quality of your writing by adding a mythical quality to them with advice and insight from this book. Writer's Digest - 101 Best Sites. WritersDigest.com Skip to content THEWriting Prompt Boot CampSubscribe to our FREE email newsletter and get the Writing Prompt Boot Camp download. ← WD Newsletter Form Competitions Quick Sub → 101 Best Websites for Writers. Headlines and Deadlines. Themes & Things To Keep In Mind When Writing Fantasy Stories and Adventures « Daily Encounter.
This list is far from complete. It's not even trying to be complete. It knows better than that. It just wants to be helpful and provide some inspiration here and there; you know, offer little suggestions that might lead to bigger ideas. (Especially by using the words offered as Wikipedia searches!) Feel free to make suggestions in the comments! Synonym Finder. Forvo. Phrase finder. Posted by ESC on September 27, 2003 In Reply to: He who lives in a glass house shouldn't throw stones: meaning?
Posted by aberration on September 26, 2003 : I wonder what this phrase means. can anybody enlighten me please? Don't gossip about people if you have secrets of your own. Useful Phrases. 750 Words. Damn Fine Words Writing Course | A writing course by James Chartrand. Oneword.com. Authonomy writing community - Helping writers get published. Publish Writing, Poetry, Music, Video & Content Online.
---