Social
WordPress Photography Themes by Photocrati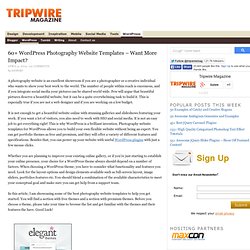 50 Best Wordpress Photography Website Templates
A photography website is an excellent showroom if you are a photographer or a creative individual who wants to show your best work to the world. The number of people within reach is enormous, and if you integrate social media your pictures can be shared world wide. Few will argue that beautiful pictures deserve a beautiful website, but it can be a quite overwhelming task to build it. This is especially true if you are not a web designer and if you are working on a low budget. It is not enough to get a beautiful website online with stunning galleries and slideshows featuring your work.
50 Best Wordpress Photography Website Templates
constant contact reviews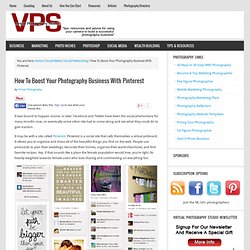 It was bound to happen sooner or later. Facebook and Twitter have been the social phenomena for many months now, so eventually some other site had to come along and see what they could do to gain traction. It may be with a site called Pinterest. Pinterest is a social site that calls themselves a virtual pinboard. It allows you to organize and share all of the beautiful things you find on the web.
How To Boost Your Photography Business With Pinterest
These days, you can't go online without bumping into someone styling himself as a social media guru, a Facebook expert, or a power user of Twitter. And, if you check their online profiles, they actually do have thousands of friends and followers. But are these real friends, or did the supposed expert socializers simply crank up an automation software to rapidly build their follower base? Surprisingly, how capable of being social a person is can be revealed by a brain scan. A new study has found that individuals with larger amygdalas (an area of the brain usually associated with fear and other emotions) have more friends and more complex social networks.
The Twitter Spot in Your Brain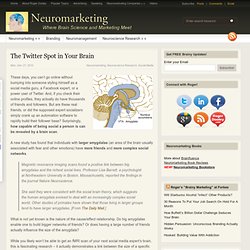 8 Creative Ways To Grow Your Photography Business With A Facebook Page
Have you built your Facebook Page, and are still wondering why more people haven't liked your Page? Fans don't automatically appear, ready to like you, follow you, and do business with you. People must be lured to your Page in hopes to attract enough people that will ultimately turn into a regular stream of business. However, the greatest myth out there is that if you build a Page, advertise it to your entire list of friends and acquaintances, and you'll quickly build up a respectable following. Unfortunately this strategy may actually backfire.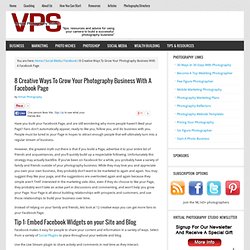 Pinterest and Blogging :: The Good, The Bad and The Huh?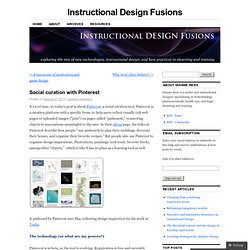 It's tool time, so today's post is about Pinterest, a social curation tool. Pinterest is a curation platform with a specific focus: to help users collect visually rich web pages or uploaded images ("pins") on pages called "pinboards," connecting objects to associations meaningful to the user. In their About page, the folks at Pinterest describe how people " use pinboards to plan their weddings, decorate their homes, and organize their favorite recipes." But people also use Pinterest to organize design inspirations, illustrations, paintings, tech tools, favorite books, among other "objects," which is why it has its place as a learning tool as well. A pinboard by Pinterest user Sha, collecting design inspiration for his work at Trulia.
Social curation with Pinterest
Edit January 4, 2012: I've invited everyone who has asked for a Pinterest invite, so feel free to keep asking for one. Just leave a comment below. If you really want an invite, I'd love it if you'd like The Backlight on Facebook or tweet about us or something like that.
Why and How All Bloggers Should Be Using Pinterest (Pinterest Invites)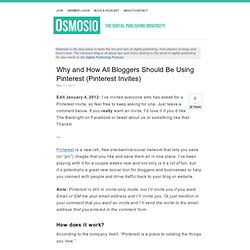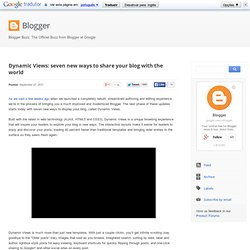 Dynamic Views: seven new ways to share your blog with the world
As we said a few weeks ago when we launched a completely rebuilt, streamlined authoring and editing experience, we're in the process of bringing you a much improved and modernized Blogger. The next phase of these updates starts today with seven new ways to display your blog, called Dynamic Views. Built with the latest in web technology (AJAX, HTML5 and CSS3), Dynamic Views is a unique browsing experience that will inspire your readers to explore your blog in new ways. The interactive layouts make it easier for readers to enjoy and discover your posts, loading 40 percent faster than traditional templates and bringing older entries to the surface so they seem fresh again. Dynamic Views is much more than just new templates.
Sometimes when I hear companies talking about creating a "machine" for their lead-generation efforts, I think about Dr. Seuss. Specifically, I think about all the fantastical and imaginative machines he created in his 46 children's books--like the Super-Axe-Hacker, the Utterly Sputter and (my favorite) the Eight-Nozzled Elephant-Toted Boom Blitz, a mighty machine that rapidly fires explosive sour-cherry stones. Of course in real life, businesses can't flip the switch on a Triple-Sling Jigger to instantly produce prospects. But what if you could create a kind of machine for lead generation on your own company blog, allowing it to help you continuously fill that sales funnel?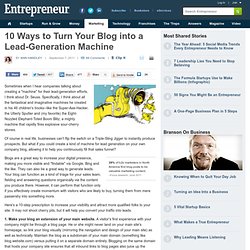 10 Ways to Turn Your Blog into a Lead-Generation Machine
Excerpt from article written and curated by Robin Good and first published on MasterNewMedia:"Content curation tools are in their infancy. Nonetheless you see so many of them around, there are more new curation tools coming your way soon, with lots of new features and options. Enormous progress has been made since the early days of the first news curation tools to what is available today, but yet, I feel we have only barely scratched the surface. To illustrate what I expect to see on this front, here is a panoramic tour of the traits, features, patterns and trends that I expect will characterize the future of digital content curation tools, organized into specific feature areas. 1) Display Formats of Curated Content CollectionsThe first area in which I expect to see lots of improvement and innovative ideas is the one of how a curated collection or stream can be displayed to the user.This is one of the most underestimated and underutilized areas of improvement for content curation tools.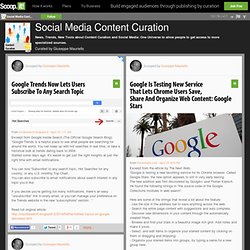 There are many motivating factors pushing homeowners to adapt more eco-friendly consumption habits, particularly with respect to home appliances. The welfare of the environment is becoming increasingly important to the general public as is saving money, partially by reducing energy expenses wholesale, but also by potentially lowering the amount owed on federal income taxes. Any US citizen who has installed qualified energy-efficient household appliances could end up paying less in federal income taxes this year These tax credits were originally a product of the Energy Policy Act of 2005, which sought to improve energy consumption in the United States by ensuring loan availability for companies who were developing technologies to reduce greenhouse gas emissions. It also provided tax incentives for homeowners who made purchases that would boost the energy efficiency of their home.
Sustainable business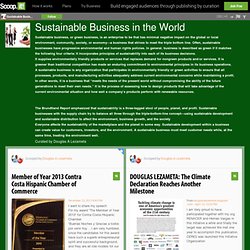 Friends! Roleplayers! Philanthropists! Lend me your eyes. Charge your tankards with your favourite poison, put your feet up and feast your peepers on a 2009 free RPG review. Rediscover something old or find something new in one handy review of the year.
WordPress may be one of the best tools for your corporate blog, not because of its simplicity, but because of the thousands of plugins available at your disposal. No matter what it is you are trying to accomplish with your blog, there is likely a plugin to get the job done. Today, we're going to take a look at which plugins you should be including on your small business blog. All-In-One SEO Pack
Top WordPress Plugins for Your Small Business Blog
Themes
Steps For Securing Your Wordpress Blog | Levoltz
How To Create A Powerful And Engaging Facebook Page
10 More Creative Uses of the New Facebook Profile [PICS]
About Quick Blogcast - Help Center
Thousands of people may be visiting your site every day, but if you don't convince them that they should be using your product, subscribing to your service, or registering in some way, then your web app's homepage is simply not doing its job. Successful web apps use similar formats when it comes to user interaction on their homepage. For instance, most feature an explanatory strapline that tells you what the service does, many show you screenshots of their service, and they all entice you to sign up or register with a prominently placed button. But is it really that simple? If you design a site with this simple checklist of 'must-haves' in hand, is the resulting site guaranteed to turn your visitors into users?
Turning Visitors into Users
Does Your Blog Need a Refresh? Seven Ideas to Try This Spring If you're in the Northern hemisphere, it's spring right now. Here in the UK, the sun has been shining almost all week — which feels like a wonderful change from a long, grey, rainy winter! Spring (and particularly Easter) is a great time to celebrate new or renewed life.
Blogging Tips and Social Media | Mint Blogger
Leader Networks - B2B online communities and professional networks
About
Welcome to Google Places for Business