Social News & Tips
Technorati. Scribd. Web Strategy by Jeremiah Owyang | Social Media, Web Marketing. Slideshare: Embed or Download this ReportThe Collaborative Economy Movement Changes Business This report offers critical insight for big brands who are grappling with the emergence of the Collaborative Economy, and for the startups that are driving this growth.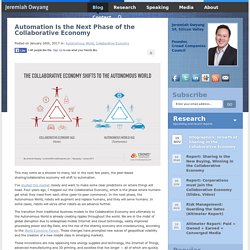 For those new to the term, the collaborative economy is a powerful, if nascent, movement in which people are getting the things from each other, it's a combination of trends like the sharing economy, maker movement, and co-innovation. That means that people go to a site like LendingClub to get funding for their new project, rather than a traditional bank.
Business 2 Community - Building Deeper Business Relationships Through Engaging Communities. Vladimir's Blog | A blog by Prelovac Media CEO Vladimir Prelovac. Constant contact reviews. Dynamic Views: seven new ways to share your blog with the world. As we said a few weeks ago when we launched a completely rebuilt, streamlined authoring and editing experience, we're in the process of bringing you a much improved and modernized Blogger.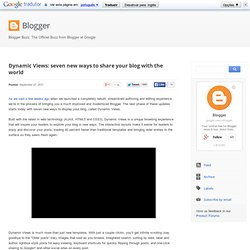 The next phase of these updates starts today with seven new ways to display your blog, called Dynamic Views. Built with the latest in web technology (AJAX, HTML5 and CSS3), Dynamic Views is a unique browsing experience that will inspire your readers to explore your blog in new ways. The interactive layouts make it easier for readers to enjoy and discover your posts, loading 40 percent faster than traditional templates and bringing older entries to the surface so they seem fresh again. Dynamic Views is much more than just new templates.
10 Ways to Turn Your Blog into a Lead-Generation Machine. Sometimes when I hear companies talking about creating a "machine" for their lead-generation efforts, I think about Dr.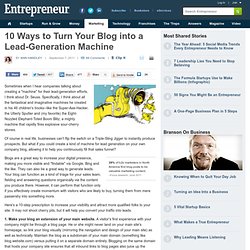 Seuss. Specifically, I think about all the fantastical and imaginative machines he created in his 46 children's books--like the Super-Axe-Hacker, the Utterly Sputter and (my favorite) the Eight-Nozzled Elephant-Toted Boom Blitz, a mighty machine that rapidly fires explosive sour-cherry stones. Of course in real life, businesses can't flip the switch on a Triple-Sling Jigger to instantly produce prospects. Social Media Content Curation.
Sustainable business. The Free RPG Blog: Become an Expert in Free RPGs - 2009 in Free RPGs. Friends!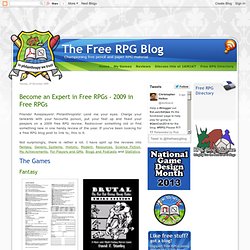 Roleplayers! Philanthropists! Lend me your eyes. Charge your tankards with your favourite poison, put your feet up and feast your peepers on a 2009 free RPG review. About Quick Blogcast - Help Center. Turning Visitors into Users. Thousands of people may be visiting your site every day, but if you don't convince them that they should be using your product, subscribing to your service, or registering in some way, then your web app's homepage is simply not doing its job.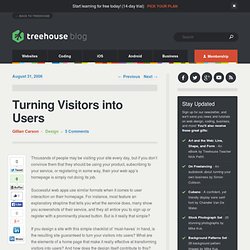 Successful web apps use similar formats when it comes to user interaction on their homepage. For instance, most feature an explanatory strapline that tells you what the service does, many show you screenshots of their service, and they all entice you to sign up or register with a prominently placed button. But is it really that simple? Online marketing advice that works. Blogging Tips and Social Media | Mint Blogger. Leader Networks - B2B online communities and professional networks. About. A Brief Bio May I pause and say something about bios?
They always sound so arrogant and pompous. They are this moment in time where we're supposed to brag about ourselves so that you think we're worth your time.I'm worth your time. If you're stuck having to read this to a crowd at a conference where I'm keynoting, hopefully, this will be easier. Welcome to Google Places for Business.
---