QUILTS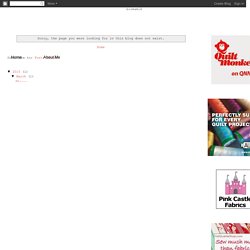 How are you doing so far? Anyone made any blocks? I've seen a few pop up on flickr, so I know I'm not completely alone over here. I had a break from sewing to go to Houston for Quilt Market (as you know) but it's back to the grind stone again and we need to get this quilt moving along. I still have about half of my A blocks to sew together, but if you feel like you want to give the B blocks a try and leave your others to one side for a while, then here's the instructions for block B.... First off you will need to select (for each block); 12 black squares* 8 blue squares* 29 mixed scrap squares
i'm a ginger monkey: scrap vomit quilt along - block B
Well we're at week 4 and guess what, I fell off the wagon already. I couldn't resist... they just jumped into my arms at the quilt shop - they screamed at me that they needed a home, to be loved and amongst all those other loverly fabrics so neatly and orderly stacked together. They wanted to be placed into a new project.
Whimzee Stitches Blog
Your imagination is the only limit to what all you can do with these letter sets. They are four inches tall and have iron on adhesive (wonder under) applied on the backs. I show as examples a few quilts I've made in the past. The first pic is a traditional rectangle layout. The 2nd and 3rd quilt pics show how you can make a square wallhanging, by either combining the narrow I and J in one block or by putting the Y and Z together. I have also made bean bag sets and cloth books with these.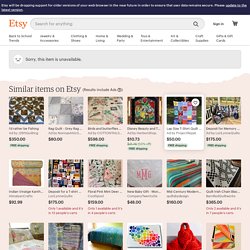 ABCs alphabet set fabric 4 inch letters for by jkduncanOriginals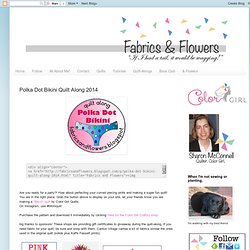 Polka Dot Bikini Quilt Along 2014
Are you ready for a party?! How about perfecting your curved piecing skills and making a super fun quilt! You are in the right place.
Math for On-Point Quilts
Quiltville Custom Quiltinghttp://www.quiltville.com (Click here for printer-friendly version) Figuring the math for diagonal quilt settings! Here is the math formula for finding out the sizes of triangles you will need for a quilt that is set "block to block" WITHOUT sashings: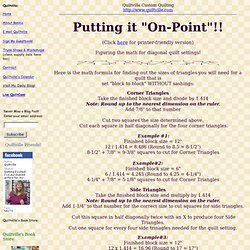 Freezer paper is that wonderful stuff you can find in your grocers storage aisle along with Ziploc bags and foil wrap. One side is paper and the other has a light coating of a plastic which melts like wax when you iron it. To adhere it to fabric, place the wax side down on the wrong side of the fabric, then use a medium iron to adhere it to the fabric. Ostensibly for wrapping meat, I suspect freezer paper is used far more often for quilting fabrics. Buy good quality freezer paper - Reynolds is far easier to use for freezer paper piecing than Costco, for example.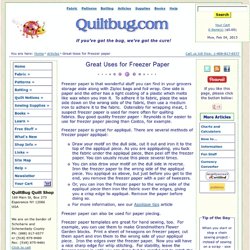 Great Uses for Freezer paper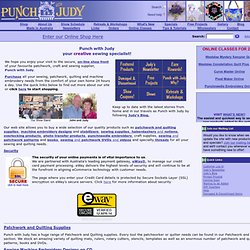 Punch with Judy
Punch with Judy specialises in providing an enormous range of sewing machine embroidery designs, proudly with a particular emphasis on Australian designers. Machine Embroidery is increasingly popular and we are constantly adding new designers to our range with new techniques and digitized machine embroidery CDs. We have included many Tutorials for Machine Embroidery in our Tips & Tutorials section. Punch with Judy is your one-stop-shop for all your Sewing Supplies, Dressmaking Supplies, Sewing Notions, Sewing Tools and Haberdashery that you could imagine. We have all your everyday sewing supplies and those hard-to-find sewing notions, we have it all! If you can't find it, simply email and we can possibly source it for you.
Search Quilt.com's 1600+ pages New Additions to the World Wide Quilting Page Topics on the World Wide Quilting Page Patterns & Instructions How To's Basic & not so basic quilting techniques
World Wide Quilting Page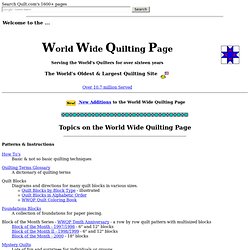 Double Wedding Ring (ca. 1890) Ind. Wedding Ring (Flying Geese Border) (ca. 1890) Pickle Dish (ca. 1885) Wedding Ring? or Single Wedding Ring?
The Quilt Index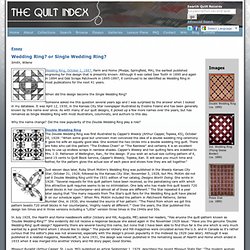 Craftsy
Life 4 - Hello Dear, What Did You Do Today?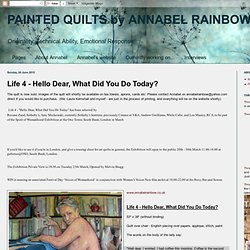 Update for January 2014 Life 4 - "Hello Dear, What Did You Do Today" has been selected by Roxane Zand, Sotheby's, Amy Mechowski, currently Sotheby's Institute, previously Curator at V&A, Andrew Gwilliams, White Cube, and Len Massey, RCA, to be part of the Spirit of Womanhood Exhibition at the Oxo Tower, South Bank, London in March If you'd like to see it if you're in London, and give a rousing cheer for art quilts in general, the Exhibition will open to the public 20th - 30th March 11.00-18.00 at galleries@OXO, South Bank, London.