QUILTS
Buttons and Butterflies
Buttons and Butterflies: English Paper Piecing {Tutorial}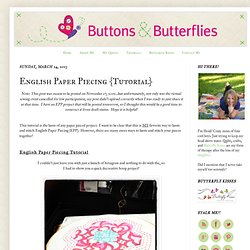 Note: This post was meant to be posted on November 17, 2012...but unfortunately, not only was the virtual sewing event cancelled for low participation, my post didn't upload correctly when I was ready to just share it at that time. I have an EPP project that will be posted tomorrow, so I thought this would be a good time to resurrect it from draft status. Hope it is helpful!
phew! well i said i would get this out on wednesday didn't i? i didn't mention that it might be at 11:59 on wednesday night...but with all the kids home for summer, that's how we're rolling today. anyways, here's my helpful hints for small hexagon paper piecing. i'll talk about getting your hexagons started, and then i'll finish with a more NON traditional finish by teaching you how to appliqué it onto a block, or in this case appliquéing it to the fabric used to make my little zipper pouch. you can keep making your hexagons using the first part of this tutorial and by using the how to attach them method i do, plus add a center if you want a more traditional flower project.
V and Co: tips for small hexagon paper piecing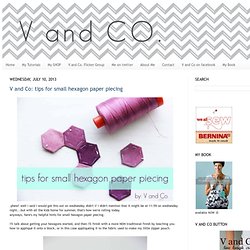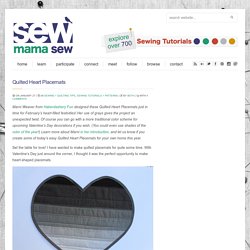 Quilted Heart Placemats
Marni Weaver from Haberdashery Fun designed these Quilted Heart Placemats just in time for February's heart-filled festivities! Her use of grays gives the project an unexpected twist. Of course you can go with a more traditional color scheme for upcoming Valentine's Day decorations if you wish. (You could even use shades of the color of the year!) Learn more about Marni in her introduction, and let us know if you create some of today's easy Quilted Heart Placemats for your own home this year.
Tutorial on Hickory Nut quilt blocks
Welcome to the World Wide Quilting Page
Patchwork, Quilting, Sewing, Overlocking & Machine Embroidery Supplies – Punch with Judy
Math for On-Point Quilts
Quiltville Custom Quiltinghttp://www.quiltville.com (Click here for printer-friendly version) Figuring the math for diagonal quilt settings! Here is the math formula for finding out the sizes of triangles you will need for a quilt that is set "block to block" WITHOUT sashings: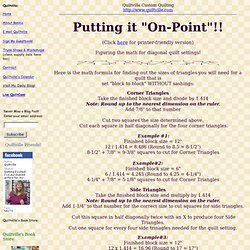 Quilting Classes | Techniques, Projects & Inspiration on Craftsy
Freezer paper is that wonderful stuff you can find in your grocers storage aisle along with Ziploc bags and foil wrap.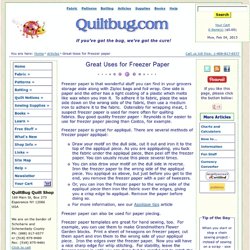 Great Uses for Freezer paper
America's Quilting History, Quilt Styles and Quilting Myths
Your Grandmother's Quilts (Or Not): alt_quilts at the American Folk Art Museum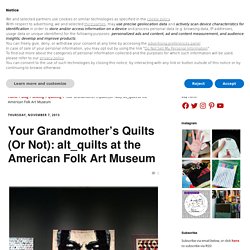 One of my favorite things about quilting is how incredibly versatile, rich, and relevant such a traditional art form can be to today's makers. I love that an art quilt can look right at home hanging between an antique log cabin quilt and a top pieced of paper, and that all three will have drawn from the same vibrant heritage of creativity, utility, and craftsmanship. Regardless of when or how a quilt was made, I always find myself attracted to the tangible sense of history and connection that it brings to the quilters who have come before me, and I'm always eager to know the stories that tie this quilt to its maker and its time.
Quilting Blogs from Poland / Quilting Bloggers, Quilting Gallery
the polish quilter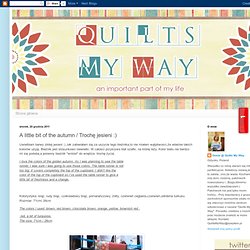 Uwielbiam barwy złotej jesieni :) Jak zabierałam się za uszycie tego bieżnika,to nie miałam wątpliwości,że właśnie takich kolorów użyję. Bieżnik jest stosunkowo niewielki.
A little bit of the autumn / fall a little:)