QUILTS
Changing Ways Quilt Pattern
QuiltingPoint
FA Edmunds American Legacy Quilt Floor Frame 5560-G New
FAN DESIGN QUILTING FRAME HAND QUILT ~ Handcrafted in USA ~ Selling since 2006~~
from the blue chair
the confused quilter
Brown Dirt Cottage
Quilting Blog - Cactus Needle Quilts, Fabric and More
We get you sewing at PatternSpot.com - Sewing, Quilting, Garment Patterns, Projects, Ideas, Tutorials, Videos
QUILTSRŸCHE by Boo Davis:
The Quilt Index
Planet Patchwork - the Ultimate Address in Quilting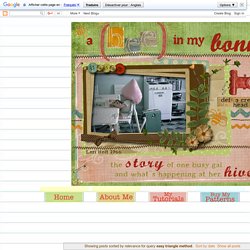 Well I've jumped right into a new project....the FWQAL! The quilt along was started by
Search results for easy triangle method
i'm a ginger monkey
The pattern is in the shop now. Yay! And I thought I'd do this post as a companion to the pattern with unmercifully close up shots of my stitches as a sort of guide ~ though my suggestion is that you go wild and stitch it any way you like!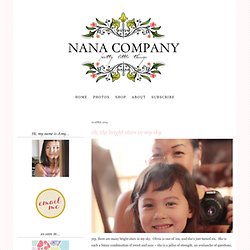 nanaCompany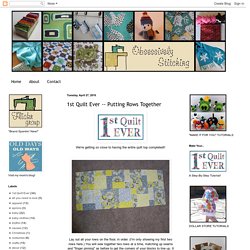 1st Quilt Ever -- Putting Rows Together
We're getting so close to having the entire quilt top completed!! Lay out all your rows on the floor, in order.
Freezer paper is that wonderful stuff you can find in your grocers storage aisle along with Ziploc bags and foil wrap.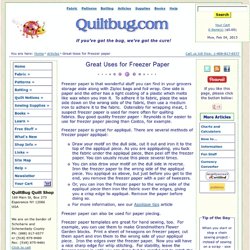 Great Uses for Freezer paper
Quilting Blogs from Poland / Quilting Bloggers, Quilting Gallery
the polish quilter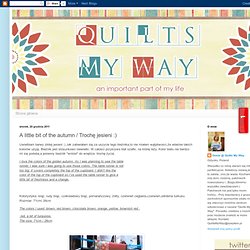 Uwielbiam barwy złotej jesieni :) Jak zabierałam się za uszycie tego bieżnika,to nie miałam wątpliwości,że właśnie takich kolorów użyję. Bieżnik jest stosunkowo niewielki.
A little bit of the autumn / fall a little:)
Three days and two nights of almost non-stop sewing, away from home, were invigorating and draining.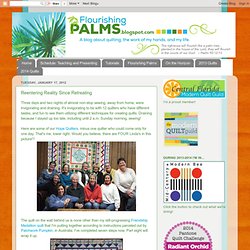 Reentering Reality Since Retreating
Welcome to the World Wide Quilting Page
Geta's Quilting Studio
Or how to turn dresden fan blocks into octagons.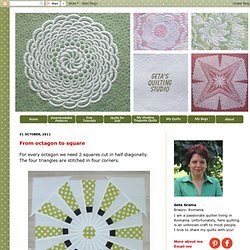 Free Quilting Tutorials
My sweet mama made me a beautiful gift.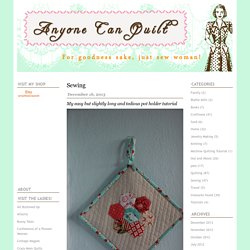 Anyone Can Quilt: Sewing
I have so much to tell you all about! I'm not sure where to start, it's been such a busy few months for us. I'll have to share it all over a few posts, or this one would be waaay too long.
Anyone Can Quilt: Quilting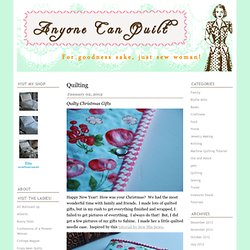 About Us « The Modern Quilt Guild
Jaybird Quilts