PSYC FACTS
When tennis legend Jimmy Connors released his memoir last month, one revelation fixated the media: Connors' disclosure that nearly 40 years ago, his then-fiancée, fellow tennis great Chris Evert, had had an abortion. Reaction was swift and negative. Evert issued a short statement expressing extreme disappointment that her former partner had revealed such a "private matter. " Writing here, Jessica Luther criticized Connors, arguing that this "was not his story to tell." Regardless of whether Connors violated the principles of ethical memoir, the story reveals how challenging it can be for men to speak openly about their own reactions to a partner's abortion.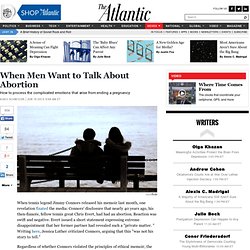 When Men Want to Talk About Abortion - Hugo Schwyzer
Personality disorder
Personality disorders are a class of mental disorders characterised by enduring maladaptive patterns of behavior, cognition and inner experience, exhibited across many contexts and deviating markedly from those accepted by the individual's culture.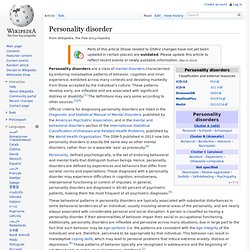 Assessing Addiction: Concepts and Instruments
Axis V
Axis V - Global Assessment of Functioning Scale Axis V is part of the DSM "multiaxial" system for assessment.
Axis II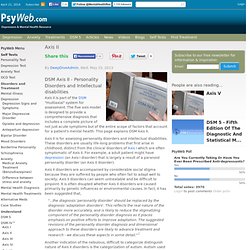 DSM Axis II - Personality Disorders and Intellectual disabilities Axis II is part of the DSM "multiaxial" system for assessment. The five axis model is designed to provide a comprehensive diagnosis that includes a complete picture of not just acute symptoms but of the entire scope of factors that account for a patient's mental health.
Allan Schwartz, LCSW, Ph.D. Updated: Dec 10th 2010
Does the Modern World Promote Schizoid Personality Disorder? - Personality Disorders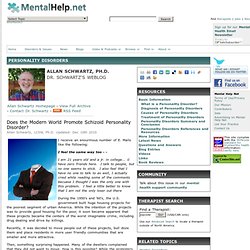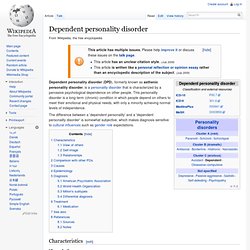 Dependent personality disorder (DPD), formerly known as asthenic personality disorder, is a personality disorder that is characterized by a pervasive psychological dependence on other people. This personality disorder is a long-term (chronic) condition in which people depend on others to meet their emotional and physical needs, with only a minority achieving normal levels of independence.
Dependent personality disorder
Psychiatric Disorders
Psychotherapy Networker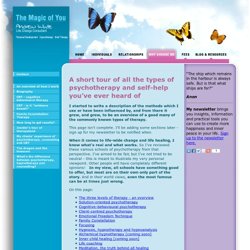 The Magic In You
I started to write a description of the methods which I use or have been influenced by, and from there it grew, and grew, to be an overview of a good many of the commonly known types of therapy.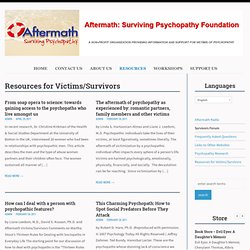 Aftermath: Surviving Psychopathy Foundation | Archive | Resources for Victims/Survivors
From soap opera to science: towards gaining access to the psychopaths who live amongst us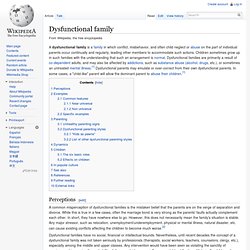 Perceptions[edit]
Brain and Brain Research Information
General Links Related to the Study of Psychopathy and Forensics
Psychological manipulation is a type of social influence that aims to change the perception or behavior of others through underhanded, deceptive, or even abusive tactics.[1] By advancing the interests of the manipulator, often at another's expense, such methods could be considered exploitative, abusive, devious and deceptive. Social influence is not necessarily negative. For example, doctors can try to persuade patients to change unhealthy habits.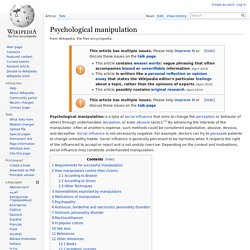 Clearing the Fog Around Personality Disorders
Specific Inventories
Young Schema Questionnaire: Long & Short Forms
Theory of Mind
What does theory of mind have to do with NPD? From interview at http://www.medscape.com/viewarticle/518449