Nikon D40x
Nikon D40 Blog - D40 Everything!
This book/eBook package is your guide to getting more interesting and creative photos with the 10.2 megapixel Nikon D40x digital SLR. If you want to learn more about the concepts of photography, this book/ebook is for you. It discusses every camera setting on these almost identical cameras in a clear, well-illustrated style, but it also does much more. You'll see why and when you use specific settings, not just how to set them. You ll find that this guide helps you quickly master your camera so you ll be getting the kinds of photos you hope for. The book is printed in black & white and has a well-liked spiral binding that lets the book lie flat or be folded back.
Nikon D40 Manual Wanted
Discussion Forums @ Nikonians - Nikon D60/D50/D40 (Open)
Nikon D40 Guide
Quick Overview 6.1 Megapixels 100% Compatible with Nikon AF-S and AF-I lenses (see lenses) 2.5 photos per second ISO settings from 200 to 3200 Maximum shutter speed of 1/4000th of a second 1.5 times crop factor 2.5 inch LCD Stores photos on SD Memory Cards 3-point autofocus Key Feature The key feature of the Nikon D40 that sets it apart from other digital SLR cameras is its informative LCD screen.
Nikon D40x
Nikon D40x © 2007 KenRockwell.com Nikon D40x. I'd order a D40x here, here or here; but personally I prefer the less expensive D40. You can poke around each of of those links for various kit options. It comes as a body-only (about $535) , or kitted with the excellent 18-55mm lens (about $590), or kitted with both the 18-55mm and new 55-200mm VR lenses (about $805), all of which I suggest if you need lenses. I buy from those people myself so I recommend them, and It helps me keep adding to this site when you get yours from those links, too.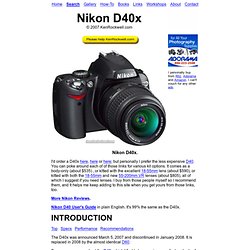 Article 27323