Nikon D40x
Nikon D40 Blog - D40 Everything!
Nikon D40 Manual Wanted
Discussion Forums @ Nikonians - Nikon D60/D50/D40 (Open)
Nikon D40 Guide
Quick Overview 6.1 Megapixels 100% Compatible with Nikon AF-S and AF-I lenses (see lenses) 2.5 photos per second ISO settings from 200 to 3200 Maximum shutter speed of 1/4000th of a second 1.5 times crop factor 2.5 inch LCD Stores photos on SD Memory Cards 3-point autofocus Key Feature The key feature of the Nikon D40 that sets it apart from other digital SLR cameras is its informative LCD screen.
Nikon D40x
Nikon D40x © 2007 KenRockwell.com Nikon D40x.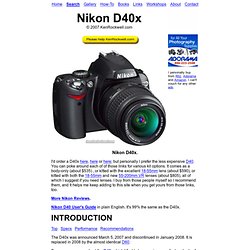 Article 27323