Mindfulness
Planting Seeds: The Power of Mindfulness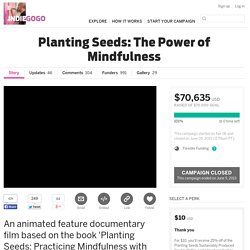 Limited Edition Collectable
My name is Gilbert Ross and I feel privileged to be able to share with you some of my thoughts, insights, inspirations and lessons I am learning as I hike my way through a journey of inner-development and spiritual growth.
About Me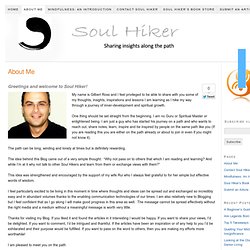 A nice video from Sandra Kiume at Psych Central's Channel N - this meditation is based on the teachings of the famous Zen Buddhist monk, teacher, poet, and human rights activist Thich Nhat Hanh . By SANDRA KIUME A Zen Buddhist monk guides us through the brief mindfulness meditation " Pebble for your Pocket ."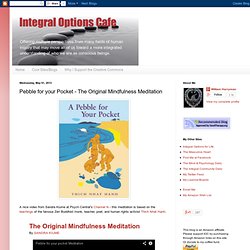 Pebble for your Pocket - The Original Mindfulness Meditation
Tathaastu: So Be It – Eastern Wisdom for Mind Body Soul
Dalai Lama: 'Religion Is No Longer Adequate'
Press Release: Mindfulness Meditation Reduces Loneliness in Older Adults, Carnegie Mellon Study Shows-Carnegie Mellon News
Tuesday, July 24, 2012 Contact: Shilo Rea / 412-268-6094 / shilo@cmu.edu PITTSBURGH—For older adults, loneliness is a major risk factor for health problems — such as cardiovascular disease and Alzheimer's — and death. Attempts to diminish loneliness with social networking programs like creating community centers to encourage new relationships have not been effective.
Post written by Leo Babauta . Follow me on Twitter . How many times have you gotten upset because someone wasn't doing their job, because your child isn't behaving, because your partner or friend isn't living up to his or her end of the bargain? How many times have you been irritated when someone doesn't do things the way you're used to? Or when you've planned something carefully and things didn't go as you'd hoped?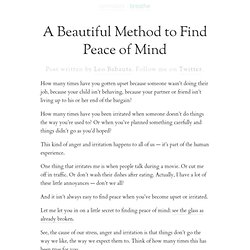 » A Beautiful Method to Find Peace of Mind
Simple paths to positive change
Learn how to meditate, guided meditation CDs, free audios, podcast, blog, instructions
The Meaning of Life
(or, What's it all about?) Now available in Spanish! (Traduccin de hsu - midipaj@arrakis.es ) Let's step back a moment... Why do you want to know the meaning of life? Often people ask this question when they really want the answer to some other question.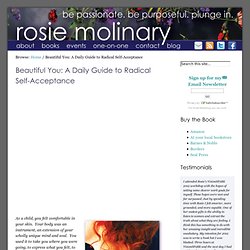 Beautiful You: A Daily Guide to Radical Self-Acceptance | Rosie Molinary
As a child, you felt comfortable in your skin. Your body was an instrument, an extension of your wholly unique mind and soul. You used it to take you where you were going, to express what you felt, to get things done. The world, for you, was hopeful and certainly not limited by the way you looked.
It seems everyone is interested in meditation...talking about the wonderful benefits, recommending classes and discussing the different ways to "do it". But, for a beginner, just what is "it"? And how do you do "it"? Our busy, hectic, lifestyles may seem to prohibit this peaceful practice, or provide a convenient "excuse" not to begin, or continue, to meditate...but, the happy news is, you CAN successfully benefit even if you practice for short periods. With the simple technique described below, you will begin and incredible journey.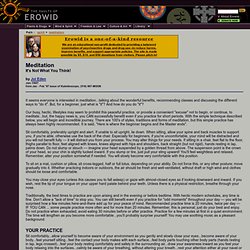 How to Get Someone or Something, Off Your Mind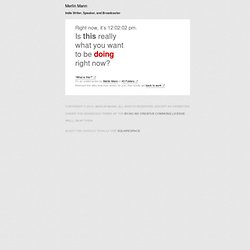 Merlin Mann Indie Writer, Speaker, and Broadcaster Roderick on the Line Right now, it's 08:34:22 pm . Is this really what you want to be doing right now? "What is this?"
What Are You Doing Right Now? - Merlin Mann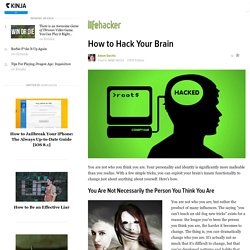 You are not who you think you are. Your personality and identity is significantly more malleable than you realize. With a few simple tricks, you can exploit your brain's innate functionality to change just about anything about yourself. Here's how. You Are Not Necessarily the Person You Think You Are
positively present
Studies have shown that meditating regularly can help relieve symptoms in people who suffer from chronic pain, but the neural mechanisms underlying the relief were unclear. Now, MIT and Harvard researchers have found a possible explanation for this phenomenon. In a study published online April 21 in the journal Brain Research Bulletin , the researchers found that people trained to meditate over an eight-week period were better able to control a specific type of brain waves called alpha rhythms. "These activity patterns are thought to minimize distractions, to diminish the likelihood stimuli will grab your attention," says Christopher Moore, an MIT neuroscientist and senior author of the paper. "Our data indicate that meditation training makes you better at focusing, in part by allowing you to better regulate how things that arise will impact you."
Forgiveness, Psychology, and Mental Health
Ann Weiser Cornell was getting her PhD in Linguistics at the University of Chicago when she met and studied with Eugene Gendlin, the originator of Focusing, starting in 1972. Learning Focusing with him has led to a lifelong process of discovery and personal development. In 1980, Eugene Gendlin invited Ann to assist with his Focusing workshops.
Focusing Resources - Ann Weiser Cornell
Mindfulness & Acceptance | Laura Schenck, M.A.