Machine quilting
Walk the {Quilted} Line
I love straight line quilting. For me it has a clean, modern feel with a simplicity that I love. The possible combinations of straight lines are endless.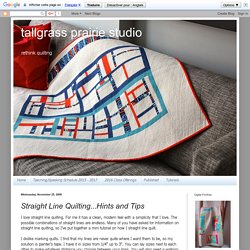 Straight Line Quilting...Hints and Tips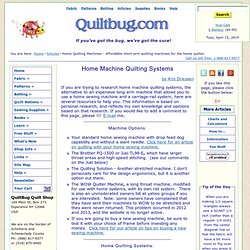 by Kris Driessen If you are trying to research home machine quilting systems, the alternative to an expensive long arm machine that allows you to use a home sewing machine and a carriage-rail system, here are several resources to help you. This information is based on personal research, and reflects my own knowledge and opinions based on that research. If you would like to add a comment to this page, please E-mail me.
Home Quilting Machines - Affordable short arm quilting machines for the home quilter.
Machine Quilting Tips and Tricks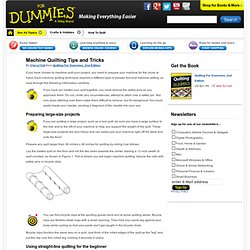 If you have chosen to machine quilt your project, you need to prepare your machine for the chore at hand. Each machine quilting technique requires a different type of presser foot and machine setting, so read through the following information carefully. If you have pin basted your quilt together, you must remove the safety pins as you approach them. Do not, under any circumstances, attempt to stitch over a safety pin.
Machine Quilting
The WWQP How-To's Introduction For many quilters, machine quilting is a way to quilt those tops that seem to go together faster than they can be hand quilted.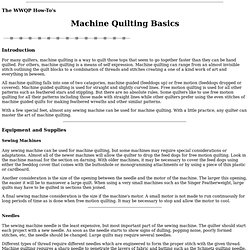 Machine Quilting: Managing a Large Quilt Sandwich
Question: For a year I have been learning free hand quilting by machine and I find it very difficult to move my work smoothly and with constant speed. Often my movement is blocked because the heavy quilt won't come over the edge of my working table. Can you give me some advice or suggestions where to find information about feehand machine quilting and what kind of sewing machine is best to do this kind of work.