Local Activity
:: Master Calendar ::
Calendar - Arkansas Kundalini Yoga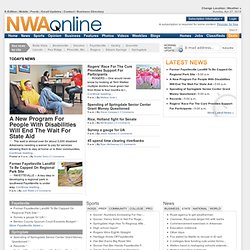 NWAOnline
Apr 6 Andrew Lloyd Webber's The Wizard of Oz — Walton Arts Center, 2 p.m. The Wizard of Oz — Walton Arts Center, 2 p.m. SOFTBALL: NWACC Season — Bentonville, Sundays, Tuesdays, Thursdays At First Sight: Collecting the American Watercolor — Crystal Bridges, Sundays, Mondays, Tuesdays, Wednesdays, Thursdays, Fridays, Saturdays
Fay Chamber of Comm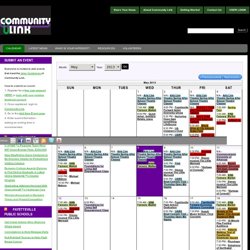 Fayetteville Community Link
Description: Just join the fun at the 8th Annual West Fork Watershed Cleanup from 8 a.m. to 1 p.m. Saturday, May 25, at West Fork Riverside Park, located off state Hwy. 170 in quaint downtown West Fork, Ark.
EVENTFUL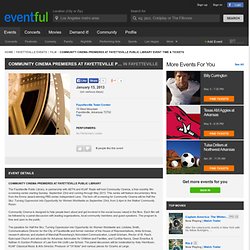 Community Cinema Premieres at Fayetteville Public Library The Fayetteville Public Library, in partnership with AETN and KUAF Radio will host Community Cinema, a free monthly film screening series starting Sunday, September 23rd and running through May 2013. This series will feature documentary films from the Emmy award-winning PBS series Independent Lens. The kick-off screening for Community Cinema will be Half the Sky: Turning Oppression into Opportunity for Women Worldwide on September 23rd, from 2-4pm in the Walker Community Room. Community Cinema is designed to help people learn about and get involved in the social issues raised in the films.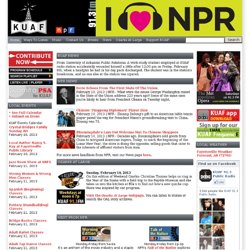 kuaf
Tom and Ray Magliozzi, long time hosts of popular public radio show Car Talk, announced their retirement this summer and the public radio community went into mourning. The brothers have been taping Car Talk at WBUR in Boston for 35 years. With older brother Tom turning 75 this year, the guys decided it was time to "stop and smell the cappuccino." The last Car Talk aired on KUAF Saturday, September 29th. They will be missed by all of us. KUAF will keep the laughs coming on Saturdays with Wait Wait...
Calendar Of Events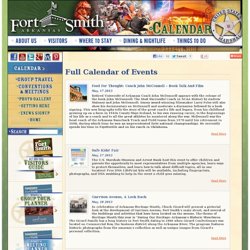 Food For Thought: Coach John McConnell – Book Talk and Film May, 17 2013 Retired University of Arkansas Coach John McDonnell appears with the release of the book John McDonnell: The Most Successful Coach in NCAA History by Andrew Maloney and John McDonnell. Emmy award-winning filmmaker Larry Foley will also show his documentary on McDonnell and moderate a discussion followed by a book signing. This new biography tells the story of the great coach's life and legacy, from his childhood growing up on a farm in 1940s County Mayo Ireland, to his own running career, to the beginnings of his life as a coach and to all the great athletes he mentored along the way. McDonnell was the head coach of the Arkansas Razorback Track-and-Field teams from 1978 until his retirement in 2008, during which time he won an unprecedented forty national championships.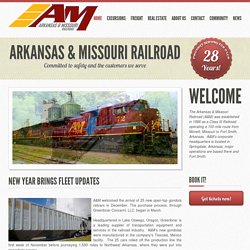 Arkansas Missouri Railroad
The Arkansas & Missouri Railroad (A&M) was established in 1986 as a Class III Railroad operating a 150 mile route from Monett, Missouri to Fort Smith, Arkansas. The home office is located in Springdale, Arkansas; major operations are based there and Fort Smith. The company provides freight services to customers along its route and excursion passenger service between Springdale and Van Buren / Fort Smith. A&M interchanges traffic with three Class I railroads: Burlington Northern Santa Fe (BNSF), Kansas City Southern (KCS), and the Union Pacific (UP), as well as the Fort Smith Railroad (FSR).
ONF
Fay Traditional Dance
FPL
Spring Spring registration will open on January 23, 2014. Register for classes online or by phone 479-575-4545, or come in and visit us at the Fayetteville Global Campus. Special Note Our new online registration system is now in place. We will begin taking registrations for the spring semester on January 23.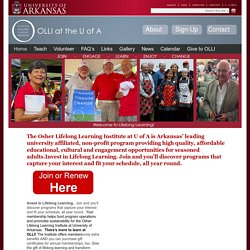 Osher Lifelong Learning Institute at the University of Arkansas
2011_TrailsGuideBro_(Final)1.pdf
Hatha Yoga Class
Walk-ins welcome, but space is limited. Registration no longer needed. The Fayetteville Public Library will hold free yoga classes on Monday nights from 5:30 to 6:30 in the Walker Community Room. The Hatha yoga style classes are suitable for both beginner and intermediate yoga practitioners.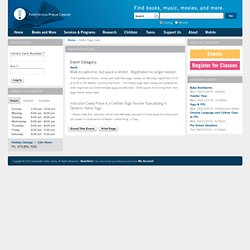 May we manifest equanimity during this changing weather. If Fayetteville Public Schools are open (www.fayar.net), we'll be open. If they're closed, check on this page: sometimes we're open when they're not.
Arkansas Yoga Center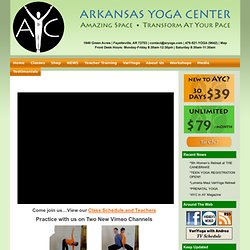 TheatreSquared
WAC
Redbox
Hiking the Ozarks-Outdoor Rendezvous 2013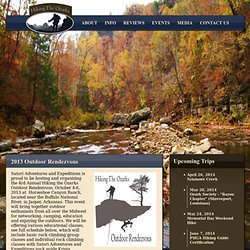 Satori Adventures and Expeditions is proud to be hosting and organizing the 4rd Annual Hiking the Ozarks Outdoor Rendezvous, October 4-6, 2013 at Horseshoe Canyon Ranch, located near the Buffalo National River, in Jasper, Arkansas. This event will bring together outdoor enthusiasts from all over the Midwest for networking, camping, education and enjoying the outdoors. We will be offering various educational classes, see full schedule below, which will include basic rock climbing group classes and individual rock climbing classes with Satori Adventures and Expeditions rock guide Krista Bowman from Canada, plus several other outdoor educational classes and guest speakers. There will also be hikes on some of the area's greatest trails and locations, including the Hemmed in Hollow Falls, Twin Falls at Richland Creek, the Eye of the Needle and others.