Local Activity
:: Master Calendar ::
Calendar - Arkansas Kundalini Yoga
NWAOnline
Fay Chamber of Comm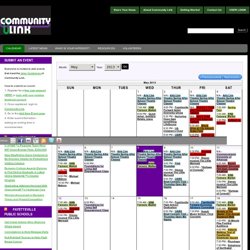 Fayetteville Community Link
Description: Just join the fun at the 8th Annual West Fork Watershed Cleanup from 8 a.m. to 1 p.m. Saturday, May 25, at West Fork Riverside Park, located off state Hwy. 170 in quaint downtown West Fork, Ark.
EVENTFUL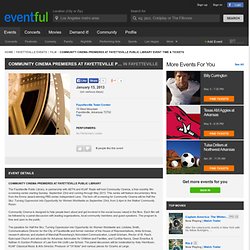 Community Cinema Premieres at Fayetteville Public Library The Fayetteville Public Library, in partnership with AETN and KUAF Radio will host Community Cinema, a free monthly film screening series starting Sunday, September 23rd and running through May 2013. This series will feature documentary films from the Emmy award-winning PBS series Independent Lens. The kick-off screening for Community Cinema will be Half the Sky: Turning Oppression into Opportunity for Women Worldwide on September 23rd, from 2-4pm in the Walker Community Room. Community Cinema is designed to help people learn about and get involved in the social issues raised in the films.
kuaf
Calendar Of Events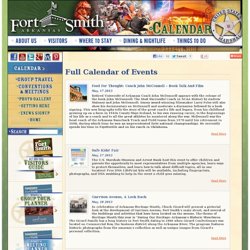 Food For Thought: Coach John McConnell – Book Talk and Film May, 17 2013
Arkansas Missouri Railroad
ONF
Fay Traditional Dance
FPL
Osher Lifelong Learning Institute at the University of Arkansas
2011_TrailsGuideBro_(Final)1.pdf
Hatha Yoga Class
Walk-ins welcome, but space is limited. Registration no longer needed. The Fayetteville Public Library will hold free yoga classes on Monday nights from 5:30 to 6:30 in the Walker Community Room. The Hatha yoga style classes are suitable for both beginner and intermediate yoga practitioners.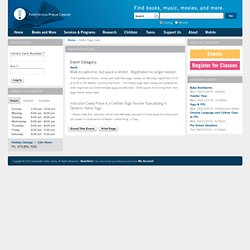 Arkansas Yoga Center
TheatreSquared
WAC
Redbox
Hiking the Ozarks-Outdoor Rendezvous 2013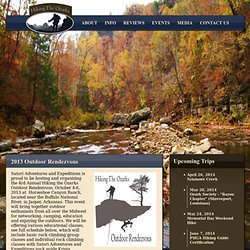 Satori Adventures and Expeditions is proud to be hosting and organizing the 4rd Annual Hiking the Ozarks Outdoor Rendezvous, October 4-6, 2013 at Horseshoe Canyon Ranch, located near the Buffalo National River, in Jasper, Arkansas. This event will bring together outdoor enthusiasts from all over the Midwest for networking, camping, education and enjoying the outdoors.