LinkedIn
How to decide who to add to your LinkedIn network | The Baby Boomer Entrepreneur. If you've been reading this blog for a while, you probably already know that I'm an open networker – I accept invitations even from people I don't know.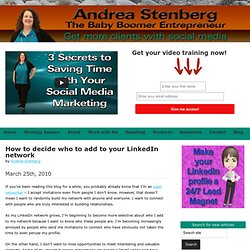 However, that doesn't mean I want to randomly build my network with anyone and everyone. I want to connect with people who are truly interested in building relationships. As my LinkedIn network grows, I'm beginning to become more selective about who I add to my network because I want to know who these people are. I'm becoming increasingly annoyed by people who send me invitations to connect who have obviously not taken the time to even peruse my profile. On the other hand, I don't want to miss opportunities to meet interesting and valuable contacts. A Guide to Generating Leads on LinkedIn.
To me, LinkedIn has always seemed like more of a place to hunt for a new gig than anything else.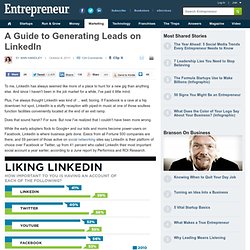 And since I haven't been in the job market for a while, I've paid it little mind. Plus, I've always thought LinkedIn was kind of ... well, boring. If Facebook is a rave at a hip downtown hot spot, LinkedIn is a stuffy reception with piped-in music at one of those soulless function facilities conveniently located at the end of an exit ramp. Using LinkedIn To Find Jobs. When it comes to networking, Twitter and Facebook usually steals the show.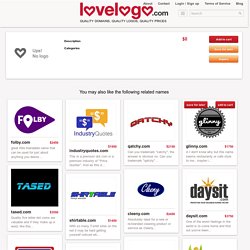 However, LinkedIn users will vouch for the service that it is one of the most powerful tool when it comes to professional networking and job search. We have already covered a visual guide to twitter and an interactive guide on how to form a business structure , and today we bring you a job hunter's guide to LinkedIn. 6 Powerful LinkedIn Marketing Tips for Small Businesses. Let's face it, LinkedIn is a very underutilized social media network.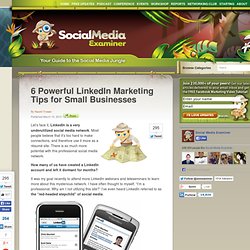 Most people believe that it's too hard to make connections, and therefore use it more as a résumé site. There is so much more potential with this professional social media network. How many of us have created a LinkedIn account and left it dormant for months? It was my goal recently to attend more LinkedIn webinars and teleseminars to learn more about this mysterious network. 5 Need to Know LinkedIn Tricks | LI & Business. Linkedin Business. Linkedin Status Update Function. LinkedIn. HOW TO: Optimize Your LinkedIn Profile.
With more than 85 million members in more than 200 countries, LinkedIn is a professional social network worth using, understanding and optimizing.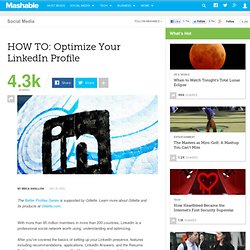 After you've covered the basics of setting up your LinkedIn presence, features including recommendations, applications, LinkedIn Answers, and the Resume Builder can add value to your profile. Many of these highly useful features, though, are often overlooked or underused by newcomers. Ten Ways to Use LinkedIn to Find a Job. Searching for a job can suck if you constrain yourself to the typical tools such as online jobs boards, trade publications, CraigsList, and networking with only your close friends.
In these kinds of times, you need to use all the weapons that you can, and one that many people don't—or at least don't use to the fullest extent, is LinkedIn. LinkedIn has over thirty-five million members in over 140 industries. Most of them are adults, employed, and not looking to post something on your Wall or date you. Executives from all the Fortune 500 companies are on LinkedIn. Most have disclosed what they do, where they work now, and where they've worked in the past.
---