Introvert
Revenge of the Introvert. There are as many introverts as extraverts, but you'd never know it by looking around.
Introverts would rather be entertained by what's going on in their heads than in seeking happiness. Their big challenge is not to feel like outsiders in their own culture. by Laurie Helgoe, Ph.D. Field Guide to the Loner: The Real Insiders - StumbleUpon. Miina Matsuoka lives by herself in New York City.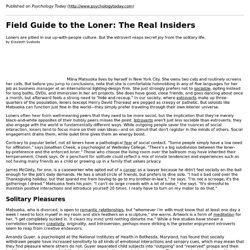 She owns two cats and routinely screens her calls. But before you jump to conclusions, note that she is comfortable hobnobbing in any of five languages for her job as business manager at an international lighting-design firm. She just strongly prefers not to socialize , opting instead for long baths, DVDs, and immersion in her art projects.
The Power of Introverts: A Manifesto for Quiet Brilliance. Do you enjoy having time to yourself, but always feel a little guilty about it?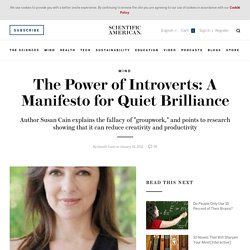 Then Susan Cain's "Quiet : The Power of Introverts" is for you. It's part book, part manifesto. We live in a nation that values its extroverts – the outgoing, the lovers of crowds – but not the quiet types who change the world. She recently answered questions from Mind Matters editor Gareth Cook. Introverts. Introverts. The Introvert's Guide to Building Relationships. I have a secret to share with you.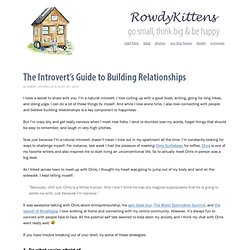 I'm a natural introvert. I love curling up with a good book, writing, going for long hikes, and doing yoga. I can do a lot of these things by myself. BLOGinality: weblogger personality types - the personality test. As of 12.08.11, there are 4249 visitors who know their bloginality!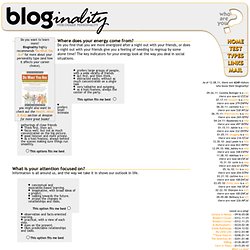 Leave us a ping! Carioca in Memp: - 0918.05:08Braden's Corner: - 0312.11:25Braden's Corner: - 0312.11:25Al-Muhajabah's : - 0224.02:38Greek Mythology: - 0224.12:02My Little Life: - 0212.03:48***Dave Does th: - 0208.01:14The American Mi: - 0201.01:48VSBlog: - 0128.08:07Coco in Tokyo: - 0115.05:10 What's a ping? Link to bloginality! Please save to your own server! Relationships :: Introvert Retreat. Benjamin Franklin wasn't kidding when he wrote, in Poor Richard's Almanac, "Fish and visitors smell in three days."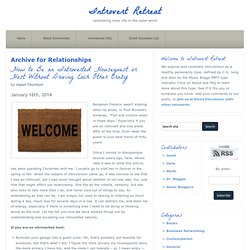 Especially if you are an introvert and live alone 99% of the time. Even when the guest is your best friend of forty years. Since I moved to Albuquerque several years ago, Jane, whose idea it was to write this article, has been spending Christmas with me. I usually go to visit her in Denver in the spring or fall. When the subject of introversion came up, it was obvious to me that I was an introvert, but I had never thought about whether or not she was, too, and how that might affect our relationship. Column info : Understanding Introversion and Extroversion.
During lunch with several teammates, Margie vented about a coworker, Kevin.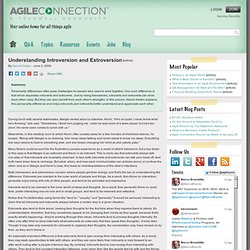 "He's so quiet. I never know what he's thinking," she said. "Sometimes, I think he's judging me. I wish he was more of a team player, but he's too aloof. eBook Series for Introverts. Read the reviews.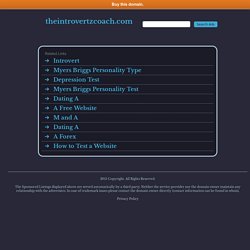 Dear Nancy, For many, many years I've said that my brother Michael is (was) the "perfect" Leo, while I, tho born in the sign, was more Virgo-ish in nature. I've always known that I hated crowds, hated noise, loved to read, and never had a clue that I was an introvert. The Introvert Manager « The BS Applicant. The Myers-Briggs test says I am a 'moderately expressed introvert'.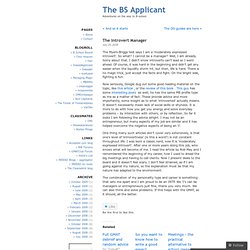 So what? I cannot be a manager? Well, I am already. 7 Signs You're Viewed As An Introvert At Work. While I don't have a scientific study to cite, I can say that, in my last 10+ years as a career coach, I've worked with a lot of people who've labeled themselves as "introverts" on-the-job.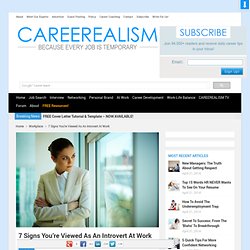 Their stories helped me to identify some common examples that indicate a person is being perceived as an introvert at work. Here are seven signs you might be viewed as an introvert at work: Introverts. Introverts aren't social cripples, or misanthropes, but some, particularly younger people, are very inhibited. It's an odd fact that the more intelligent an introvert is, the tougher a social environment can be. Career environments can be extremely tough for introverts. Some have a history of difficult social environments, usually starting at school. Susan Cain: The power of introverts.
Six Tips for Introverted Travelers. Lists: You don't have to be an extrovert to enjoy travel. Sophia Dembling explains. Photo by Sophia Dembling My essay Confessions of an Introverted Traveler drew a lot of feedback from fellow introverts tired of reading stories about others' great experiences meeting people. Many who wrote told me they were worried that, because they were introverts, they simply weren't cut out to travel. For anyone trying to decide if they should hit the road or just stay home where nobody will bother them, I thought I'd offer these six tips for introverted travelers. The Quiet Traveler - Audio Slideshow - World Hum. Introversion - a Health Risk? | Introversion | iPersonic - Personalized Career and Life Advice. Are you one of the introverts among our personality types? (Take our free personality test, if you're not sure!) If that is the case, you are a person who prefers to recharge his/her batteries during his/her alone time – you are one of the famous "still waters".
Because you won't let others get truly close to you, for them it is probably not all that easy getting to know you better. You are a better listener than speaker and take your time to think before you talk. An Introvert's Guide to Holiday Survival. So, "surviving" may not be the best attitude to cultivate when it comes to thinking about the holidays. But you know what?
To us introverts that's exactly what it feels like. Sure, I look forward to going home, seeing my family and friends, but usually an entire year's absence needs to be crammed into a week, and that can seem overwhelming to everyone but the most extroverted among us. As a life-long introvert and conqueror of endless holiday gatherings, here are a few offerings from my holiday survival kit: How to Chat up an Introvert. A woman told me that she only likes introverted men, and asked how she could meet them. Good question. Where can one find introverts, and when you do, what's the best way approach them? The Quiet Traveler. Introversion. Revenge of the Introvert. Introvert is sick of unsolicited advice — Introvert Zone. How can this introvert show an accurate picture of who she is? — Introvert Zone.
---