Info Mgmt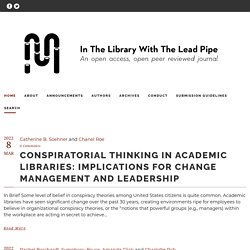 Image credit: Jon Beall In Brief: In recent years, student staff have become essential to the success of library operations, particularly within higher education. Student library employment offers a unique opportunity for students to integrate library-specific knowledge and skills with their academic and personal development. This article will discuss the importance of developing an integrated student staff development approach. Introduction There is an old Peanuts cartoon in which Lucy derisively comments on Linus's desire to become a doctor, focusing particularly on the fact that Linus could never be a doctor because he doesn't love mankind.
In the Library with the Lead Pipe
Naomi House Founder, Editor & Publisher Volunteer CoordinatorsRachael Altman, Kate Kosturski, Lauren Bourdages & Jennifer Devine Associate Editors: Submissions Sarah Mueth & Stephanie Sendaula Associate Editors: Formatting Elizabeth McKinstry & James Adams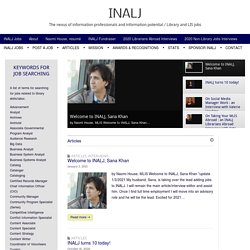 Society of American Archivists (SAA), Society of American Archivists Online Career Center|Find Your Career Here
Archives Gig
Hi All! You may have noticed that I've slacked off on updates for the past few days. I'm very much still around, but postings are sluggish because: A) My job has been unusually hectic of late, and when that happens, my priorities have to shift a bit.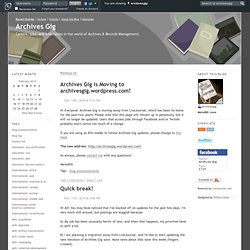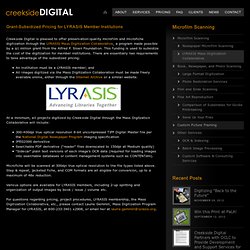 LYRASIS Mass Digitization Collaborative | Creekside Digital
Grant-Subsidized Pricing for LYRASIS Member Institutions Creekside Digital is pleased to offer preservation-quality microfilm and microfiche digitization through the LYRASIS Mass Digitization Collaborative, a program made possible by a $1 million grant from the Alfred P. Sloan Foundation.
Pono Music - Where Your Soul Rediscovers Music by the PonoMusic Team Pono's mission is to provide the best possible listening experience of your favorite digital music. Successful!778% funded $6,225,354 pledged Funded0seconds to goNow you can love digital music with a player that combines both quality and convenience. This device offers listeners the highest resolution digital music experience available and at the same quality as the original recording.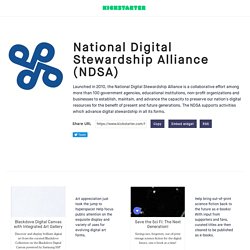 National Digital Stewardship Alliance (NDSA)
Since its founding in December 2010, the National Digital Stewardship Alliance has worked to establish, maintain, and advance the capacity to preserve our nation's digital resources for the benefit of present and future generations. In late 2012 the NDSA Coordinating Committee, in partnership with NDSA working group chairs, began brainstorming ways to leverage the NDSA's national membership and broad expertise to raise the profile of digital stewardship issues to legislators, funders and other decision-makers. The National Agenda for Digital Stewardship became the vehicle to highlight, on an ongoing, annual basis, the key issues that affect digital stewardship practice most effectively for decision-makers.
The 2014 National Agenda for Digital Stewardship is Released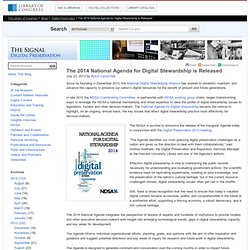 Library & Information Mgmt
College Net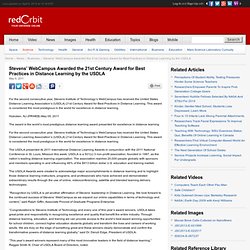 For the second consecutive year, Stevens Institute of Technology's WebCampus has received the United States Distance Learning Association's (USDLA) 21st Century Award for Best Practices in Distance Learning. This award is considered the most prestigious in the world for excellence in distance learning. Hoboken, NJ (PRWEB) May 05, 2011
Stevens' WebCampus Awarded the 21st Century Award for Best Practices in Distance Learning by the USDLA