HEALTH
Arkansas | State Coverage Initiatives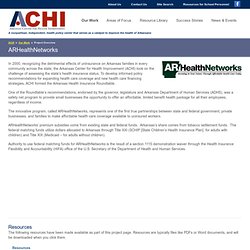 Arkansas Center for Health Improvement
In 2000, recognizing the detrimental effects of uninsurance on Arkansas families in every community across the state, the Arkansas Center for Health Improvement (ACHI) took on the challenge of assessing the state's health insurance status. To develop informed policy recommendations for expanding health care coverage and new health care financing strategies, ACHI formed the Arkansas Health Insurance Roundtable. One of the Roundtable's recommendations, endorsed by the governor, legislature and Arkansas Department of Human Services (ADHS), was a safety net program to provide small businesses the opportunity to offer an affordable, limited benefit health package for all their employees, regardless of income. The innovative program, called ARHealthNetworks, represents one of the first true partnerships between state and federal government, private businesses, and families to make affordable health care coverage available to uninsured workers.
Sign Up For The Free online video yoga classes for 30 days. Sent directly to your email inbox. Important: You will receive one email per day for 30 days plus the weekly DoYouYoga.com newsletter.
30-Day Yoga Challenge With Erin Motz on DoYouYoga.com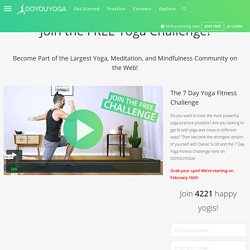 The Battle of the Homemade Eye Makeup Removers (and the Winner!)
How to wash your hair without shampoo
The Menopause Book by Pat Wingert | 9780761155980 | Paperback | Barnes & Noble
Home Fitness Equipment
Poor posture can cause back, neck and shoulder pain and negatively impact your productivity -- poor posture. While a healthy spine has a slight S-shaped curve, the majority of us slouch into a C-shape when sitting at our desks. "The human body was built to move more than sit in a chair, car and couch for a large chunk of the day," says Seattle-based yoga instructor Michael Huffman. Leaning too far forward to look at a computer monitor or slouching can cause neck and back aches, stiffness and cartilage compression. "No matter how good your posture is, when you're sitting at a desk all day, your muscles are working very hard to hold your spine up, so just releasing tension from those muscles and allowing them to stretch takes a lot of pressure off the spine and is also energizing," says Alameda,Calif-based yoga instructor Sandy Blaine and author of Yoga for Computer Users (Rodmell Press, 2008).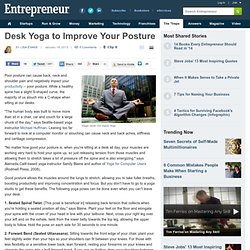 Desk Yoga to Improve Your Posture
Greatist.com
Left Arm Pain in Women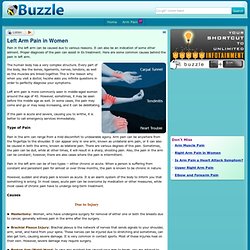 The human body has a very complex structure. Every part of the body, like the bones, ligaments, nerves, tendons, as well as the muscles are linked together. This is the reason why when you visit a doctor, he/she asks you infinite questions in order to perfectly diagnose your symptoms. Left arm pain is more commonly seen in middle-aged women around the age of 40. However, sometimes, it may be seen before the middle age as well. In some cases, the pain may come and go or may keep increasing, and it can be debilitating.
Women's Health Blog | Healthy Living Mom Blog | Women's Health Issues | Lifescript.com
Edward C. Geehr, M.D. It's hard to imagine, but letting go of a stressful situation may cause migraine attacks. Who knew? It's been known for some time that stress can cause migraine attacks. But a recent study published in the journal Neurology found stress letdown to be an even greater trigger for migraine attacks than the level of stress itself.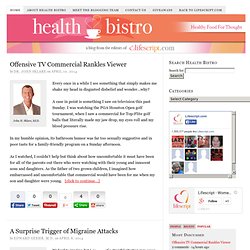 9 Popular Personal Health Record Tools -- InformationWeek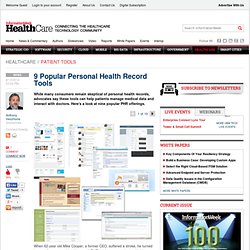 While many consumers remain skeptical of personal health records, advocates say these tools can help patients manage medical data and interact with doctors. Here's a look at nine popular PHR offerings. 1 of 10 When 62-year old Mike Cooper, a former CEO, suffered a stroke, he turned to an online personal health record (PHR) tool to communicate with his doctors, schedule appointments, view lab and test results, and renew prescriptions from the comfort of his own home.
Mark's Daily Apple
With some time and effort, you could probably shape these Swiss chard fritters into gorgeous, perfectly round discs. But here's the thing – they're going to be eaten up so quickly, it's not really worth the effort. Straight out of a hot pan, Swiss chard fritters are crunchy on the outside, creamy in the middle and have the delicate flavor of Swiss chard, dill and parsley. Tired of greens simply sautéed in olive oil? Swiss chard fritters are a new way to keep nutrient-rich greens in regular rotation in your diet.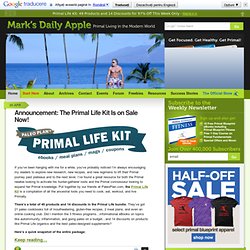 The Sisterhood of the Shrinking Jeans LLC - Eating Right Because Our Jeans Are Too Tight : The Sisterhood of the Shrinking Jeans LLC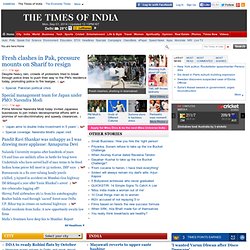 5 Steps to a flat tummy in 7 days
Purvaja Sawant, Jan 19, 2014, 12.00AM IST (Get a flat tummy in one week…) You've been missing your routine at the gym very often thanks to your busy schedule (or plain laziness) and suddenly you realize that in one week you have to attend a wedding. You want to wear your favourite saree or figure-hugging dress but are worried about your flabby stomach bulging out.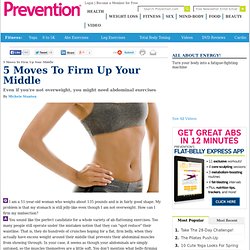 5 Moves To Firm Up Your Middle
I am a 51-year-old woman who weighs about 135 pounds and is in fairly good shape. My problem is that my stomach is still jelly-like even though I am not overweight. How can I firm my midsection? You sound like the perfect candidate for a whole variety of ab-flattening exercises. Too many people still operate under the mistaken notion that they can "spot reduce" their waistline.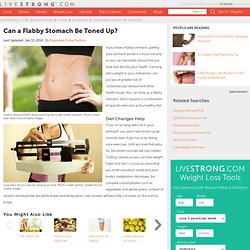 How To Reduce A Flabby Stomach
If you have a flabby stomach, getting your stomach toned is a must not only so you can feel better about how you look, but also for your health. Carrying extra weight in your midsection can put you at greater risk of cardiovascular disease and other health issues. You can tone up a flabby stomach, but it requires a combination of specific exercises and a healthy diet. If you're carrying extra fat in your stomach, you won't see toned-up ab muscles even if you focus on doing core exercises. Until you lose that extra fat, the toned muscles will stay hidden.
About The Project | The Nu Project
How Did This Project Start? I began shooting in 2005 but didn't fully realize the form the project was taking until Katy, my wife, became project editor and encouraged me to show more light-hearted images. Once we started working together, I began to shoot where the participants are most comfortable–in their homes–which also allows for greater variety of expressions and emotion in the work. Why aren't there more _______ women included?
Exercise and Eating
Return to Nutrition and Weight Management Whether you're a recreational athlete or a marathon runner, what you eat and when you eat it can affect your performance and the way you feel while you're exercising. Timing is everything
From a glance, weight loss is simple. Eat less and move more. But it's actually a lot more complex than that. First of all, I would like to say that weight loss is 70% diet and 30% exercise. You can work out for 60 minutes each day, but if you still eat like shit, you will not lose weight.
100 Pounds 100 Days
Lolo Jones' Core Workout