GOALS
Get flash to fully experience Pearltrees
By Lori Deschene "We work on ourselves in order to help others, but also we help others in order to work on ourselves." ~Pema Chodron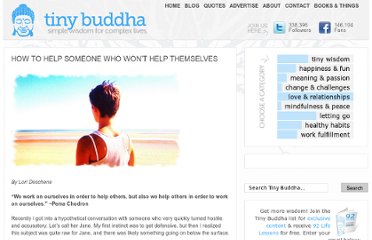 on Dec 17, 2011 Burning through Obstacles (Samskaras) in Ashtanga Yoga. "Almonds," Agni & our Attachment to our own Suffering. Each moment we have the possibility of being fresh and new. But very often we live of our lives from a habit pattern established in the past. Once these patterns are established the flow of human consciousness gets organized into certain repetitive patterns.
Often when the call is given, the future hero first refuses to heed it. This may be from a sense of duty or obligation, fear, insecurity, a sense of inadequacy, or any of a range of reasons that work to hold the person in his or her current circumstances. "Refusal of the summons converts the adventure into its negative. Walled in boredom, hard work, or 'culture,' the subject loses the power of significant affirmative action and becomes a victim to be saved. His flowering world becomes a wasteland of dry stones and his life feels meaningless—even though, like King Minos, he may through titanic effort succeed in building an empire or renown. Whatever house he builds, it will be a house of death: a labyrinth of cyclopean walls to hide from him his minotaur.
The following list of values will help you develop a clearer sense of what's most important to you in life, as explained in the article Living Your Values . Simply print out this page, mark the values which most resonate with you, and then sort your list in order of priority. As you scan the values list below, you may find that while most values have little or no significance to you (and some may even seem negative to you), there are those values that just jump out and call to you, and you feel, "Yes, this value is part of me." This values list is merely a guide. It is lengthy and contains many synonyms but is certainly not exhaustive, so feel free to add unlisted values to your own list as well.
Defeat. Boredom. Lack of meaning in your life.
You want to pursue your dreams . You have lots of dreams. Things you want to do.
Even before the written form of these words appeared there was a general consensus as to an agreed code of conduct. Yet no one was quite sure of the rules. Indeed even today no one is certain.
How To Put Passion And Excitement Back Into Your Life By Robert McPhillips 95 in a hundred people are not getting the enjoyment and fulfilment from life that they could. Life is too short to be stressed, frustrated or bored.
We are pleased to have the following thought leaders contributing to the Professional Emancipation Project a.k.a. The P.E.P. Talk! Are you a top thought leader who wants to contribute to this series?