CREATE
Female Pinnable Pinnable dress Form Magnetic Shoulders.
Getting settled/Estableciéndonos. Embroidered Quilt Label - Custom Layout. » Custom Labels for Quilts. The art of creating quilts has again become popular as people realize the beauty that only a custom made quilt can bring.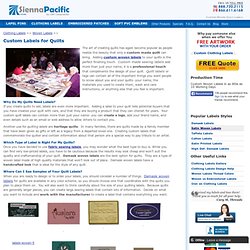 Adding custom woven labels to your quilts is the perfect finishing touch. Custom made sewing labels add more than just your name; it is a professional touch that compliments the design of your quilt. Quilt labels or tags can contain all of the important things you want people to know about you and your quilts- your name, the materials you used to create them, wash and care instructions, or anything else that you feel is important. Why Do My Quilts Need Labels?
Making fabric. Everything But The Kitchen Sink | Living a brand new day. QUILTS. SEWING. Blogs. Supplies. AJ. PAPER. SHOES. Yarns. EMBROIDERY. DIY Fridge magnets and pushpins. (Be sure to upload your photos from trying this project into the Brassy Apple Projects Flickr group!)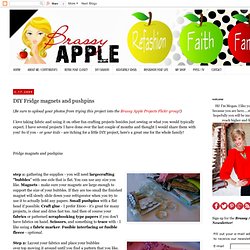 I love taking fabric and using it on other fun crafting projects besides just sewing or what you would typically expect. I have several projects I have done over the last couple of months and thought I would share them with you! So if you - or your kids - are itching for a little DIY project, here's a great one for the whole family! A DIY Bamboo Wind Chime Michele Made Me. DIY Domino Set // From Aesthetic Outburst. Abbey of Aesthetic Outburst was kind enough to share with us an adorable DIY project for creating your own Domino set-how fun!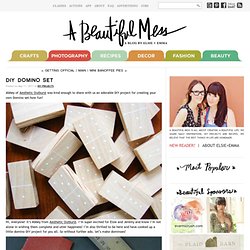 Hi, everyone! It's Abbey from Aesthetic Outburst. I'm super excited for Elsie and Jeremy and know I'm not alone in wishing them complete and utter happiness! Confessions. What happens in Vegas... 2012 As Art Production Fund Artist-in-Residence, Candy Chang lived in the The Cosmopolitan and turned its P3 Studio gallery into a contemplative experiment around anonymity, vulnerability, and understanding in the heart of the Las Vegas strip.
Visitors were invited to submit their confessions on wooden plaques in the privacy of confession booths. She hung the anonymous plaques on the gallery walls so they gathered over time like a Shinto Shrine prayer wall. She projected and painted select responses on large canvases. The space featured an original soundtrack by Oliver Blank. Dorte Rasmussen.Denmark is dortebirgitte on Pinterest. Double Concrete Tea-Light Candleholder | Contemporary Household Objects & Judaica | ceMMent Design LLC.
This double concrete tea-light holder is made for two standard tea-light candles (in a metal container of 1 1/2" diameter).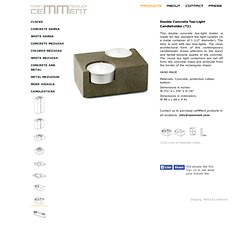 The item is sold with two teal-lights. The clean architectural form of this contemporary candleholder draws attention to the warm and tactile textural quality of the concrete. The round tea light containers are set off from the concrete mass and protrude from the border of the rectangular shape. Rock 'n Romance Collection by Pat Bravo. How do you make a monoprint? How to make a monoprint Because monotype printing allows considerable freedom in the approach to imagery, this is considered to be a very versatile method.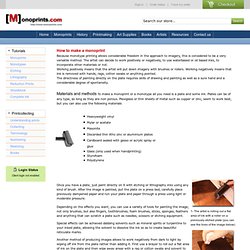 The artist can decide to work positively or negatively, to use waterbased or oil based inks, to incorporate other materials or not. Working positively means that the artist will put down imagery with brushes or rollers. Working negatively means that ink is removed with hands, rags, cotton swabs or anything pointed. The directness of painting directly on the plate requires skills of drawing and painting as well as a sure hand and a considerable degree of spontaneity.
Materials and methods To make a monoprint or a monotype all you need is a plate and some ink. Eclectic Paperie. Hi Everyone!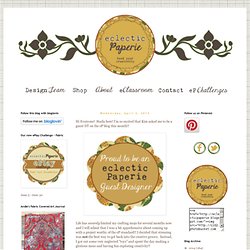 Starla here! I'm so excited that Kim asked me to be a guest DT on the eP blog this month!! Ruth Ander » Making new work- March 2014. 10/03/14 I always seem to start the year making as much work as I can- partly because there is so little going on at this time of year, and partly because the bad weather doesn't tempt me outdoors as much (soon the allotment, spring flower walks and the garden will all ask for my time!)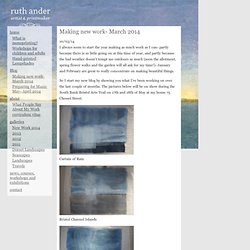 - January and February are great to really concentrate on making beautiful things. So I start my new blog by showing you what I've been working on over the last couple of months. Bee In My Bonnet Co. Patterns. Product Categories Personalized Labels | Sweetwater. Custom Cotton Labels :: Custom Printed Cotton - Twill Clothing Labels | Tags. For those who care about the environment, and want to provide with 'green' labels for their products, or maybe give them a more earthy feel to their presentation, cotton labels are a great choice.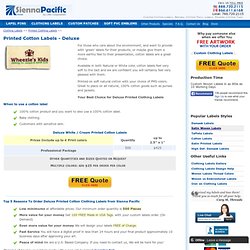 Available in both Natural or White color, cotton labels feel very soft to the tact and we are confident you will certainly feel very pleased with them. Printed on soft natural cotton with your choice of PMS colors. Great to place on all natural, 100% cotton goods such as purses and jackets. Your Best Choice for Deluxe Printed Clothing Labels When to use a cotton label. S Number One Label Maker Since 2006 by JennifersJewels. <div id="javascript-nag" class="notice"><p> Take full advantage of our site features by enabling JavaScript.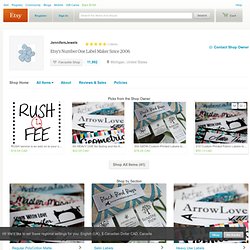 <a href=" more</a>. </p></div> Labels by MommieMadeIt by MommieMadeIt. Welcome and thanks for stopping by! TURNAROUND: PROOFS/REVISIONS/CONVOS: 2-3 BUSINESS days. CLOSED WEEKENDS!! SHIPPING: Orders will be shipped about a week from when final approval is given on your proof(s), so please do not expect to have orders in-hand for at least 2 weeks (domestic shipping) or at least 4 weeks (international shipping).
I work offline weekends, so please do not expect a reply until the following week. Embroidered Quilt Label - Custom Layout. The Fabric Hive by TheFabricHive. <div id="javascript-nag" class="notice"><p> Take full advantage of our site features by enabling JavaScript. <a href=" more</a>. </p></div> Help Etsy Cart. PixieSpit's FRESH STASH fabrics by FreshStash. <div id="javascript-nag" class="notice"><p> Take full advantage of our site features by enabling JavaScript. <a href=" more</a>. </p></div> Help Etsy. Hand Embroidery: Lettering and Text Index. Hand Embroidery Tutorial: How to Personalise a Baby Quilt. Make a Quilt Label. Quilt Labels- the Cute and Easy Way!
How to sew straight lines... | Quilt Labels. Athena Fat Quarter BundleAngela Walters for Art Gallery Fabrics. Antique Threads of Time Fat Quarter BundleJulie Hendricksen for Windham Fabrics - Fat Quarter Bundles. Sewing Patterns and Purse Supplies. Comma Zen Chic by Moda. Results for zen chic - Moda Fabrics Comma by Zen Chic Comma Charm by SewPerfectlyVintage. Ciao Bella Fat Quarter BundleAnother Point of View for Windham Fabrics.
---
cadilace29 Dec 17 2012

I am not as fluent as I used to be, but how may I help you?

amcc_belgique Nov 15 2011

do you speek french? valerie.felder@gmail.com i would you like to present this pearl in my website ...

amcc_belgique Nov 15 2011

I love this pearltree verry nice
---