Crafters Blogs
Piece O' Cake Blog
Piece O' Cake Designs Home Page
Postcards From Panama | Life in the Tropics
! Sew we quilt
ModernHandcraft
Crochet and Crafting with Linda Dawn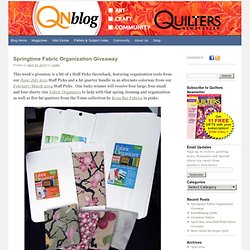 Our 5 Days of Best Modern Quilts Blog Tour was a great success and we are so grateful to everyone who participated!
Inside Quilters Newsletter
Poppytalk
Sew Many Ways...
Monthly Craft Kit Club | Craftaholics Anonymous™
When I started working on bag designs last year, I thought about what makes a bag useful. One of my biggest pet peeves is a bag that simply doesn't stand up for itself! No wimpy bags for this chick! So, of course, that brings me to the topic of today's post which is buckram.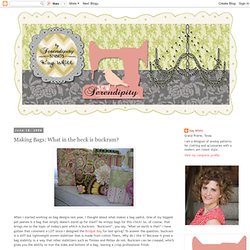 Sew Serendipity: Making Bags: What in the heck is buckram?
Craft DIY Projects, Patterns, How-tos, Fashion, Recipes @ Craftzine.com - Felting, Sewing, Knitting, Crocheting, Home & More
Craftster.org - A Community for Crafts and DIY Projects with Free Craft Ideas, Inspiration, Advice and More
How Does She?
Free Pattern Month Day 24 - Colette Patterns: Sorbetto Tank Top
I discovered Sarai's website through her adorable FREE bloomer pattern which I've used frequently. Their style is very sophisticated and their dress patterns are unique. I especially love the fabrics they use in their variations and their fun photoshoots! Colette Patterns has some great professional pieces available to purchase.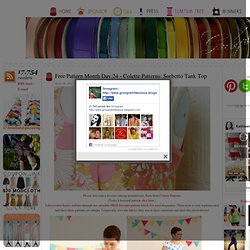 Designs by Lee Meredith
You can knit my patterns as part of the Indie Design Gift-a-long, for a chance to win awesome prizes! My eligible patterns include everything from my new Coloring Book collection, lots of accessories (they have a tag on the second photo) - the complete list is in the forum thread here, and everything in my Quick Knits ebook! Holidays announcement: Several of my older patterns are currently available in full-color print format, in packages with discounted prices, which include codes for ravelry downloads! My etsy shop has all of these print patterns that remain, and once they're gone, they're gone! Grab them while you still can!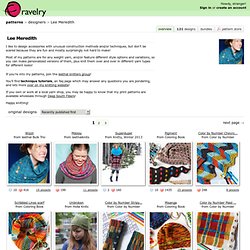 In Color Order - Modern Quilting | Sewing Tutorials | Vintage Sheets
Oh. My. Goodness. Me. I am so so so so so so so SO EXCITED to be sharing this wreath with you today.
Crochet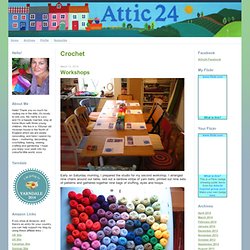 Scrapbooking Video Tutorials
Creations by Kara
purl soho | home
More Design Please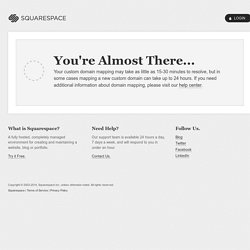 Sometimes I come across amazing fabric at flea markets (old dresses or tablecloths,) garage sales, or even awesome stores like Spoonflower, but I just don't know what to do with it. Thats why when I came across this idea I had to share it with you. I found this idea on Making it Fun. It shows you how to make your own bean bag chair from scrap fabric. Great idea for kids- or for the big kid inside all of us!
ikat bag
I'm ready to say "so long" to 2013, not in a bad way but in the way that someone says bye to a crazy year of adjustment, acceptance, and re-adaptation. If anyone told me that 2013 was going to be this challenging I'd never believe it. Our year started in Argentina, and we traveled for the three first months of the year out of 13 suitcases, and set out feet in four different countries, until we finally settled here. We lost our cat in the transition, we left out dog behind too. If you love your pets the way we do, you know what it means. Even when pets are not replaceable we were able to adopt two kitties: Maple and Chilli who we love to pieces.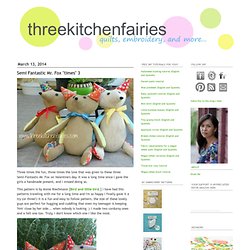 Three Kitchen Fairies
handmade by bachud
CRAFTY STORAGE
Gigi Sews | Ramblings of a sewing fanatic
Feather and Nest
BillieBee's Blog
The Tilted Quilt
allgreatchanges | Interiors.Inspiration.Colour.Trend.Travel.Life.Food.
Popular items for burlap garland on Etsy
52 Mantels
Thrift Store Crafter | The Misadventures of a Cheap Crafter
Threads of Loveliness
Design For Mankind
Grosgrain
Featured Products | YouCanMakeThis.com
Make