Crafters Blogs
Piece O' Cake Blog
This post is really about bleeding fabric, but to get to that part of the story I have to start with the iron. My cheap Sunbeam iron began spitting brown stuff before Christmas so I had to buy yet another iron. If I had $1000+ to throw at an iron, I'd get a Laura Star ironing system. (You know it's going to be expensive if it's a 'system'.)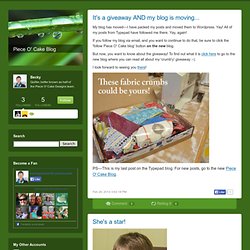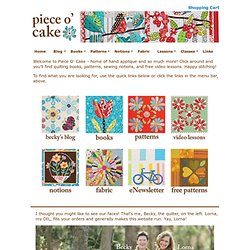 Welcome to Piece O' Cake - home of hand applique and so much more! Click around and you'll find quilting books, patterns, sewing notions, and free video lessons. Happy stitching! I'd love for you to join me for on adventure to Italy where you can relax and enjoy the beauty of Orvieto and hand applique! I've designed three small wall quilts—each one featuring a lovely door similar to the doors you will see there.
Piece O' Cake Designs Home Page
This is not a very good picture – in spite of trying to correct it in Photoshop - but it shows the blue ribbons and that's all that matters. I bought a new camera a few days before I left and didn't really practice very much – other than to figure out how to turn it on and off, zoom and scroll through the pictures. I must have done something terribly wrong because a brand new 14 megapixel camera cannot possibly take pictures that are unacceptable unless they have been Photoshopped! Many people at the show asked about the two ribbons – the category was Large Pieced Duet which means that one person pieced the top and another person quilted it. My amazing quilter Margaret Solomon Gunn brought this top to life with her stunning quilting – it was a team effort!
Postcards From Panama | Life in the Tropics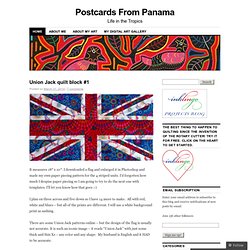 ! Sew we quilt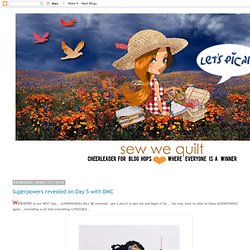 Welcome to our NEXT hop....SUPERPOWERS WILL BE revealed...get a pencil or pen out and begin a list....You may want to refer to these SUPERPOWERS again...reminding us all that everything is POSSIBLE... Yes I am known to have SUPERPOWERS at times!! Realllllly who has not put on a list at least a couple SUPERPOWERS they wish they had? I know when I was knee deep in my career, we had a session where our SUPERPOWERS were revealed.... Can you imagine, a team from all over the world....I prided myself in head hunting TALENT, always serious, as we were in Big PHARMA....but there were times when we PLAYED... The task was to be that SUPERPOWER you wish you had... for the whole session, which lasted 8 hours...
ModernHandcraft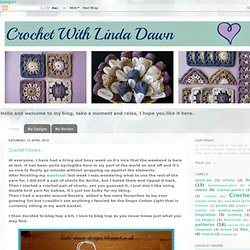 Crochet and Crafting with Linda Dawn
Oh how I love getting new yarn, who doesn't? I have splashed out on some beautifully soft Drops Cotton Light. It is made from 50% cotton and 50% polyester micro. It promises to be light and cool to wear for the summer and machine washable too. Because the polyester content of this yarn is strands as thin as silk it does not take up moisture which makes it suitable for both summer and winter garments.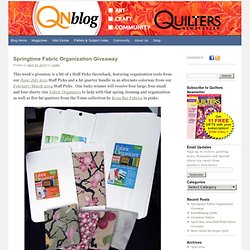 Our 5 Days of Best Modern Quilts Blog Tour was a great success and we are so grateful to everyone who participated! All winners have been notified by email from questions@qnm.com. If you're a lucky winner and aren't already enjoying your fabric and issue of Best Modern Quilts 2014, have no fear–they're on their way! The winners and prizes are as follows: Day 1 – Charlotte M., Caravan Dreams collection fat quarter bundle by Josephine Kimberling of Blend Fabrics
Inside Quilters Newsletter
If you were around this past weekend, you may have noticed our instagram revealing our newest venture, bringing our online world into the real world! We're super excited about this next and what seems like a natural progression of our Poppytalk world. Our new shop and workshop space, called Poppytalk will open it's doors early May where we will continue to support the handmade community with a curated selection of local and internationally-made goods from some of our favorite makers we have come to know these past 9 years online. We also will be carrying a bit of vintage (to fulfill that bit of retro addiction) along with the odd guitar or two! Along with the retail component, we will also be hosting an ever-changing selection of workshops from DIY + crafting workshops (think weaving, terrariums, embroidery etc.) to small business classes (from photoshop courses to blogging and social networking sessions).
Poppytalk
Sew Many Ways...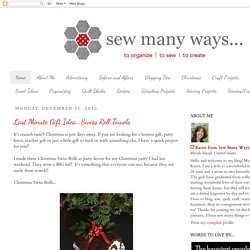 Hi everyone! Over 4 years ago, I received an Accuquilt Go Fabric Cutter and die sets from the wonderful people at the Accuquilt Company to try and see how I liked it. Well, I just didn't like it…I LOVED it and still do. It's fast, accurate and so easy to use. It is a permanent fixture in my sewing room and I have bought several new dies for it my self over the years.
Monthly Craft Kit Club | Craftaholics Anonymous™
When I started working on bag designs last year, I thought about what makes a bag useful. One of my biggest pet peeves is a bag that simply doesn't stand up for itself! No wimpy bags for this chick! So, of course, that brings me to the topic of today's post which is buckram.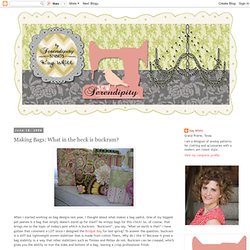 Sew Serendipity: Making Bags: What in the heck is buckram?
Craft DIY Projects, Patterns, How-tos, Fashion, Recipes @ Craftzine.com - Felting, Sewing, Knitting, Crocheting, Home & More
Craftster.org - A Community for Crafts and DIY Projects with Free Craft Ideas, Inspiration, Advice and More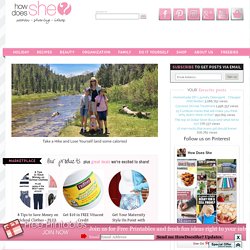 How Does She?
If you were to come over to my home and see my kitchen, most likely this fridge would be the first thing to greet you. Not necessarily anything wrong with it. A typical messy, chaotic fridge. (Ok, so maybe this messy isn't typical?)
Free Pattern Month Day 24 - Colette Patterns: Sorbetto Tank Top
I discovered Sarai's website through her adorable FREE bloomer pattern which I've used frequently. Their style is very sophisticated and their dress patterns are unique. I especially love the fabrics they use in their variations and their fun photoshoots! Colette Patterns has some great professional pieces available to purchase.
Designs by Lee Meredith
I like to design accessories with unusual construction methods and/or techniques, but don't be scared because they are fun and mostly surprisingly not hard to make! Most of my patterns are for any weight yarn, and/or feature different style options and variations, so you can make personalized versions of them, plus knit them over and over in different yarn types for different looks! If you're into my patterns, join the leethal knitters group! You'll find technique tutorials, an faq page which may answer any questions you are pondering, and lots more over on my knitting website! If you own or work at a local yarn shop, you may be happy to know that my print patterns are available wholesale through Deep South Fibers!
Happy Weekend! I wanted to pop in quickly to share a fun quilt I made earlier this year. I've been meaning to post about it for a while now, so I thought I better go ahead and do that today while I have some extra time! Otherwise, I'll never post about it! Michael and I have been together for 6 years, but somehow I still hadn't made a quilt just for him. For the longest time, he never asked for one.
In Color Order - Modern Quilting | Sewing Tutorials | Vintage Sheets
This cushion has been such a happy project to work on, a quick and spontaneous make which I used to test out my new Raindrops stitch pattern. I also wanted to try using chunky yarn for the first time, so the combination of the new stitch and the new yarn was a whole new experience for me. I've used Stylecraft Special Chunky yarn, worked on a 6mm hook, in eight colours as follows :: ♥ Raspberry ♥ Lipstick ♥ Fondant ♥ Camel ♥ Meadow ♥ Aspen ♥ Lavender ♥ Denim There is enough yarn here to make two of these cushions, you only actually need 4 x 100g balls of chunky to make a 45cm cushion in this pattern.
Crochet
Scrapbooking Video Tutorials
I Want to Chat with YOU! Did you watch all the CHA videos and listen to the Paperclipping Roundtable? All of the videos are uploaded now. As Izzy and I drove home I had one main thought: I want to chat with everyone at home who has been following our coverage! I want to know what you think, what you observed, what you're wondering about. Of course, I'm talking mainly about CHA but we don't have to restrict it to just that.
Creations by Kara
purl soho | home
More Design Please
ikat bag
Three Kitchen Fairies
handmade by bachud
CRAFTY STORAGE
Gigi Sews | Ramblings of a sewing fanatic
Feather and Nest
BillieBee's Blog
The Tilted Quilt
allgreatchanges | Interiors.Inspiration.Colour.Trend.Travel.Life.Food.
Popular items for burlap garland on Etsy
52 Mantels
Thrift Store Crafter | The Misadventures of a Cheap Crafter
Threads of Loveliness
Design For Mankind
Grosgrain
Featured Products | YouCanMakeThis.com
Make