Blogs
NetGalley: Digital Galleys & Book Review Copies. DeviantART: About deviantART. Harriet Seed. "I share my studio with my boyfriend Matt (Taylor) who is also an illustrator.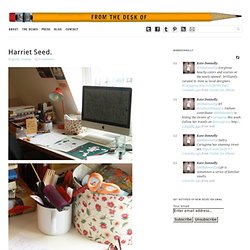 The studio is the spare bedroom of our house in Brighton, England. It's about 10 minutes walk from the beach which is a brilliant place to clear your head and let ideas come to you. We live next door to a primary school, so when the kids are in the yard for playtime, we know it's time for a coffee break. Woodbine. The Patchery Menagerie. My Sweet Prairie. Handmade by Carolyn. Urban Prairie Girl by urbanprairiegirl. Www.UPGFabricAnnex.etsy.com for my new fabric collection!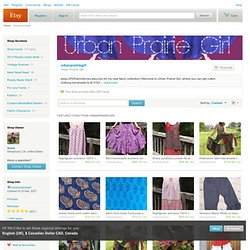 Welcome to Urban Prairie Girl, where you can get cotton clothing handmade to fit YOU! Women's handmade clothing, plus size clothing, petite clothing, and comfortable cotton clothing for REAL SIZED women, which is 8-20, handmade pillow cases in hard to find QUEEN size too! Handmade cloth napkins and aprons. And, as always, please private message me for your special deal. And please visit my supplies section which features cotton indian print fabrics in both small and large quantities. About Me. Welcome!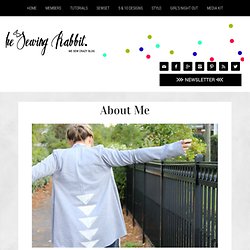 I'm Jess Abbott, the Sewing Rabbit. Growing up my nickname was Jessica Rabbit. Judy's Journal. Knitting Iris. Yes, indeed, things are really and truly o.k.i know, i know. i fell off the blogging planet around here a few months ago...to the point where concerned emails and comments are starting to roll in. please accept my apology for my absence here, but life has just been busy, busy, busy,and, in the meantime, my blogging mojo just faded away. life has been filled with all the usuals: homeschooling,cooking & baking,caring for the animals,visiting with family (both here and away),spinning, knitting, sewing, dyeing, quilting,gardening,gathering, sorting, washing, delivering, and selling of eggs:hundreds and hundreds of eggs each week,reading (not as much as i'd like), and so on and so on and so on and so on... feeling a little scattered much of the time.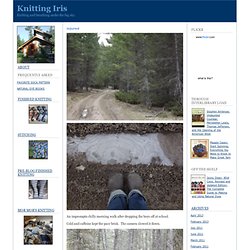 Becca making faces. Piece O' Cake Blog. Piece O' Cake Designs Home Page. Postcards From Panama | Life in the Tropics. ModernHandcraft. Crochet and Crafting with Linda Dawn. Poppytalk. Monthly Craft Kit Club | Craftaholics Anonymous™ Craft DIY Projects, Patterns, How-tos, Fashion, Recipes @ Craftzine.com - Felting, Sewing, Knitting, Crocheting, Home & More. Craftster.org - A Community for Crafts and DIY Projects with Free Craft Ideas, Inspiration, Advice and More. How Does She? Designs by Lee Meredith. I like to design accessories with unusual construction methods and/or techniques, but don't be scared because they are fun and mostly surprisingly not hard to make!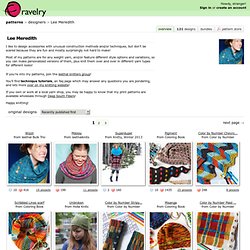 Most of my patterns are for any weight yarn, and/or feature different style options and variations, so you can make personalized versions of them, plus knit them over and over in different yarn types for different looks! If you're into my patterns, join the leethal knitters group! Crochet. This cushion has been such a happy project to work on, a quick and spontaneous make which I used to test out my new Raindrops stitch pattern.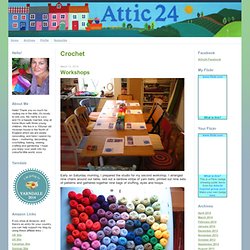 I also wanted to try using chunky yarn for the first time, so the combination of the new stitch and the new yarn was a whole new experience for me. I've used Stylecraft Special Chunky yarn, worked on a 6mm hook, in eight colours as follows :: Scrapbooking Video Tutorials. Creations by Kara. Purl soho | home. More Design Please. Ikat bag. Three Kitchen Fairies. I'm ready to say "so long" to 2013, not in a bad way but in the way that someone says bye to a crazy year of adjustment, acceptance, and re-adaptation.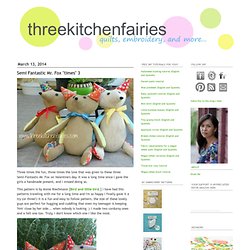 If anyone told me that 2013 was going to be this challenging I'd never believe it. Our year started in Argentina, and we traveled for the three first months of the year out of 13 suitcases, and set out feet in four different countries, until we finally settled here. We lost our cat in the transition, we left out dog behind too. Handmade by bachud. CRAFTY STORAGE. Gigi Sews | Ramblings of a sewing fanatic. Feather and Nest.
BillieBee's Blog. Allgreatchanges | Interiors.Inspiration.Colour.Trend.Travel.Life.Food. Thrift Store Crafter | The Misadventures of a Cheap Crafter. Threads of Loveliness. Design For Mankind. Grosgrain. Featured Products | YouCanMakeThis.com. Make.
---