Jewelry
I don't usually wear bracelets or cuffs. But when I do, I like them to be big and bold. Can black be bold? I started with a plain one inch wide brass cuff. Cut a piece of leather 2 inches wide by 8 inches long.
Leather Cuff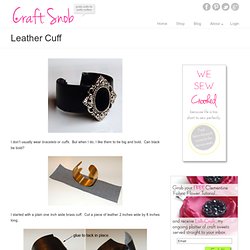 Make Earrings to Match Your Necklaces PERFECTLY!
Ever find that perfect necklace but cannot find the earrings that goes with it? Or if you do find the earrings, its the most hideous thing ever? I have really gotten into chunky necklaces or big statement pieces but at times its hard to find the complete set that actually looks good as a set. I know you girls know what I'm talking about...I wanted to share a really great and easy idea with you to solve that issue.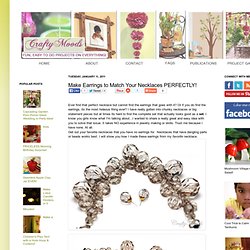 my blog isn't dead, it was just napping.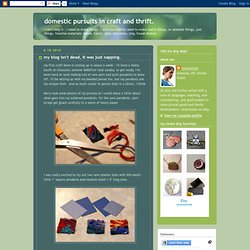 my first craft show is coming up in about a week - i'll have a teeny booth at missoula's summer MADEfair next sunday. to get ready, i've been hard at work making lots of new yarn and quilt pendants to show off. i'll be setting up with my beaded pieces too, but my pendants are my unique item - and so much cooler in person than in a photo, i think. kerry took some photos of my process so i could share a little about what goes into my soldered pendants. for the yarn pendants, yarn scraps get glued carefully to a piece of heavy paper. i was really excited to try out two new smaller sizes with this batch - little 1" square pendants and medium sized 1.5" long ones. the quilt pendants start with one or two base pieces, and i hand-embroider the surface, either along with or apart from the design on the fabric, a little randomly until it looks finished. i love how they can come out so different from each other with the same basic techniques.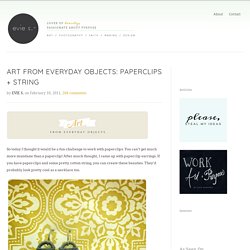 So today I thought it would be a fun challenge to work with paperclips. You can't get much more mundane than a paperclip! After much thought, I came up with paperclip earrings.
иголочкой да по пластике | Flickr : partage de photos !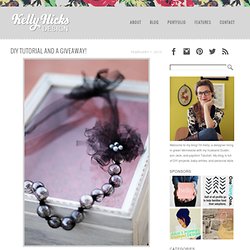 Happy Monday everyone! Today I am going to show you how to make this necklace and introduce my first giveaway! Below are the steps to make this tulle necklace.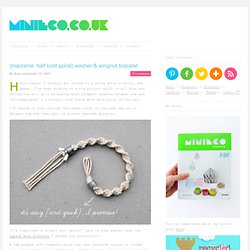 By Kate on October 25, 2011 Hello there! I finally got around to posting after a hectic few weeks. I've been working on a big project which is all done and dusted now so I will be making more frequent updates between now and Christmas…phew! I sincerely wish there were more hours in the day! I'm hoping to post another Halloween craft in the next day or so.
Smitten and Hazel » All about: thread wrapped bracelets
How to Mix ICE Resin® — ICE Resin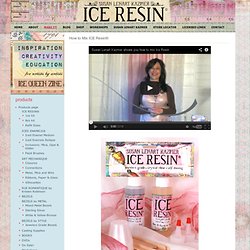 You need to have very accurate measurements of equal amounts of Part A Resin to Part B Hardener. Mix at least 1/2 ounce or half of the measuring cup in order to have enough of both parts to fully activate its chemistry. This batch will be useful for 30 to 45 minutes. It will then begin to set and must be discarded. If you feel it heat up it should be discarded.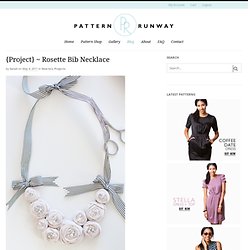 This post is in no way original! Fabric rosettes and necklaces have been doing the rounds in blogging sphere in a big way. You only have to google "Bib necklace" to find an array of D.I.Y tutorials and blog posts devoted to this project. Its a little bit crafty and a little bit shabby chic, but… its popularity in no way diminishes the desirability of this delightfully sweet, simple and fashionable adornment.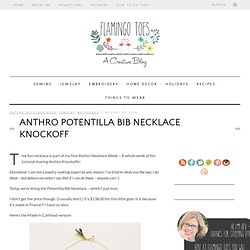 This fun necklace is part of my first Anthro Necklace Week – A whole week of fun tutorial sharing Anthro Knockoffs! Disclaimer: I am not a jewelry-making expert by any means! I've tried to show you the way I do these – but believe me when I say that if I can do these – anyone can! :)
DIY Rocker Chain Link Jewelry, CRAFTOVISION
Sock Bracelet!
Clay Tribe Looking Decoration | Creation | Cut Out
Cut Out + Keep | Make and share step-by-step craft tutorials
Cut Out + Keep | Make and share step-by-step craft tutorials
Feathers On A Chain Facinator | Version | Cut Out
Wonders Never Cease | Creation | Cut Out
Oriental Inspired Set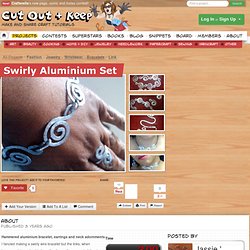 Swirly Aluminium Set | Creation | Cut Out
Hammered aluminium bracelet, earrings and neck adornments I fancied making a swirly wire bracelet but the links, when hammered, turned out to be rather larger than expected, leaving me with enough links to add a pair of earrings and a corded choker!!! Aluminium wire turned out to be very easy to work with being quite soft. I cut 11 lengths of wire and made the classic swirl with each using the round-nose pliers. As the gauge of the wire was quite thick (2.0mm) and it was quite dull looking, I thought I'd add a bit of interest by hammering it slightly with my brand new hammer and dinky jewellery anvil (I use an ordinary hammer, with one side flat and the side ball shaped - I bought it from an outdoor market for a quid!