Dying Fabric
Dyeing with Blackberries. The blackberries growing in and around my garden are now way past their prime with all the heat we had last week.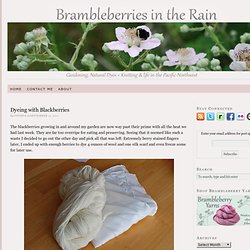 They are far too overripe for eating and preserving. Seeing that it seemed like such a waste I decided to go out the other day and pick all that was left. 404 Error - Page Not Found. Make fabric prints with tape. I'm still on that tape kick.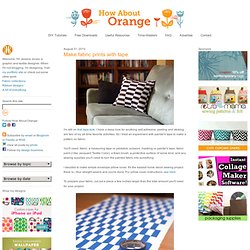 I have a deep love for anything self-adhesive; peeling and sticking are two of my all-time favorite activities. So I tried an experiment with painter's tape to make a pattern on fabric. Stencil with freezer paper (harry potter tee) Yes, I am a nerd.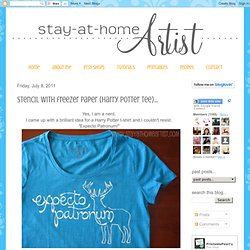 I came up with a brilliant idea for a Harry Potter t-shirt and I couldn't resist. "Expecto Patronum! " However, you can make whatever kind of design you want with a freezer paper stencil. Sun Printing 2 | Bloom, Bake & Create. Last summer I had so much fun with sun printing.
If you've not read my project from last summer, check it out here . I liked those pieces, but wanted more vibrant color so I headed off to Blick's to buy some Seta Color Transparent paints. There, I sat on the floor trying to decide on a trio of colors. I was looking to break out of my usual mauve and teal colors and ended with three colors: Buttercup, Emerald Green, and Pernod Yellow. Fabric Stenciling. I had a bunch of leftover fabric pieces, so i decided to try my luck in fabric stenciling!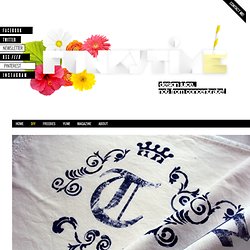 Here is a step-by-step tutorial for the bloody beginners (like me!). Choose your fabric wisely. Make sure it does not have a stain resistant finish. Pre-wash your fabric, do not use fabric softener. Bird Pillow Cover by Running With Scissors. I'm honored and excited to be the creative guest this week.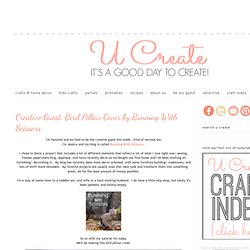 Kind of nervous too. I'm Jessica and my blog is called Running With Scissors. I chose to share a project that includes a lot of different elements that reflect a lot of what I love right now; sewing, freezer paper stenciling, applique, and more recently decor as we bought our first house and I've been working on furnishing/ decorating it. My blog has recently been more decor oriented, with some furniture building/ makeovers, and lots of thrift store remodels. My favorite projects are usually ones that take junk and transform them into something great, all for the least amount of money possible. How to Block Print Fabric. I showed y'all My New Backyard and promised some tutorials.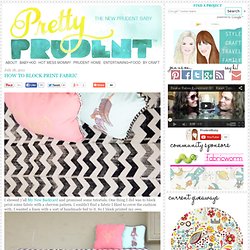 One thing I did was to block print some fabric with a chevron pattern. I couldn't find a fabric I liked to cover the cushion with, I wanted a linen with a sort of handmade feel to it. So I block printed my own. It's been a hard day's night - IMAGE REPRODUCTION TECHNIQUES. Spray painted slipcovers...boy edition. It's my turn to be a part of celebrate the boy month!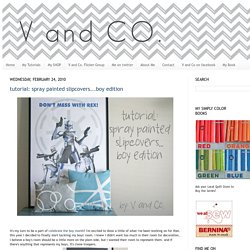 I'm excited to show a little of what i've been working on for that.this year i decided to finally start tackling my boys' room. i knew i didn't want too much in their room for decoration, i believe a boy's room should be a little more on the plain side, but i wanted their room to represent them. and if there's anything that represents my boys, it's clone troopers. but because i'm their mother and i like comical things i also bought this poster to go in their room as well. and because my husband has the same sense of humor i do, i constantly have to hear him say "that poster would sure look great in my office.
" i think i may get him one for father's day, or i may just have to come up with some other art for that wall and finally quiet him down by giving it to him. a woman can only take so much you know? Lets get on with the tutorial: Bloom, Bake & Create » Blog Archive » Ice Fabric Dyeing. Did you say you don't have snow and want to do some dyeing?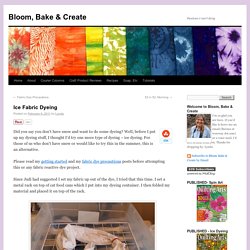 Well, before I put up my dyeing stuff, I thought I'd try one more type of dyeing – ice dyeing. For those of us who don't have snow or would like to try this in the summer, this is an alternative. Please read my getting started and my fabric dye precautions posts before attempting this or any fabric reactive dye project. Since Judi had suggested I set my fabric up out of the dye, I tried that this time. I set a metal rack on top of cat food cans which I put into my dyeing container. Polka Dot Cottage: Breezy Ombré Tank Top. Posted June 25th, 2010 by Lisa I discovered last year that I really liked cotton lawn fabric for summer – it's so lightweight and breathable.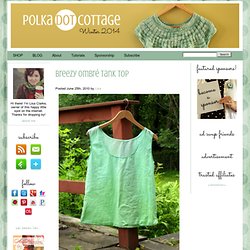 The only problem is that it's hard to find inexpensively.
---