Candles/Lights
Wednes-diy. UPDATE: This post originally ran on March 23 2011, but with summer winding down we wanted to bring it back up for some late summer inspiration!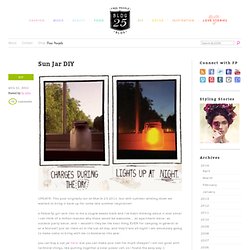 A fellow fp girl sent this to me a couple weeks back and i've been thinking about it ever since! I can think of a million reasons why these would be awesome… as apartment décor, as outdoor party décor, and – wouldn't they be the best thing EVER for camping in general or at a festival? Just let them sit in the sun all day, and they'll last all night! I am absolutely going to make some to bring with me to bonnaroo this year. you can buy a sun jar here, but you can make your own for much cheaper! New Baking Uses. How to make pretty lights... | kootoyoo. Ambient light in 5 minutes flat!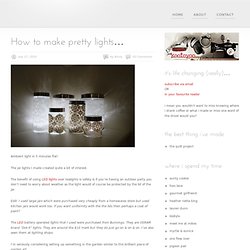 The jar lights I made created quite a bit of interest. The benefit of using LED lights over tealights is safety & if you're having an outdoor party you don't need to worry about weather as the light would of course be protected by the lid of the jar. Edit: I used large jars which were purchased very cheaply from a homewares store but used kitchen jars would work too. If you want uniformity with the the lids then perhaps a coat of paint? "Stained Glass" Votive Holders. By Jenny Ryan Many times when I'm at the grocery or drug store, I can't resist throwing a few scented votive candles in my cart.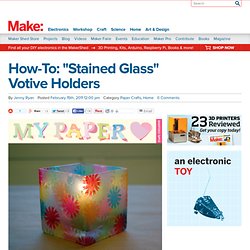 When I'm ready to burn them, it's easy enough to sit one on a cute little vintage china saucer, but I recently decided to try and find a fancier display solution for them. I also wanted the project to be inexpensive, and the materials used to be things I already had on hand. I was inspired by memories of making faux-stained glass in elementary school and came up with these fun little glass votive holders. This project is quick and easy, and a great way to whip up custom party décor on the cheap. Water Balloon Luminaries. A fun and easy project with a beautiful payoff.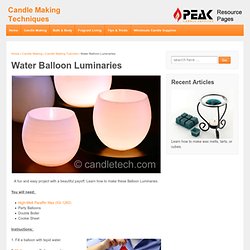 Learn how to make these Balloon Luminaries. You will need: High-Melt Paraffin Wax (IGI 1260)Party BalloonsDouble BoilerCookie Sheet.
---